TikTok ban: App sues Montana over new law to block users
Video sharing app says new law is an unconstitutional violation of free speech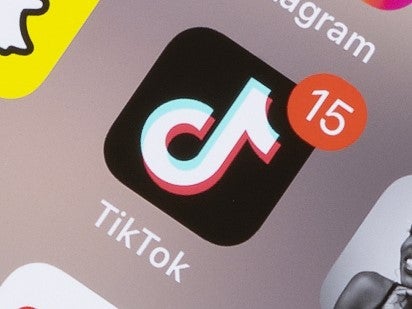 TikTok has filed a lawsuit challenging Montana's recently announced ban of the video sharing app.
The social media firm argued that the new law, which is set to come into effect on 1 January next year, is an unconstitutional violation of free speech.
The company, which is owned by China-based ByteDance, said the attempt to block users from accessing TikTok is based on "unfounded speculation" that the Chinese government could access their data.
The lawsuit by TikTok itself follows one filed last week by five content creators who made the same arguments, including that the state of Montana has no authority to take action on matters of national security. Both lawsuits were filed in federal court in Missoula.
Republican Govenor Greg Gianforte signed the bill last Wednesday and the content creators' lawsuit was filed hours later.
TikTok has not shared and would not share US user data with the Chinese government and has taken measures to protect the privacy and security of its users, including storing all US user data in the United States, the company stated in its complaint.
Some lawmakers, the FBI and officials at other agencies are concerned that the video-sharing app could be used to allow the Chinese government to access information on US citizens or push pro-Beijing misinformation that could influence the public.
Chinese law compels Chinese companies to share data with the government for whatever purposes it deems to involve national security. TikTok says this has never happened.
"TikTok is spying on Americans. Period," Montana Attorney General Austin Knudsen, whose office drafted the bill, told a legislative committee in March. Knudsen's office has said they expected lawsuits and were prepared to defend the new law.
The federal government and about half the US states, including Montana, have banned TikTok from government-owned devices.
Montana's new law prohibits downloads of TikTok in the state. It would fine any "entity" – an app store or TikTok – $10,000 per day for each time someone "is offered the ability" to access the social media platform or download the app. The penalties would not apply to users.
Even if the law comes into force in 2024, security experts have warned that it would be nearly impossible to prevent TikTok users from accessing the app.
Oded Vanunu, head of products vulnerability research at the cyber security firm Check Point, said last week that it would be difficult for any single state to ban the app, as easily available technologies like virtual private networks (VPNs) would allow users to bypass any geolocation blocks.
Additional reporting from agencies
Join our commenting forum
Join thought-provoking conversations, follow other Independent readers and see their replies