Tim Cook: Apple CEO on the company's latest venture - the iPad Pro
Exclusive: Mr Cook talks about the company's latest iPad, the question of the stylus and playing the trombone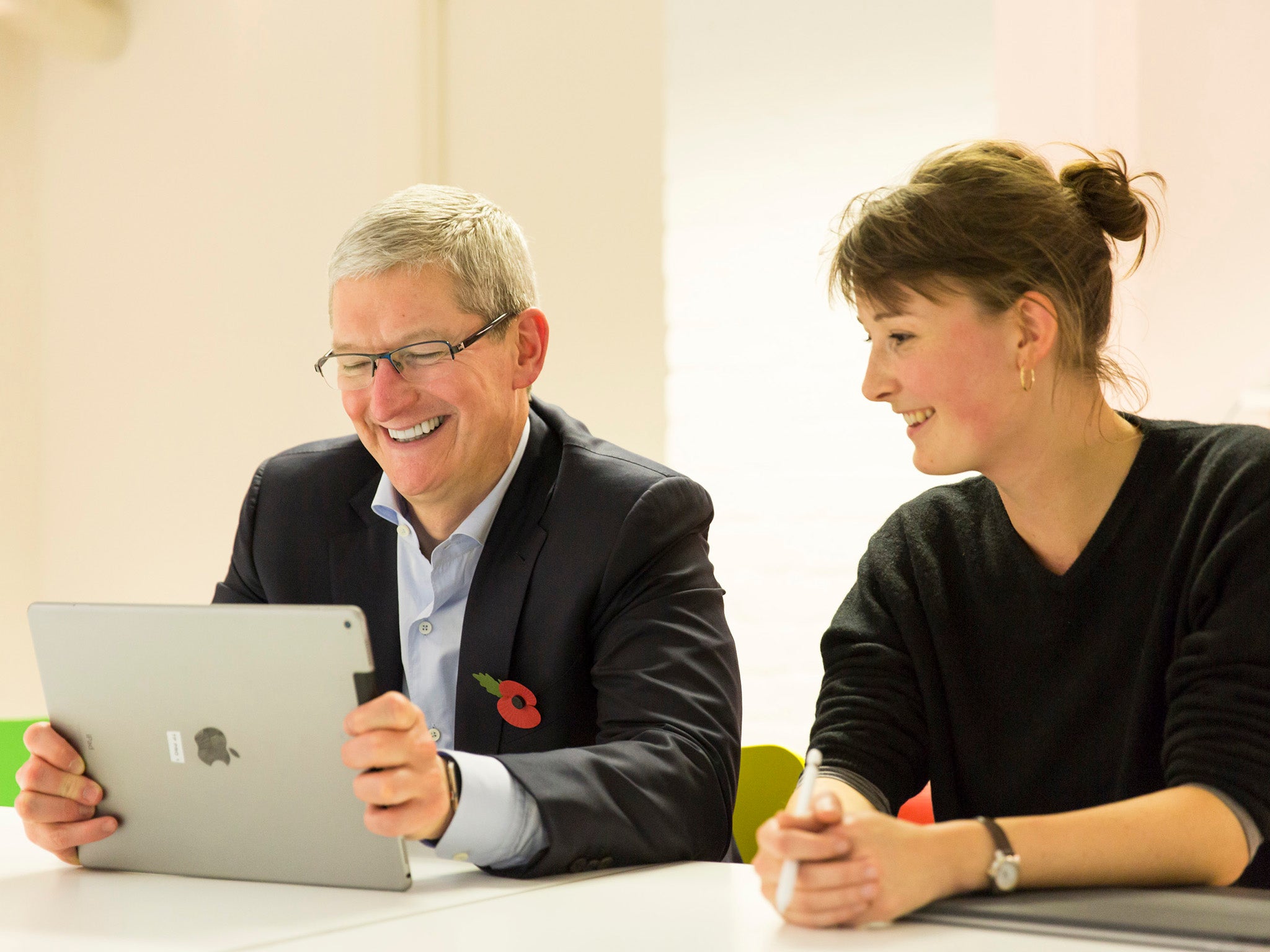 Apple's CEO Tim Cook has been in London to visit app developer Touchpress. At the developer's Marylebone headquarters he spoke exclusively to the Independent about the company's latest iPad, the question of the stylus and playing the trombone.
The new product is the iPad Pro, a big-screened tablet which goes on sale this week. "The thing that's interesting about this is that the hardware, combined with the software, especially with features such as split view multitasking, means that this iPad now appeals to virtually everybody. You can marry it with a keyboard cover that turns it into a laptop replacement, say. But it's also an incredible entertainment device with a first-class audio experience along with the immersive Retina display. And now you have the Pencil, so that it can replace the sketch pad."
Ah yes, the Apple Pencil. Some critics say a stylus is the sort of thing a tablet doesn't need.
"Well, we didn't really do a stylus, we did a Pencil. The traditional stylus is fat, it has really bad latency so you're sketching here and it's filling the line in somewhere behind. You can't sketch with something like that, you need something that mimics the look and feel of the pencil itself or you're not going to replace it. We're not trying to replace finger touch, we're complementing it with the Pencil."
The iPad Pro is the most expensive tablet yet, £679 and up. At a time when iPad sales are flat, was he tempted to do as some competitors have done and released, say, a £50 tablet? "No, there are no good £50 tablets. We've never been about making the most, we've been about making the best. This was a way of making a product that people can do a lot of things with. I think it will attract a lot of PC users and people who are not currently using Apple products. And I think it will be a reason for people to upgrade who love iPad and who have been waiting for something very different and now here it is."
Along with the Pencil, there's a keyboard cover. Cook says it's different from rival keyboards because with none of those would you say it "came from the same parent" as the tablet itself. "Now all of a sudden you have a keyboard that has been perfectly designed for the iPad, it's integrated and then you've got the software with split view and it's inherently very productive. I'm travelling with the iPad Pro and other than the iPhone it's the only product I've got."
The Touchpress team had shown Mr Cook the company's new Apple TV app, a classical music app which enhances video footage of classical performances with extra features.
You can watch Bernstein conducting the Vienna Philharmonic while the score scrolls across the screen or notes fall in a vertical animation. And Mr Cook looked at the company's newest iPad app, an interactive musical score done in conjunction with Henle Verlag, the printed classical score masters. This brought up memories for Mr Cook. "When I was younger I played the trombone and I just remember turning the pages. The score always got dog-eared and was perched on a music stand which was invariably terrible. It would fall over or pages would go flying." There are (who knew?) wireless foot pedals which can automatically turn the onscreen pages for you, it turns out. So would this new app be enough to rekindle the Apple CEO's passion for playing a musical instrument? "Well, I think I'm the only person who could listen to me do that."
Where the iPad Pro is concerned, Alex Johnston, Chief Marketing Officer, told me: "For a business like Touchpress with the kind of content we like to produce, we value the more beautiful screen, the better audio. We re-imagine familiar music or text in a way to give you fresh perspectives on it. So having more screen real estate allows us to do that a lot.
"The thing that struck me the most," Johnston went on, "is that it completely transformed the iPad experience when you use the Pencil or the Keyboard with it. It's not just that I want it because it's the best iPad, it's that the tools that go with it allow me to do things that my finger won't allow me to do."
The Apple Pencil is a thin, evenly weighted stylus that adds extra interactivity to lots of apps. So, will the Pencil change how the company develops apps? "There are apps that we do which lend themselves to this kind of precision. We're developing a format where you have to touch on a very particular part of the screen and it becomes much easier with a Pencil."
Apple has always been a major player in the world of education and the company is hoping the product will appeal to students. Like Ollie Clarke, an 18-year-old student on the Automotive and Transport Design course at Coventry University. What stands out for him is the ease of using the iPad Pro. "It's simple to get a high quality result because the accuracy on the Pencil is smooth with a line weight that's always consistent – which is crucial when you're sketching a car, for instance. It's intuitive because it's the same experience you get with a pencil on paper. The first line you do is so fluid and it gives you a direct contact to the screen."
"When you're designing tutors hammer into you how important underlays are. With the iPad you start with basic outlines and you can scan them in and use them as an underlay. It makes it so easy to change transparency and so on. Before this you would do your sketch on paper and then place the sketch and another piece of paper as your underlay. So you had to make sure all your lines were very strong. Otherwise you can't see them through the paper. Here you can do what you want, change the size and so on. And you can't accidentally nudge the paper, it stays in the right place."
The Pencil is different from other styluses designed for capacitive screens like the iPad. "They are made of rubber and you can't drag them across properly. I tried sketching on the iPad Air but for me it was impossible. Because when you're designing a car it's all about the proportions so you don't want to be zooming in and out. The size of the screen and the Pencil make the iPad Pro for me."
There are apps with enough flexibility to replace paper and pencil in other ways, too. "You can get marker pens and pastels here. It gives you more confidence. I wouldn't have the confidence to do an illustration in watercolour because one mistake and you're screwed. But with this there's no risk. It makes you bolder. And it looks exactly the same as watercolour in real life."
Clarke feels it's easier to use on the go as well. "It's got no restrictions. Wherever you are you don't have to worry about having a physical table. You just have it on your lap."
With a premium-priced tablet like this one (the cheapest configuration is £679 and the Pencil costs another £79) Apple needs to satisfy its most demanding users.
Nikolai Lockertsen, a Norwegian concept artist, certainly needs the power it promises. "I worked in the film industry for years and a concept artist tries to draw the end result of a vision, the finished frame for a film. Say your location needs something extra – a picture of that something is the best communicator there is." As I talked to him, he couldn't stop doodling, creating a lavish and intricately detailed design on the iPad Pro he'd just started using.
"The big difference is that the Apple Pencil, combined with the iPad Pro, offers pressure sensitivity. I can be very light or very hard and the pressure sensitivity hasn't really been there before so this is so cool."
Lockertsen uses Procreate which he says is the only professional painting and drawing app there is. You can adjust opacity, width and so on, especially with the Pencil which you can even tilt to change the effect. For an artist it's important: the amount of pressure you put down, that's what you want to be transferred. But it hasn't really been there before. Other versions never really nailed it and if it doesn't work 100 per cent it just begins to get in the way."
He also loves the Pencil because it's better than using your finger. "If you're an artist, when you're using your finger you can't see what you're touching. Because the Pencil is so thin it's very accurate and opens up new possibilities. It knows exactly where I am."
Lockertsen likes the way a tablet beats a PC because it's so instant. "There's no start-up time: getting a PC ready to go can take up to 10 minutes. I can do a sketch in 10 minutes." He feels the extra space is worth the trade-off in gadget size. "The iPad Pro is bigger than the iPad but weight-wise it's not too much more, and the thickness isn't much greater. I've missed that screen space, 12.9 inches is nice because even when you're multitasking you have plenty of paint space left. This is a good size."
And like Clarke, he feels that a touchscreen tablet has one killer advantage over paper and pencil or watercolour paint: the undo feature to erase your last actions. "Digital is better than pencil and paper because with undo you can be less careful. If you're more careful you become less creative."
Improved performance is also key. "The iPad Pro is fast. The Air 2 is pretty fast but here the capability is increased. So if I create a new project at an insanely high resolution, on the Air 2 I can manage two layers, on the iPad Pro I get 12 layers."
Lockertsen seems won over by the Pro and specifically by the Pencil, which he refers to repeatedly. "Some solutions involve drawing on a touchpad and watching the results on a separate screen. This is more accurate and more effective. You can't turn the canvas as though it was a sketchbook in that situation – you mess up your orientation.
"Previous styluses have been chunky in the hand and had big nibs which cover what you're trying to do. This Pencil solves those problems. The thin pointy tip is what everybody wants, and now we have it. This has sort of been the holy grail."
Join our commenting forum
Join thought-provoking conversations, follow other Independent readers and see their replies