Searching 'racist' on Twitter displays Donald Trump as top result
The news comes as Twitter placed Mr Trump's tweets behind a label stating that they were 'glorifying violence'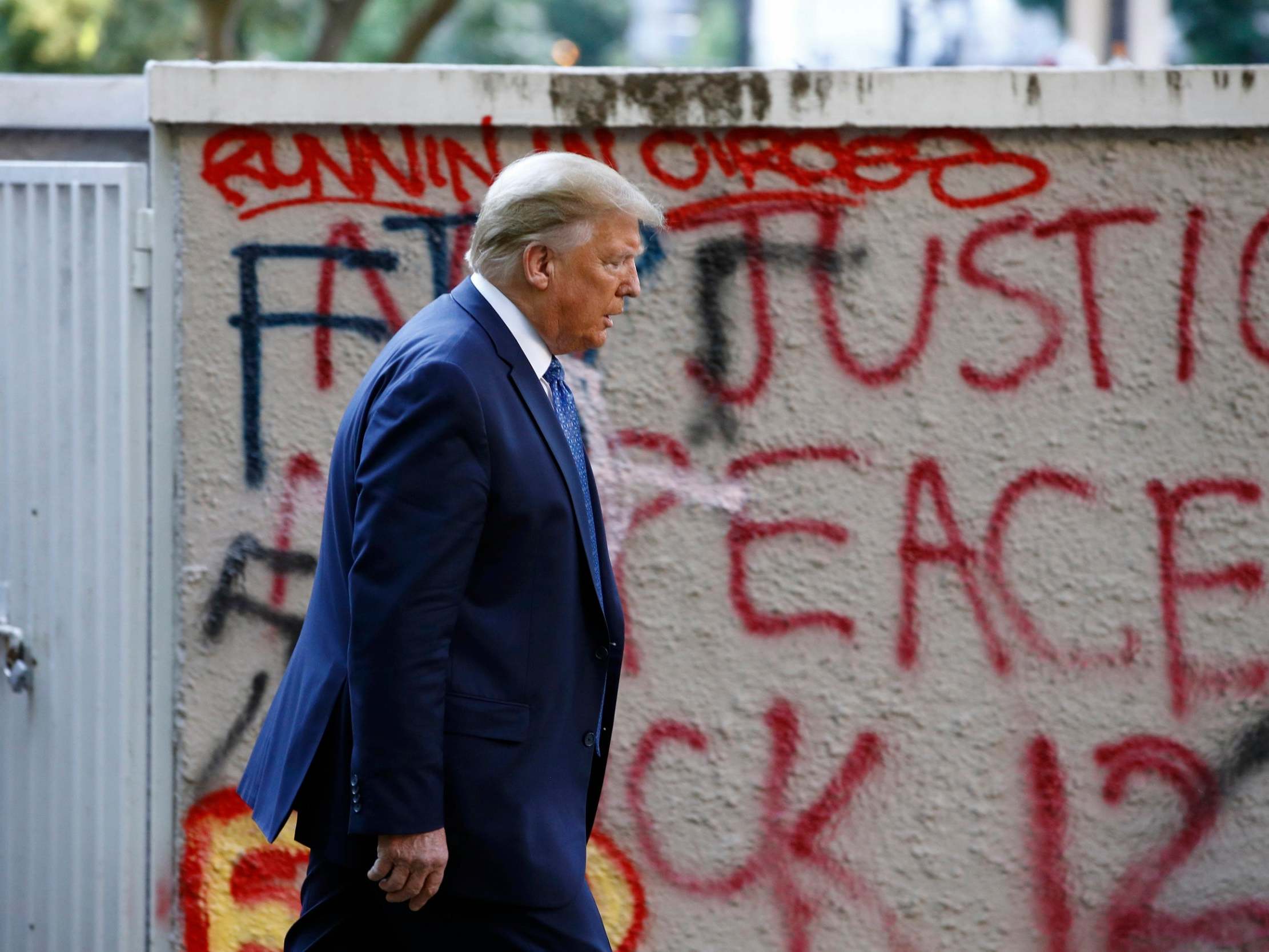 Typing "racist" in Twitter's search presents Donald Trump as the first result.
While Twitter's search results will be affected by the data that the company collects on you – such as interests and political leaning – attempting the search via private browsing on Twitter's web client via the Brave browser brought the same result as when logged in to Twitter on its iPhone and Android app.
Other users on the social media site have reported the same result.
It is not immediately clear why Twitter's search algorithm promotes the result. Other results in the "People" section when searching for the word "racist" include accounts who have mentioned the word in their display names, such as the "Yes, You're Racist" account which raises awareness of racial issues.
Twitter said that when an account is mentioned often alongside certain terms, the two can be shown together in search recommendations as a result of the way its algorithm works.
The news comes as Mr Trump is feuding with the social media site for fact-checking his tweets and stating that the president is "glorifying violence".
Mr Trump tweeted incorrect information about the relationship between postal voting and election fraud. Twitter added a blue link underneath that tweet to fact-checked articles, which resulted in the president threatening "big action" against the social media company.
In the wake of the George Floyd protests, one of Mr Trump's tweets was flagged by Twitter as "glorifying violence" and the company hid the tweet behind a label stating as such.
Users needed to click a "view" button in order to see Mr Trump's original tweet, which remains published on the platform because it "may be in the public's interest for the Tweet to remain accessible", Twitter says. Twitter applied the same label to a tweet from the White House and Republican congressman Matt Gaetz.
George Floyd death: Minneapolis protests erupt in the streets
Show all 30
Mr Trump has since signed an executive order attempting to curtail the freedom of social media sites under Section 230, a piece of American legislation that protects all companies from being liable for content posted by their users on their platforms, whether that is a multinational social media site or a small blog's comment section.
This is not the first time that an algorithm has surfaced negative information about Mr Trump. When questioned by Congress in 2018, Google CEO Sundar Pichai had to explain why searching for the word "idiot" on Google Images show a whole host of pictures of Donald Trump.
"We provide search today so any time you type in a key word, we as Google have gone out an crawled and stored copies of billions of web pages in our index, and we take the keyword, and match it against the pages, and rank them based on over 200 signals: things like relevance, freshness, popularity, how other people are using it," Mr Pichai explained at the time.
"And based on that, at any given time, we try to to rank and find the best results for that query. And then we evaluate them with external raters, to make sure that, and they evaluate it to objective guidelines. That's how we make sure the process is working."
Join our commenting forum
Join thought-provoking conversations, follow other Independent readers and see their replies