Type n Walk: An app that makes your phone screen 'transparent' so you can text while walking
For just 69p, iPhone users can avoid even more of the real world and see everything through their phone
Joe Krishnan
Wednesday 05 March 2014 17:19 Comments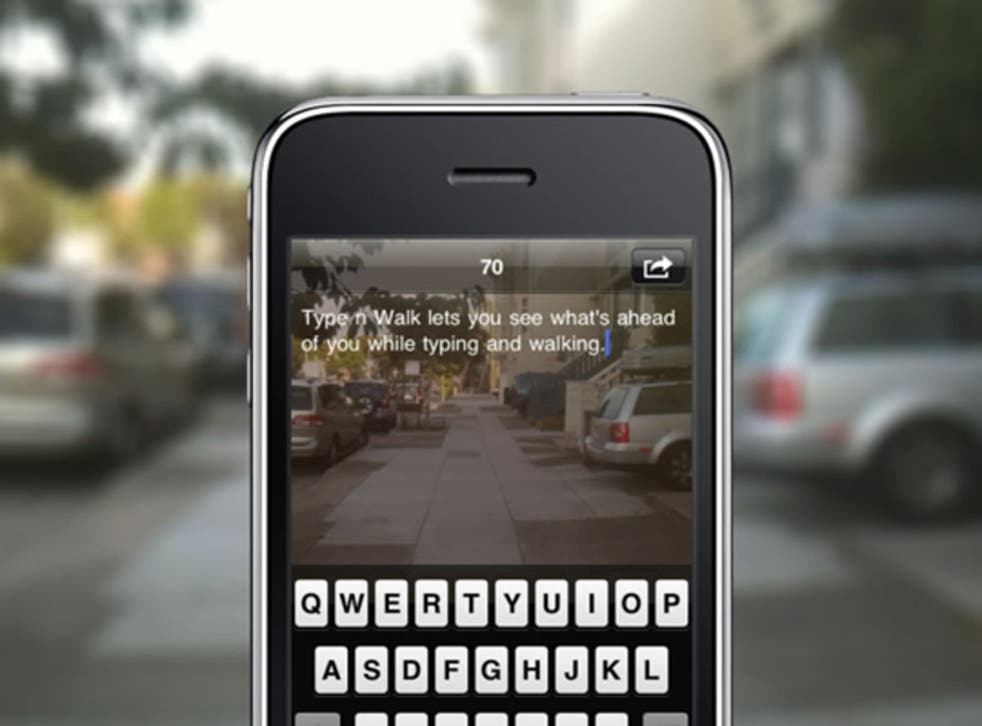 An app has been released that allows people to text while walking - without having to look up from their screens.
Type n Walk, developed by California-based company CGactive LLC, calls itself a "smarter, safer way to type while walking". It's only available on iPhone, iPad and iPod Touch at present, but for the small price of $1.15 (69p), it could become a popular luxury for regular London commuters absorbed with their busy schedules.
Using the camera on the back of the iPhone, the app gives you a glimpse of the pavement ahead in the background of the message you're typing - providing a "transparent viewport" so that even the most involved people won't have to switch their focus while walking.
"This combined with your peripheral vision is just enough visual information to help you avoid obstacles - like walking face-first into a tree," says the blurb on the app's website.
As well as the general iPhone messaging service, the app's features also extends to the likes of Facebook and Twitter, as well as any other app that allows you to copy and paste text.
However, it has received a mixed reaction from reviews on the iTunes App Store, with some users noting a delay between opening a text and getting the 'transparent window' to boot up, perhaps undermining the efficiency of the app.
Register for free to continue reading
Registration is a free and easy way to support our truly independent journalism
By registering, you will also enjoy limited access to Premium articles, exclusive newsletters, commenting, and virtual events with our leading journalists
Already have an account? sign in
Join our new commenting forum
Join thought-provoking conversations, follow other Independent readers and see their replies