Virgin Galactic: Richard Branson's space tourism project unveils new spacecraft
New version of SpaceShipTwo rolled out less than 18 months after its predecessor broke apart, killing one test pilot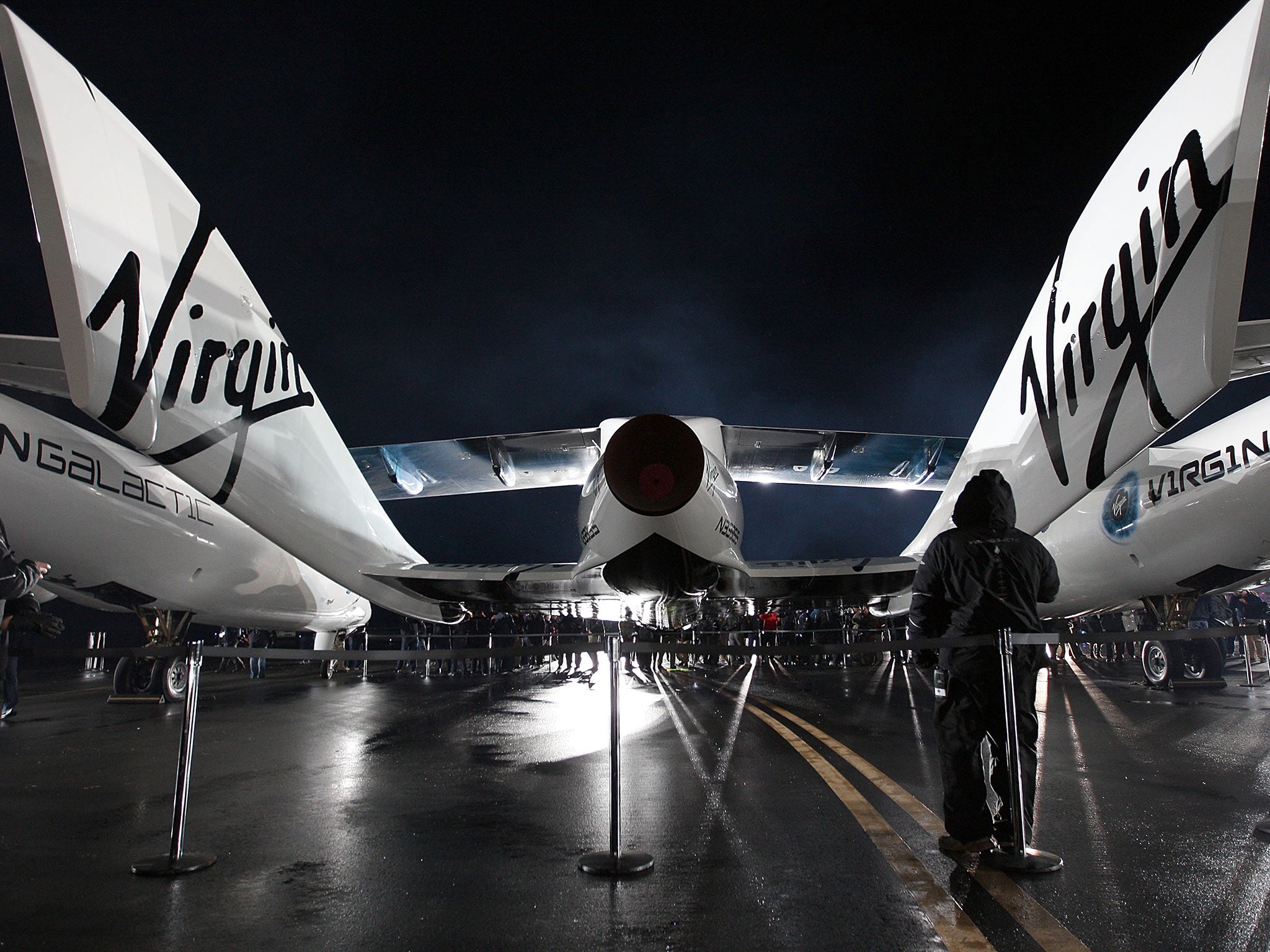 Virgin Galactic has unveiled a new spacecraft designed to take paying tourists to the edge of space, less than 18 months since its predecessor broke apart in the sky above Southern California.
That accident, in which one test pilot was killed, threatened to leave Sir Richard Branson's space tourism venture in tatters, but the mood at the Virgin Galactic base was buoyant as the new version of its SpaceShipTwo was rolled out.
During its official "launch", the craft remained on the tarmac at the desert base in Mojave, some 100 miles north-east of Los Angeles. Virgin says it has several obstacles to clear before welcoming its first passengers, with multiple test flights planned to assess the craft's parts and steadily increase its flight altitude; the firm, however, declined to set a new date for the craft's first passenger flights.
In a statement, Virgin Galactic said: "When we are confident we can safely carry our customers to space, we will start doing so. We feel incredibly honoured that our earliest paying customers already number more than the total number of humans who have ever been to space. Our first spaceflight with paying customers; our first flight full of research experiments; our first flight with a full complement of eight... the dozens of times we will fly the first ever astronaut from a given nation – each of these will be exciting milestones in the history of space exploration."
Branson said it was "pretty cool to be taking people to space", but also outlined several potential future projects for Virgin Galactic, including: high-speed point-to-point travel; helping to construct a replacement for the soon-to-be-defunct International Space Station; and protecting the Earth from large asteroids hurtling its way. Later, he went on, "We'd like to join the race for space exploration."
The fatal mid-air break-up of the firm's original flagship occurred at around 50,000ft on 31 October 2014. Co-pilot Michael Alsbury, 39, was killed, while Peter Siebold, then 43, managed to eject from the vehicle and parachute to safety, despite the high altitude. A nine-month investigation by the US National Transportation Safety Board (NTSB) found that Alsbury had unlocked a braking system prematurely, leading to a "catastrophic structural failure." Mike Moses, Virgin Galactic's operations chief, said the new iteration of SpaceShipTwo, named VSS Unity, shared "the same fundamental design" as its predecessor, but had seen an "evolution" in safety measures, including an inhibitor added to the new craft to ensure the braking system stays locked until the vehicle reaches a safe speed.
Branson's space tourism ambitions were undimmed by the accident, and work continued on the second spaceship, part of a planned fleet of five. The original SpaceShipTwo was built by Virgin Galactic's project partner Scaled Composites, but the new craft and those to come are being constructed by The Spaceship Company (TSC), a wholly owned subsidiary of Virgin Galactic, which had already taken over manufacturing responsibilities when the accident took place. Mr Siebold, a Scaled Composites employee, is not currently a member of TSC's seven-person test pilot team.
Virgin Galactic CEO George Whitesides acknowledged that the crash had been a "tough day" that led to a period of hard reflection, but in its aftermath the team remained determined to fulfil the Virgin Galactic mission. "Our resolve did not diminish, it only grew stronger," he said.
Branson's Virgin Group and Aabar Investments, run by the government of Abu Dhabi, have together invested more than £350m in Virgin Galactic, which is already diversifying from space tourism into cargo, building a space launcher, LauncherOne, for small satellites. Yet the firm's stated focus has always been to usher in a new era of tourism for those willing and wealthy enough to pay up to $250,000 (£150,000) for the privilege. Since its 2004 founding, some 700 customers are believed to have signed up to experience a flight to around 62 miles, where they would enjoy several minutes of weightlessness before returning to Earth.
Tim Peake: Night time timelapse
Those prospective astronauts include Angelina Jolie, Tom Hanks, Justin Bieber and astrophysicist Stephen Hawking –who sent a recorded message to help in the naming ceremony for the craft. However, at least two dozen customers requested refunds following the accident in 2014. Branson and his three children are expected to be on SpaceShipTwo's maiden commercial flight.
The commercial space race began a decade ago, following a move away from manned space flight by Nasa and the European Space Agency – and Branson is far from the only headline-grabbing billionaire in the hunt. His rivals include Paypal and Tesla founder Elon Musk and his firm, SpaceX; Microsoft co-founder Paul Allen, who launched his space travel venture Vulcan Aerospace last year; and Amazon's Jeff Bezos, whose company Blue Origin has this year completed two successful test flights of its passenger ship, New Shepard.
Branson has said he welcomes the competition. "To have three or four people who are fairly entrepreneurial competing with each other means we'll be able to open up space at a fraction of the price that governments have been able to do so in the past," the entrepreneur told Reuters.
Join our commenting forum
Join thought-provoking conversations, follow other Independent readers and see their replies