Wahoo launches indoor training Kickr Bike in UK, as people look for new ways to cycle during social distancing
Bike costs £3,000 – and can't go anywhere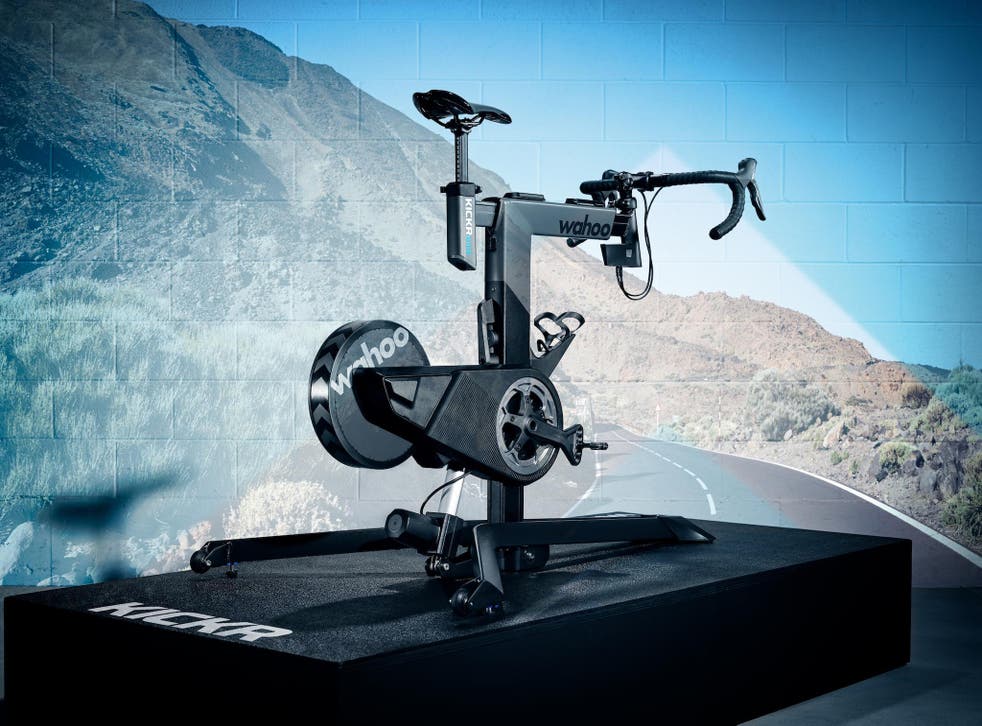 Wahoo has launched its Kickr Bike in the UK, as people look for ways to cycle and exercise during social distancing.
The bike costs £3,000 – more than most outdoor cycles – and is intended to precisely replicate the experience of riding outdoors without leaving the house.
Wahoo launched the indoor training kit last year, but until now it has only been available in the US, and customers who ordered it there reported long waits as the company created more stock. Now UK customers are able to pre-order it, with orders being sent out from next week.
Until now, indoor cycling training has largely relied on trainers made by companies like Wahoo, hooked up to existing, outdoor bikes. Users cycle while staying stationary, while the smart trainer provides resistance for them to work against and measures how much power they are putting out.
The data on how fast the user is cycling can then be fed to apps such as Trainer Road or Zwift, which allow users to train indoors or simulate outdoor bike rides without moving.
Gadget and tech news: In pictures

Show all 25
The Wahoo Kickr Bike and competitors from companies like Tacx allow users to pay not to use their outdoor bike at all, instead offering a bike made only for cycling indoors and with training apps.
It is supposed to precisely simulate the feel of riding outdoors, and includes technology such as virtual gear levers and the ability to simulate grades, with the bike moving up and down as riders take on virtual hills.
The release comes as a variety of companies look to seize on the new interest in exercising indoors, as people are kept away from gyms and outdoor workouts as part of social distancing measures to stop the spread of coronavirus. Training company Tonal, for instance, which offers a $3,000 machine for strength training at home, told Business Insider that sales have tripled in the last week.
Register for free to continue reading
Registration is a free and easy way to support our truly independent journalism
By registering, you will also enjoy limited access to Premium articles, exclusive newsletters, commenting, and virtual events with our leading journalists
Already have an account? sign in
Register for free to continue reading
Registration is a free and easy way to support our truly independent journalism
By registering, you will also enjoy limited access to Premium articles, exclusive newsletters, commenting, and virtual events with our leading journalists
Already have an account? sign in
Join our new commenting forum
Join thought-provoking conversations, follow other Independent readers and see their replies