WhatsApp end-to-end encryption: App prevents governments from looking at user messages
Encryption is at the heart of an ongoing battle between governments and tech companies – and WhatsApp's apparently minor update is a major step in that ongoing battle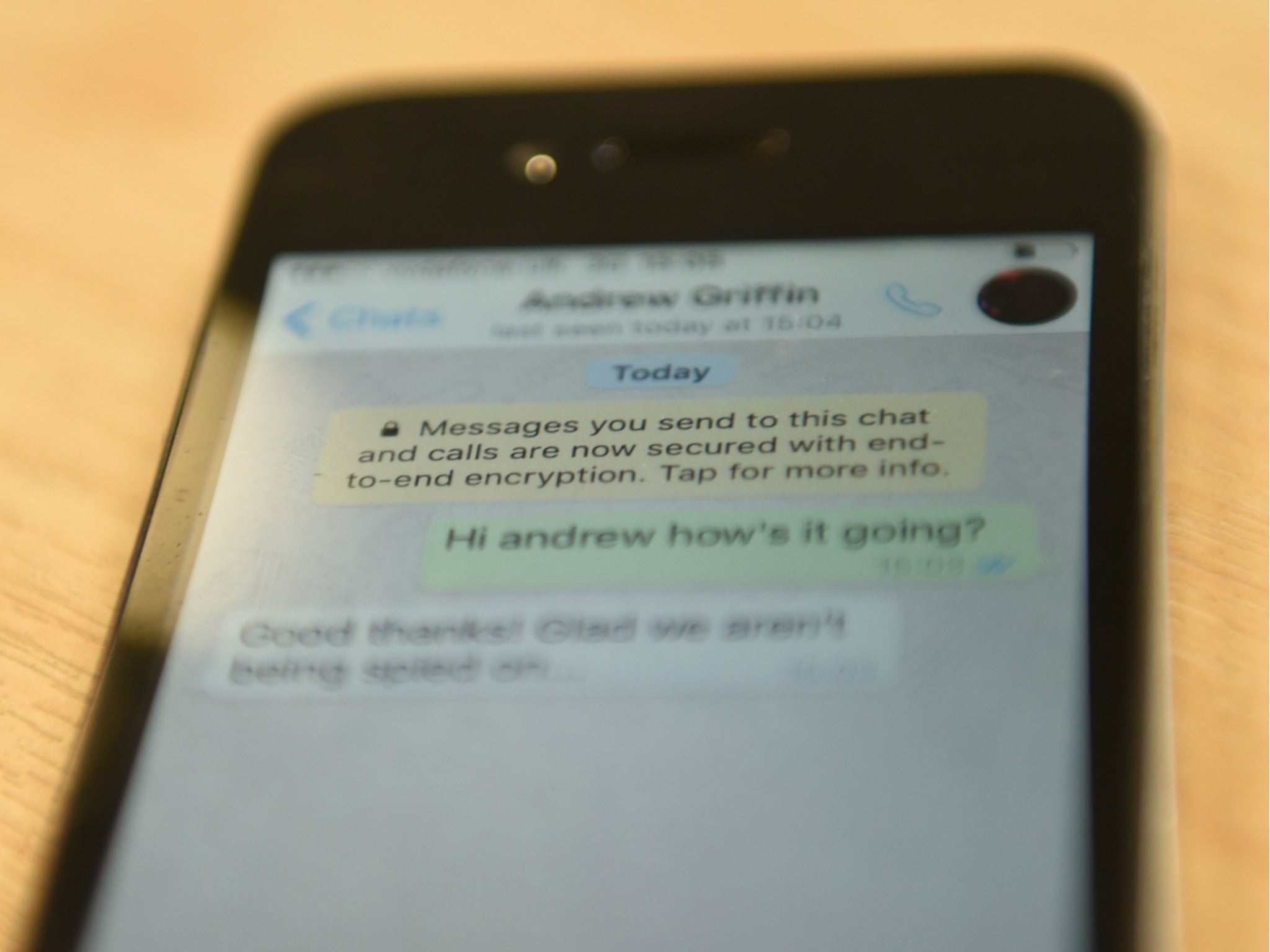 WhatsApp has added end-to-end encryption to all of its messages – meaning that the company couldn't give information to governments, even if it wanted to.
The latest version of the app will use security technology that means that messages can't be intercepted as they travel between devices. Encryption ensures that only a message's sender and recipient can read messages, stopping them from being intercepted on their journey.
That fact has meant that strong, or end-to-end, encryption has led to public disagreements between technology companies and governments. In the UK, politicians have proposed banning such technologies, forcing companies to install "backdoors" that would weaken that security so that messages can be read by spies.
WhatsApp said that it had added the new, stronger measures across its messages because it "has always prioritized making your data and communication as secure as possible". "From now on when you and your contacts use the latest version of the app, every call you make, and every message, photo, video, file, and voice message you send, is end-to-end encrypted by default, including group chats," it wrote in a blog post announcing the change.
Gadget and tech news: In pictures
Show all 25
"The idea is simple: when you send a message, the only person who can read it is the person or group chat that you send that message to," WhatsApp wrote. "No one can see inside that message. Not cybercriminals. Not hackers. Not oppressive regimes. Not even us. End-to-end encryption helps make communication via WhatsApp private – sort of like a face-to-face conversation."
The company also made explicit reference to the ongoing debate about whether technology companies should be able to use such security measures.
"Recently there has been a lot of discussion about encrypted services and the work of law enforcement," it wrote. "While we recognize the important work of law enforcement in keeping people safe, efforts to weaken encryption risk exposing people's information to abuse from cybercriminals, hackers, and rogue states."
But the move also helps to ensure that WhatsApp conversations are less likely to be used for advertising, a concern that many voiced when the messaging service was bought by Facebook in 2014. While WhatsApp will still be able to access some important data, such as the behaviour of its users, the actual content of conversations will now be much harder to read.
The company said that it expects that end-to-end encryption will be added to other services in the future since it "will ultimately represent the future of personal communication".
Join our commenting forum
Join thought-provoking conversations, follow other Independent readers and see their replies