Wikipedia rocked by 'rogue editors' blackmail scam targeting small businesses and celebrities
Exclusive: Website takes action against 'co-ordinated group' of fraudsters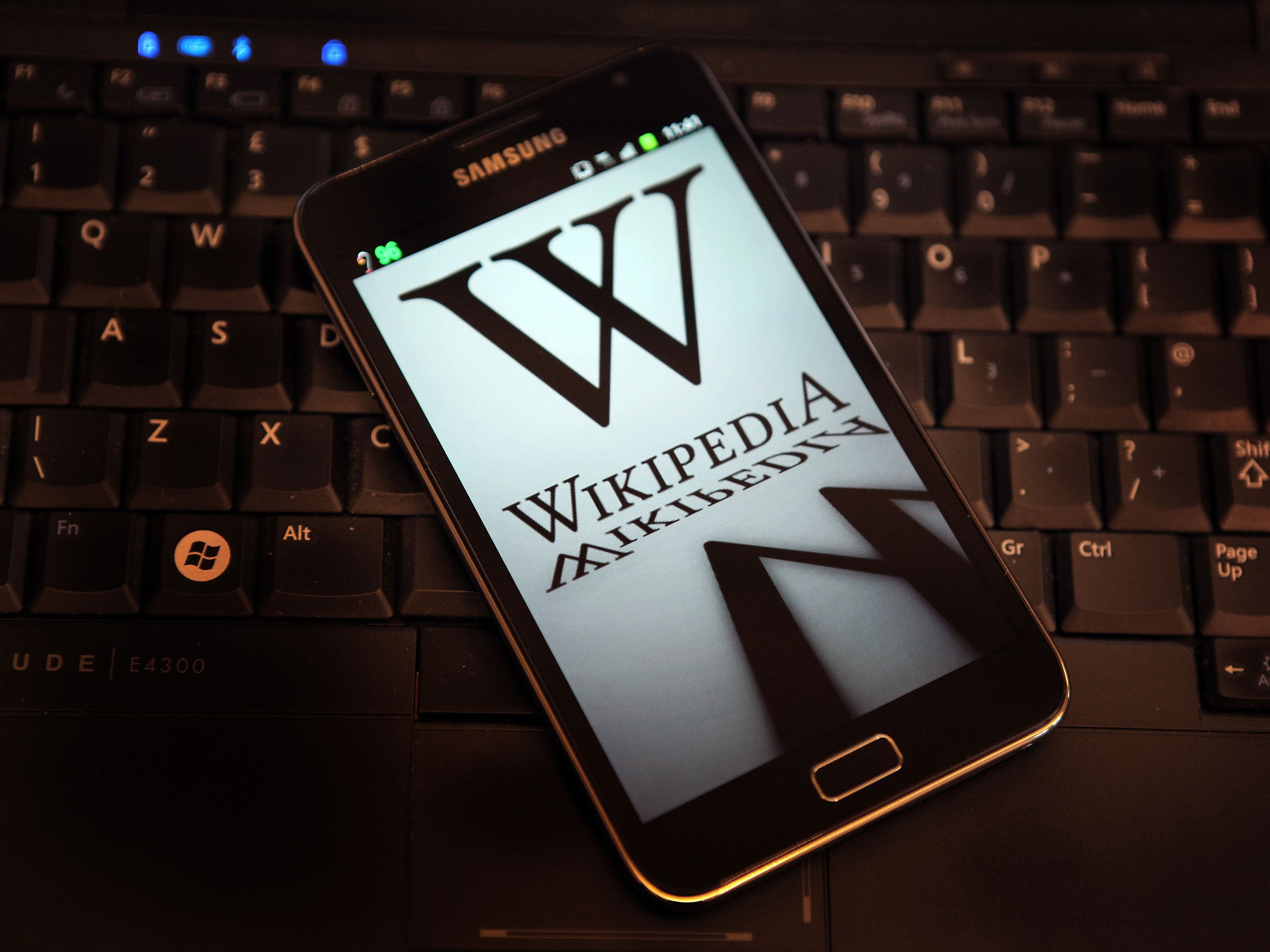 Hundreds of small British businesses and minor celebrities have been targeted by a sophisticated blackmail scam orchestrated by "rogue editors" at Wikipedia, The Independent can reveal.
The victims, who range from a wedding photographer in Dorset to a high-end jewellery shop in Shoreditch, east London, faced demands for hundreds of pounds to "protect" or update Wikipedia pages about their businesses. A former Britain's Got Talent contestant was among dozens of individuals targeted.
Wikipedia has taken action against what it described as the "co-ordinated group" of fraudsters by blocking 381 accounts. An investigation had found that the accounts were controlled by Wikipedia users offering to change articles about companies and private individuals in exchange for payment.
In some cases, the requests for money amounted to blackmail, Wikipedia told The Independent.
The crackdown represents the culmination of a two-month investigation, dubbed "Orangemoody" after the first questionable account was identified earlier this year. It is suspected that many of the suspect accounts were "sock puppets" – meaning they were controlled by the same person. The true identity of the scammers – or scammer – is still unknown.
The scam worked by targeting firms struggling to get pages about their businesses on Wikipedia. They were often told their articles had been rejected due to concerns of excessive promotional content – although in some cases the scammers themselves may have been the ones causing the articles to be removed.
According to a Wikipedia insider, at this stage the scammers would demand a payment of up to several hundred pounds to successfully "re-post or re-surface" the article, and in some cases demanded an on-going monthly payment to "protect" the articles. The fraudster usually claimed to be a Wikipedia editor or administrator.
Wikipedia, which has grown to nearly five million English articles since 2001, uses a team of more than 250,000 people to protect the authenticity of its content. However the scam has underlined the weakness in the website's reliance on volunteers to create and edit its online content, leaving it vulnerable to abuse.
Once the money was paid the article was then "reviewed" by another Wikipedia user – in fact another of the scammers' "sock puppet" accounts – and moved to the "article space" section of Wikipedia, meaning it is ready for publication.
The scam has resulted in Wikipedia blocking an additional 210 articles, many concerning UK businesses or notable people, on the basis that they "were generally promotional in nature, and often included biased or skewed information, unattributed material, and potential copyright violations."
But Wikipedia has called on its users to "be kind to the article subjects", describing them as the "victims in this situation".
One of the firms targeted was British holiday company Quality Villas, in Berkhamsted, Hertfordshire. General manager Dan Thompson explained how they were duped. He had tried to set up a page about the company earlier this year, and a few days later was contacted by someone he believed to be from or on behalf of Wikipedia.
The individual told Mr Thompson that his attempt to post about his company had been "declined because of lack of notability and the content up there did not meet Wiki requirements". But the individual added: "I will rewrite the content to make it Wiki acceptable using reliable references available and I will use my privileges to publish it."
Mr Thompson said: "The latter part, 'my privileges', led me to believe I was dealing with someone at Wikipedia. I was grateful at the time that they would rewrite the text to conform to standards and thanked them for doing it. Shortly afterwards, a modified version was posted online. "The 'editor' presented me with a charge of $400 [£260] for the work. I duly paid this, then the posting online was deleted again. Maybe I was naïve, but I suspect I am not alone."
Another small business targeted was the Little Citizens Boutique, an online toy shop based in Holywood, Northern Ireland.
Alicia Peyrano, the website's founder, said: "My background is in journalism so I tried to write my own entry earlier this year – and it got rejected. Then I was contacted by someone saying she had experience writing in the Wikipedia style, and that she charged $150. She said she was a published author with Wikipedia. I said OK and so she got it published and then asked me for the money."
Ms Peyrano added: "She must have been impersonating an actual Wikipedia author. I was suspicious about the whole thing. It's an online scam, and we nearly fell for it – luckily we didn't pay."
It is not just companies who have been targeted. Amanda Foster, a stunt double from Chelmsford, Essex, said: "I started a Wiki page over a year ago and tried to get it online but without the knowledge of how to add some of the content needed." She was then approached with an offer of help. "I was contacted by a lady via my Facebook page, claiming she worked for Wikipedia and that she would do the necessary corrections." Last week she paid £29 to have a photograph put online. "I will now contest these payments as it is clear I have been taken advantage of. I feel like I've been totally robbed. I'm really annoyed by this, I really am."
Paul Manners, who appeared on Britain's Got Talent earlier this year, was also targeted. He said: "It's quite sad that there are a lot of nasty people in this world and I hope that Wikipedia see sense and resolve it."
In 2011 an investigation by The Independent revealed that the PR firm Bell Pottinger had a team which "sorts" negative Wikipedia coverage of its clients, prompting Wikipedia's co-founder Jimmy Wales to attack the "ethical blindness" of lobbying firms. In 2013 the website faced criticism after it took the unprecedented action of blocking accounts of some 250 paid lobbyists and "sock puppets".
A Wikipedia spokesman said: "Neutrality is key to ensuring Wikipedia's quality. Although it does not happen often, undisclosed paid advocacy editing may represent a serious conflict of interest and could compromise the quality of content on Wikipedia."
It is not explicitly forbidden for people to update Wikipedia pages about themselves, their organisations or companies who pay them – especially if this is to correct inaccurate information. But the site has ethical guidelines designed to discourage abuse.
Worldwide victims
From singer-songwriters to stunt doubles, hi-tech companies to toy shops, the elaborate con has targeted individuals and companies around the globe.
In Britain, the victims range from Tiffany Wright, the romance expert and glossy magazine journalist for Grazia and Cosmo, to singer Paul Manners, a former Britain's Got Talent contestant. Several wedding photography companies are also on the list of pages deleted by Wikipedia – alongside the WaterWorld Waterpark in Ayia Napa, Cyprus.
Many of those affected run small businesses, such as Rachel Entwistle, a jewellery designer from London. A spokesman for the jeweller described the scam as "really disconcerting" and "a whole world I've never heard of".
Other British businesses caught out range from Primo Vape, which sells liquids for e-cigarettes, to the VeggieMatchMakers website. But large companies have been targeted too.
A spokesman for Creme Global, a software company based in Dublin, said: "A person claiming to be a legitimate Wikipedia member contacted us about writing a Wikipedia page for the company. As far as I can see, many companies were affected and we are as eager as anyone else to get to the bottom of this."