Will.i.am watch: Singer unveils Puls 'smart cuff' that takes calls and sends texts without a mobile
The Puls comes with a built-in personal assistant like Siri or Google Now called 'Aneeda' - as in, "Aneeda find my home"
James Vincent
Friday 17 October 2014 10:33 Comments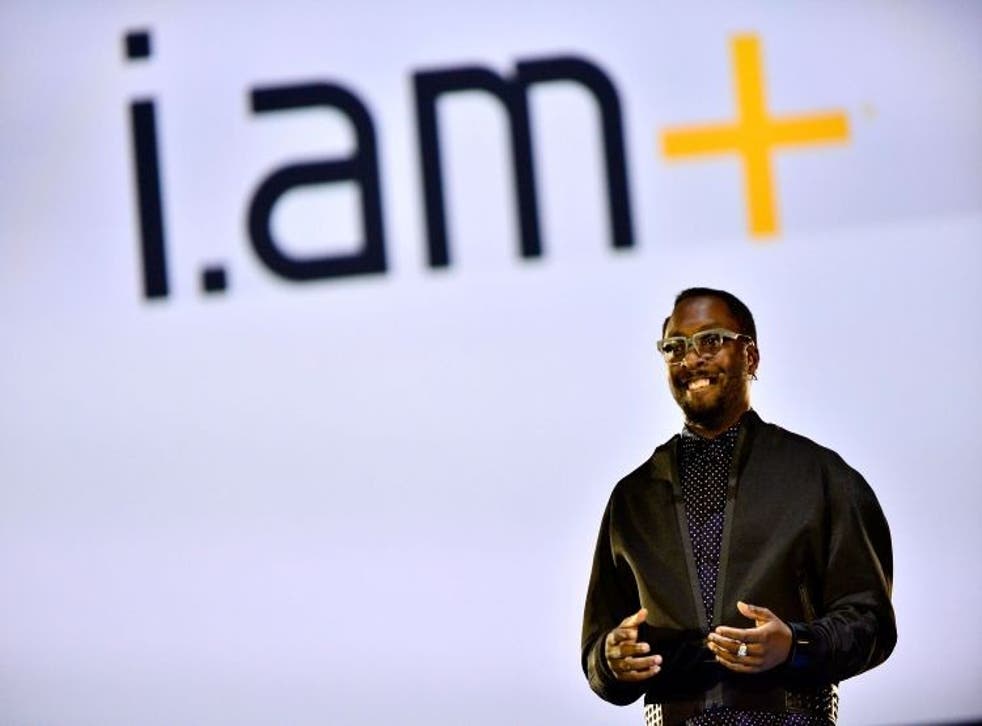 Musician will.i.am has finally unveiled his Puls smartwatch, which can make calls and send messages without a connected smartphone and will be launching in both the US and UK.
The device – which will.i.am stressed "isn't a smartwatch" at the unveiling in San Francisco last night – is powered by a customized version of Android Wear, and features 16GB of internal storage, 1GB of RAM and built-in speakers.
The Puls is being made by will.i.am's technology company i.am+, which previously released a £300 iPhone case (the foto.soho) which featured interchangeable camera lenses, a built-in keyboard and was widely panned by technology critics.
On stage, the Black Eyed Peas member was keen to position the Puls as more fashionable than its­ mainstream cometitors, with one executive at the event saying the device would allow "a millennial to fashionably tweet from her wrist while clubbing," reported The Verge.
The Puls also comes with its own digital assistant to match Apple's Siri and Google's Google Now features. Called Aneeda - as in "Aneeda know what the weather is like" – the software is "the virtual personality and soul of Puls," said will.i.am.
The device will launch exclusively with O2 in the UK and AT&T in the US this Christmas, with customers required to buy a data plan to connect the device to the internet when not in reach of Wi-Fi.
Prices have yet to be announced, but the Puls will come in black, white, pink and blue. Unfortunately, news on battery life is less than heartening, with some reports suggesting the Puls will only last for five hours between charges.
At the same event will.i.am also teased other connected devices including a triangular backpack with built-in speakers and inductive charging, and promised journalists that his company was also looking into components such as jackets and shoes that weigh the wearer.
"The wearable conversation has been led by tech alone," he told CNET. And the fashion world has called it "fashion" for decades. They don't say wearables. The reason they say wearables is because there's technology inside of the things you put on your body."
Although many tech critics have so far been sceptical of the musician's vainglorious attempts to break into the technology industry, no-one can deny that will.i.am is putting his money where his mouth is.
"I've got to build this company," said will.i.am. "Not only for me but for the kids I'm telling to get into STEM. I'm telling them not to hang out on the corner, and learn to code. And then I'm not doing the same thing?"
Register for free to continue reading
Registration is a free and easy way to support our truly independent journalism
By registering, you will also enjoy limited access to Premium articles, exclusive newsletters, commenting, and virtual events with our leading journalists
Already have an account? sign in
Register for free to continue reading
Registration is a free and easy way to support our truly independent journalism
By registering, you will also enjoy limited access to Premium articles, exclusive newsletters, commenting, and virtual events with our leading journalists
Already have an account? sign in
Join our new commenting forum
Join thought-provoking conversations, follow other Independent readers and see their replies