The Independent's journalism is supported by our readers. When you purchase through links on our site, we may earn commission.
Windows 10 release: Microsoft bypasses 'Windows 9' with new operating system
The tech giant's last operating system was Windows 8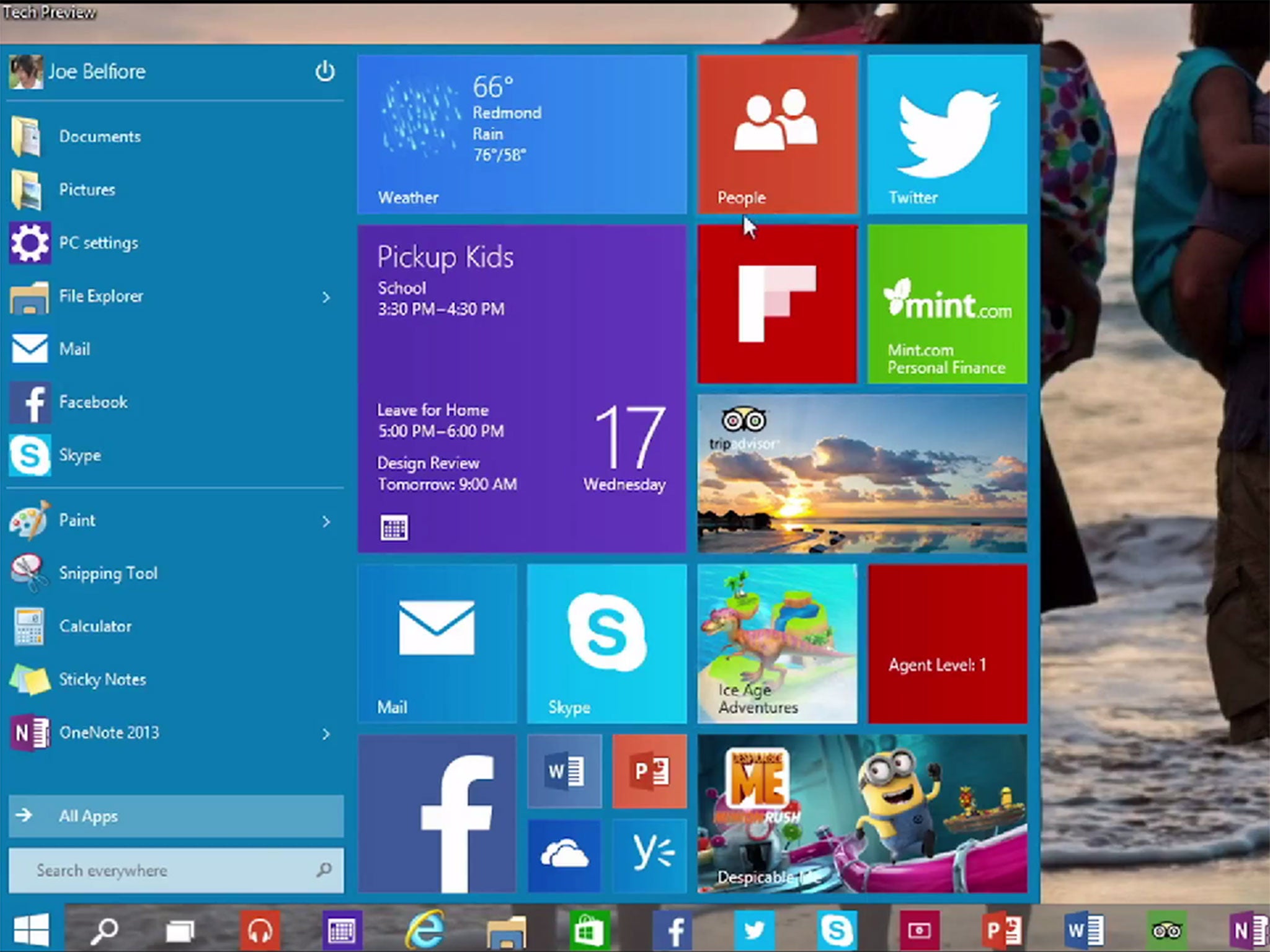 Microsoft has revealed that its latest operating system will be called Windows 10 – skipping 'Windows 9' in an apparent attempt to emphasise a shift in focus towards mobile devices and the Internet.
The system will run on a wide range of devices, including phones, tablets, PCs and Xbox games consoles, with applications sold from a single store.
The tech giant offered a glimpse of its latest vision at an event in San Francisco on Tuesday, where it unveiled what the system's Start Menu will look like. On Wednesday, the firm will make a technical preview version available to advanced users who sign up to the Windows Preview website.
It plans to unveil details about consumer features early next year, with a formal release in mid-2015.
Windows 8, the current version unveiled two years ago, has been criticised for its interface, which has forced users to change how they use their devices.
Joe Belfiore, an executive at the company who oversees Windows design and evolution, said Windows 10 will offer "the familiarity of Windows 7 with some of the benefits that exist in Windows 8" to help business users make the transition.
In a video posted on YouTube, he unveiled features including the re-introduced Start Menu, as well as a new search function on the task bar, and apps which can be manipulated on-screen like regular programs.
The success of the new Windows will be closely watched as it is a crucial chance for Microsoft and new CEO Satya Nadella to prove that Microsoft can embrace mobile devices without sacrificing the traditional computing experience.
The update will retain touch-screen functions on compatible devices, and will create a more unified experience for Windows users who switch between desktop computers, tablets and smartphones.
Microsoft executive Terry Myerson said Windows 10 will be "a whole new generation" and, as expected, will work across a variety of devices — from phones to gaming consoles.
Additional reporting by AP
Join our commenting forum
Join thought-provoking conversations, follow other Independent readers and see their replies