Woolet wallet: Leaving valuables behind could be a thing of the past if tech firms have their way
Woolet is a Bluetooth-powered, self-charging wallet that sends an alert to your phone to advise you that you've moved out of a specified catchment area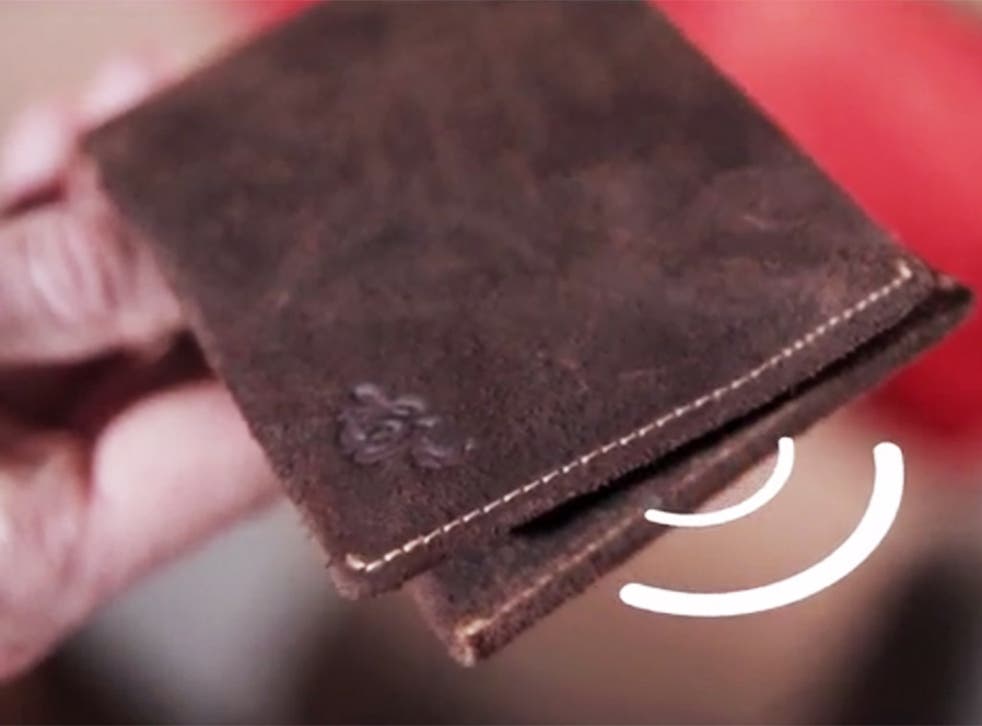 I don't know if anyone else has noticed, but there seems to be a race to reinvent everyday objects, connect them to each other wirelessly, then make a promotional video with a ukulele, glockenspiel and handclap soundtrack. We then willingly hand over our money. One of the most recent is the Woolet, (ukulele, handclaps) which is a Bluetooth-powered, self-charging wallet. You might not think that a portable money-pocket needs an electrical current throbbing through it, but you'd be wrong, because Woolet, you see, is unloseable. You can't shake the thing off.
Never again will you leave your cash, cards and ID on the lager-sodden floor of a nightclub, because Bluetooth technology will send an alert to your phone to advise you that you've moved out of a specified catchment area around your Woolet. This will prompt you to hurry back and retrieve it – as long as you haven't also left your phone on the lager-sodden floor of a nightclub, in which case you're screwed.
Woolet has now raised more than 13 times its initial funding target on Kickstarter and the people behind it promise a "whole ecosystem of products that protect your precious things". You can't deny that the pitch is a compelling one; after all, who can resist the idea of keys, wallets and phones that alert us to our own memory failure? No one. Who enjoys turning the air purple with fruity language when they mislay their staff ID or an important fob? No one.
This idea of gadgetry banishing our own scatterbrained misery has driven speculative pitches for products such as Where's Wallet (glockenspiel), Lupo (handclaps), Chipolo (ukulele, glockenspiel) and Gablys (glockenspiel, handclaps). These videos warn us of the very real possibility of us losing things (often using imagery of distressed people patting themselves down in search of keys, laptops or small dogs) and then promise to help us keep track of these items with the use of tags, GPS, Bluetooth and alerts. In one case it promises that "you'll never have to worry again". That's certainly an idea I can get behind.
Some of the technology behind these things is very neat; Woolet, along with another beacon-type device called Tile, is able to pinpoint the location of items using crowd-sourced data, with a whole network of device owners helping to direct you to the whereabouts of your missing iPad. But there's a world of difference between the idealistic, glockenspieled world of the Kickstarter pitch and the reality of making these devices work for us. Sometimes, just because of life's sheer unpredictability, our keys and our phone and our wallet may need to be in different places. It would be nice to let that happen without having to disable an array of painstakingly managed alerts.
And then, of course, there are our brains. Our poor brains, overcrowded with extraneous stuff which, according to the Woolet video (ukulele, handclaps) is making it "harder to remember important things". But are we really at the stage where we have to outsource these cognitive processes? When eminent futurologists imagined a utopian vision where man and machine fused, did they really think that the first step would be a shrill tone summoning us back to our front door, because we're too busy thinking about social media to remember picking up a bag? It's been much debated whether Google is making us stupid, but on this evidence, the Internet Of Things is set to transform us into dumb cattle who occasionally say "whoops" when an alert goes off.
Register for free to continue reading
Registration is a free and easy way to support our truly independent journalism
By registering, you will also enjoy limited access to Premium articles, exclusive newsletters, commenting, and virtual events with our leading journalists
Already have an account? sign in
Register for free to continue reading
Registration is a free and easy way to support our truly independent journalism
By registering, you will also enjoy limited access to Premium articles, exclusive newsletters, commenting, and virtual events with our leading journalists
Already have an account? sign in
Join our new commenting forum
Join thought-provoking conversations, follow other Independent readers and see their replies