World's only blind professional hiker Trevor Thomas relies on satellite technology to find his way
Trevor Thomas adapts technology to make adventure accessible. He tells Sophie Morris about the apps and gadgets that lead the way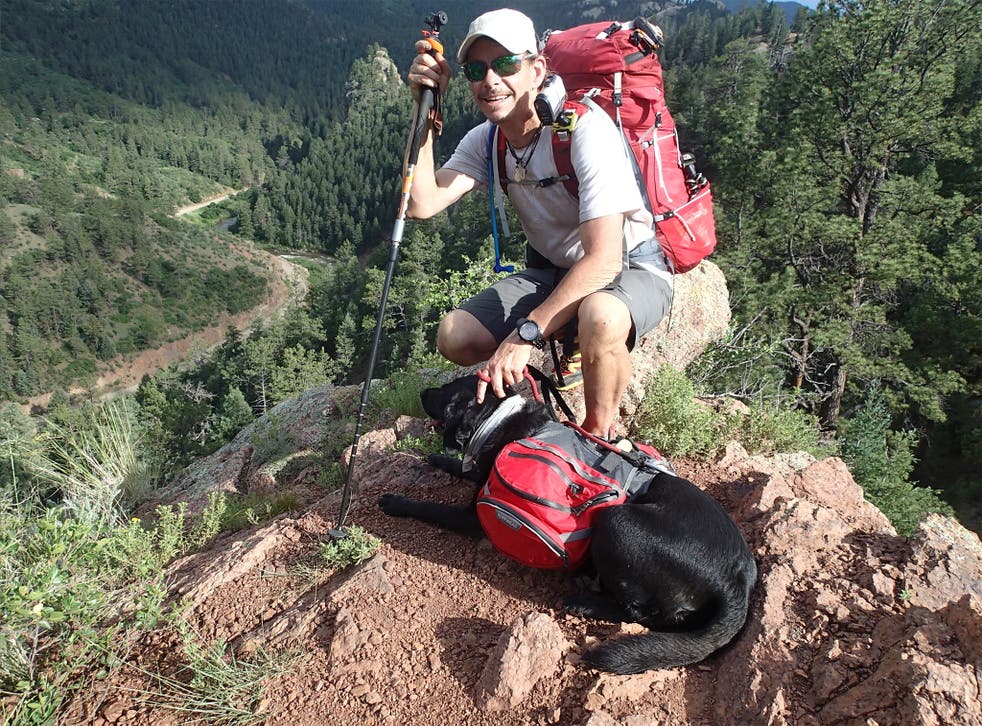 When extreme sports enthusiast Trevor Thomas began to go blind 10 years ago, he found that people's expectations of him changed. "I'd call myself the quintessential adrenaline junkie," he explains. "At age three, my parents started me off downhill skiing. I was mountain biking, sky-diving, and I used to race Porsches. I still wanted to stay active when I was going blind, but I found out no one else wanted me to. The list of things I wasn't supposed to do got really, really long. I was told to get an inside hobby and do simple activities, to get associated with some organisations for the blind and go hang out with other blind people."
Ten years later – he lost all of his vision within eight months of going for an eye test when he thought he needed glasses before starting law school – Thomas is the world's only blind professional long-distance hiker, and in 2008 became the first blind person to complete the 2,175-mile Appalachian Trail on a solo unassisted hike.
Although Thomas wasn't assisted by guides or companions, he says that the trail is so busy, he encountered people every day. "It's actually fairly hard to hike on your own. My goal was simply to go day by day. When I ran into someone, I would ask them to describe to me what the trail would be like until the next shelter. At that point, technology hadn't caught up to doing what I do. To an extent it still hasn't."
But today, Thomas uses a range of technological devices and applications, both to help him navigate and hike safely and to communicate with his growing number of followers. He has developed a community around his walking exploits and motivational talks, and has set up Team FarSight Foundation, an organisation that encourages blind children to get out into the great outdoors.
Among the technology that he uses is social media. Think about it for a minute, though: for the blind and partially sighted, technology that relies on the visual, like a majority of social media applications including Facebook, Instagram and Pinterest, doesn't hold much appeal if you can't see. Blind people typically employ a screen reader to use their phones, tablets and computers, which can speak the text out loud, as well as magnification and voice activation applications. Without additional, more advanced functionality, the images so many of us delight in posting, sharing, tagging and liking are redundant.
"I want my followers to experience what we're doing day by day as much as possible," says Thomas. "If you were to ask me about Facebook three years ago, it was a one-way line of communication with the world. It really wasn't designed for blind people. Someone else had to do my posts and read my posts to me. Over the past few years it's become a platform for people with a visual impairment. Now, I interact with people. I get my own messages, I can answer people's enquiries. If people put a description on the pictures they send me, I can read out what it is."
Where traditional screen readers failed as we shifted to sharing more images than text over social media, Facebook began to implement artificial intelligence to interpret posts for its visually impaired readers, producing algorithms that are capable of describing photographs, albeit in only a few words.
Robin Spinks is the senior manager for digital accessibility at the Royal National Institute for Blind People (RNIB). He works with many of the major players – Google, Microsoft, Apple – consulting with them to help make operating systems more accessible, as well as with app developers. He says that the major driver has been legislation rather than altruism, in particular the 21st-Century Communications and Video Accessibility Act in the US, which has pushed manufacturers to improve accessibility.
Partially sighted himself, Spinks picks out Apple for leading in the field. "Apple took a standpoint, certainly in terms of mobile technology, to integrate accessibility features at the operating system level, so you don't have to buy a costly screen reader or magnification device. It always believed it [accessibility] is part of the experience."
Spinks recently walked Norfolk's 93-mile Peddar's Way from Thetford to Cromer, over four days. Along the way he used a Fitbit to find out, via his phone, how the walk was going.
Spinks would like there to be more widespread use of beacon-based technology, where smartphones pick up beacons via Bluetooth and the urban landscape is described to the user via their headset. In a shopping centre, for example, users would know exactly which shops they were passing. "Making sense of large indoor environments that are complex can still be hugely challenging and daunting for people," he says. "The tech exists to simplify that, and it's low cost."
Back out in the wilderness, Trevor Thomas's emergency personal rescue beacon, which determines his exact location via a satellite link, has a "cool feature" that updates Facebook every 10 minutes with his whereabouts. If he's not where he should be, or isn't moving fast enough, his expedition coordinator knows that there may be trouble ahead.
Thomas worked out his own way of navigating with the help of his iPhone. Before any outing, he plans a route using guide books and topographical maps and emails it to his phone in segments. Then he downloads it for use with audio software, so he can use it in areas with no coverage, and also measures distance by keeping track of his speed and time. When he gets close to something, he will manage it with a combination of echo-location – like the skill that bats use – and his guide dog, Tennille, whom he's had since 2012. Tennille is the first dog from Guide Dogs for the Blind to be trained in long-distance hiking and navigating unpredictable backcountry. Thomas recently experienced a tech fail, however, and last month had to abandon the 319-mile Sheltowee Trace Trail, which stretches across Tennessee and Kentucky. He'd upgraded to iOS9 just before setting out, and hadn't realised that his directions, which previously downloaded onto his phone without hiccup, were now stranded in the cloud. "I couldn't go forwards and I couldn't go backwards, because I just didn't have any directions."
He's spoken to Apple and is going to try out a couple of fixes on trails local to his home in Charlotte, North Carolina, but the event highlighted his bravery in tackling trails without good vision. "It's exciting being blind at this time in the tech revolution, as I've gone from not being able to send a text to being able to speak my texts. It's challenging to see in what new ways I can use technology to help me achieve greater heights than I have already," he says.
Thomas's hiking exploits are well recognised, but in the tech world he is a different kind of trailblazer. "Nothing's designed for me," he points out. "I take what someone's invented and use it in ways they hadn't dreamed of."
Register for free to continue reading
Registration is a free and easy way to support our truly independent journalism
By registering, you will also enjoy limited access to Premium articles, exclusive newsletters, commenting, and virtual events with our leading journalists
Already have an account? sign in
Register for free to continue reading
Registration is a free and easy way to support our truly independent journalism
By registering, you will also enjoy limited access to Premium articles, exclusive newsletters, commenting, and virtual events with our leading journalists
Already have an account? sign in
Join our new commenting forum
Join thought-provoking conversations, follow other Independent readers and see their replies