Yusaka Maezawa: Japanese billionaire pays to get the most retweeted post in Twitter's history
Man who will be sent to the Moon by Elon Musk beats teen asking for chicken nuggets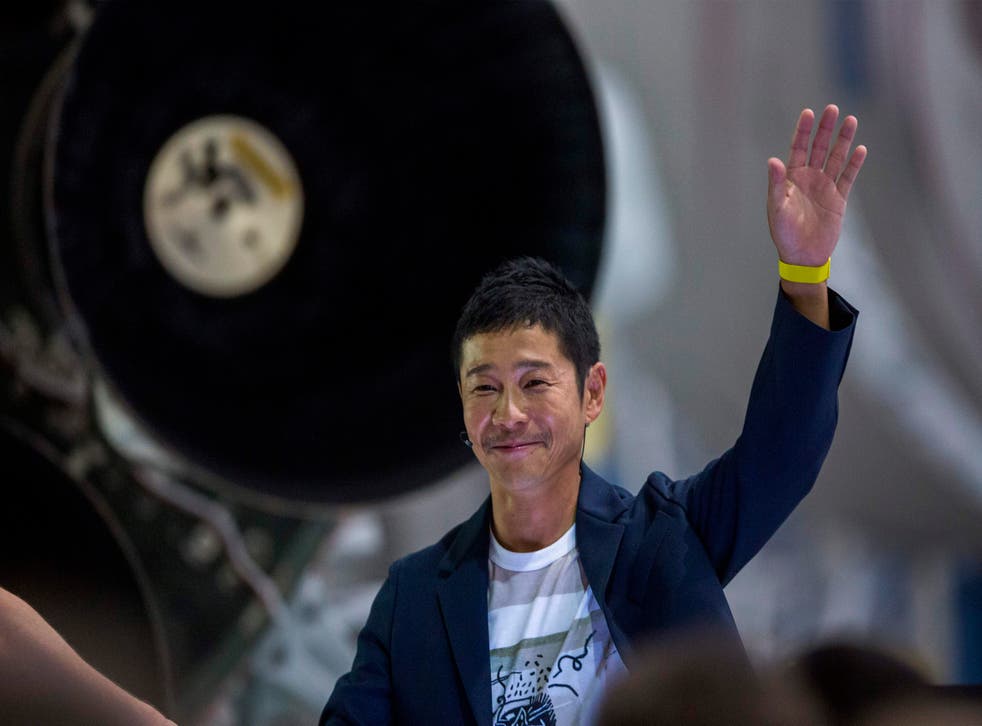 A Japanese billionaire who will be sent to the Moon by Elon Musk now has Twitter's most retweeted post ever.
Yusaka Maezawa said people would be in with a chance of being given cash if they shared his post, which has now garnered almost 5 million retweets.
In the post, Mr Maezawa said that Zozotown – the online fashion retailer that made him his billions – had a particularly successful spring sale and that he would be giving away money to celebrate. Anyone who retweeted his post would be in with a chance of being one of a hundred people to be given a million yen ($9,200).
He takes the crown from a US teen who asked people to retweet a post asking Wendy's for free chicken nuggets. That post only got 3.5 million retweets.
As well as getting the most shared tweet ever, the number of people following Mr Maezawa's account surged from around 500,000 the tweet was posted to more than 5 million at the time of publication.
The tweet itself was written in Japanese and included instructions that it should be retweeted, as well as images that included a reference to ET.
Mr Maezawa is perhaps most famous internationally for the fact he will become the first person to ever buy a private trip to the Moon, when he is carried there by a rocket made by Elon Musk's SpaceX. His identity as the company's first private customer was unveiled in September.
The trip will see Mr Maezawa carried around the Moon and back on SpaceX's unfinished Big Falcon Rocket. He said he will take a group of artists with him, in the hope they can document the experience.
The price of the trip has not been disclosed, but Mr Musk said it was "a lot of money". They hope to set off in 2023.
Mr Maezawa first became famous in Japan as the drummer in a band called Switch Style. But his fortune came when he set up Zozotown.
The online clothing store helped him amass an estimated $3 billion fortune, much of which he spends on his art collection.
Register for free to continue reading
Registration is a free and easy way to support our truly independent journalism
By registering, you will also enjoy limited access to Premium articles, exclusive newsletters, commenting, and virtual events with our leading journalists
Already have an account? sign in
Register for free to continue reading
Registration is a free and easy way to support our truly independent journalism
By registering, you will also enjoy limited access to Premium articles, exclusive newsletters, commenting, and virtual events with our leading journalists
Already have an account? sign in
Join our new commenting forum
Join thought-provoking conversations, follow other Independent readers and see their replies