Zano drone: Kickstarter is not all about dazzling success stories
A small, Welsh-based company called Torquing Group used the platform to raise £2.3 million for its handheld drone, but the company has collapsed
Nick Duerden
Thursday 21 January 2016 22:00 Comments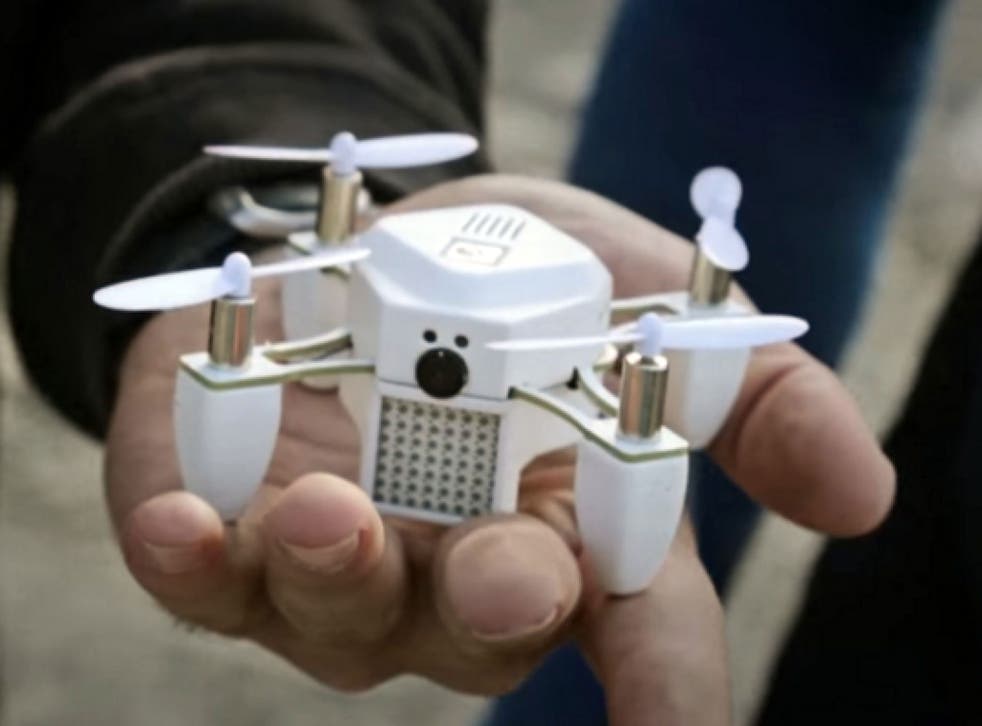 It was supposed to motivate us all into helping everybody else, nothing less than a rallying cry for creative types everywhere. And, mostly, Kickstarter has done just that since its inception in 2009, a trailblazing crowdfunding site in which it encouraged us to cut out the middleman – or woman – and invest in entrepreneurial talent directly. And in return, we receive the fruits of their labours upfront.
But this week Kickstarter found itself the focus of an uncomfortable news story after a small, Welsh-based company called Torquing Group had used the platform to raise funds for its handheld drone, the Zano.
The Zano was evidently highly desirable, quickly becoming Europe's most-funded project: 12,000 people raised more than £2.3 million towards its development. But the company has collapsed; its website, says Google, is no longer available. It is currently under investigation by Trading Standards, and Kickstarter has just published a 13,000-word investigative report into precisely how it managed to leave 12,000 punters without their drones, and out of pocket. Part of the problem, says the article's author, Mark Harris, seems to have been that the corporate board elected to "skip a genuine pilot build and head straight into full production".
Gadget and tech news: In pictures

Show all 25
Before now, Kickstarter was largely seen as a force for good. In 2012, the American cult musician Amanda Palmer – tattoos, on-stage nudity, and married to the British writer Neil Gaiman – announced that she would crowdfund for her next album via Kickstarter, her musical tastes being a little too leftfield for regular record labels. For quite so niche an artist, she set herself high hopes: $100,000 (hers, she said, were loyal fans). Palmer ultimately raked in more than $1.2 million, then a world record for crowdfunding. She swiftly responded by delivering Theater Of Evil, the album of her career. She also helped put Kickstarter on the map.
But Torquing's spectacular collapse has pricked a collective consciousness: if there is one failure, there must be more. And there are: plenty. Websites have sprung up, devoted to mocking them. And perhaps with good reason, for it seems anyone can advertise a creative initiative, even if that initiative often resembles nothing so much as folly.
One such example is The Bilingual Dice, which aims to promote "the preservation of culture and languages worldwide through… hand-eye coordination and communication learning, and memory building game set for classrooms, and homes of people bound to encounter the multicultural scenario".
One might think the "entrepreneur" here – one Joseph Smiley – might have been having, as his surname implies, a laugh. From his plea, it's difficult to discern. Smiley was after a $160,000 investment. Perhaps he still is.
There is also the "gaming app" based on the puerile activities of teenage boys; an "electro-wallet"; and even motivational tapes for cats. This last, as ridiculous as it reads on paper, attracted 112 backers pledging more than $1,000 – more than the Cephas Meter 68AD achieved, a time-telling device that "meters" the difference between the Lord's day and man's day, the correct application of which "may be powerful enough to win wars".
Poking fun at what is otherwise a fairly inspiring way to facilitate lightbulb moments is all well and good, of course, but without Kickstarter, Amanda Palmer, for one, would still be singing to hundreds instead of thousands. And the fallout from the Torquing Group's failure doesn't bode well.
"No more Kickstarter for me," wrote one dissatisfied user on the site, another adding: "Willing to pay more after the product hits the shelves."
Kickstarter spokesman David Gallagher is sympathetic, pointing out that only nine per cent of the crowdfunder's projects fail. "We do understand that there are people who are not happy with the outcome of this project," he says. "We hope they will consider backing projects in the future, but we totally understand if they don't. This is a system that works most of the time and has produced some amazing work. If we want a system that is democratic and doesn't involve banks and venture capitalists, and lets people get independent funding to bring their ideas to life, then perhaps we ought to accept some failures along the way."
Register for free to continue reading
Registration is a free and easy way to support our truly independent journalism
By registering, you will also enjoy limited access to Premium articles, exclusive newsletters, commenting, and virtual events with our leading journalists
Already have an account? sign in
Register for free to continue reading
Registration is a free and easy way to support our truly independent journalism
By registering, you will also enjoy limited access to Premium articles, exclusive newsletters, commenting, and virtual events with our leading journalists
Already have an account? sign in
Join our new commenting forum
Join thought-provoking conversations, follow other Independent readers and see their replies