Jean Seberg's secret wedding to Romain Gary has been a mystery for years - until now
French journalist Ariane Chemin reveals the details of the American star's 1963 wedding in her book Mariage en Douce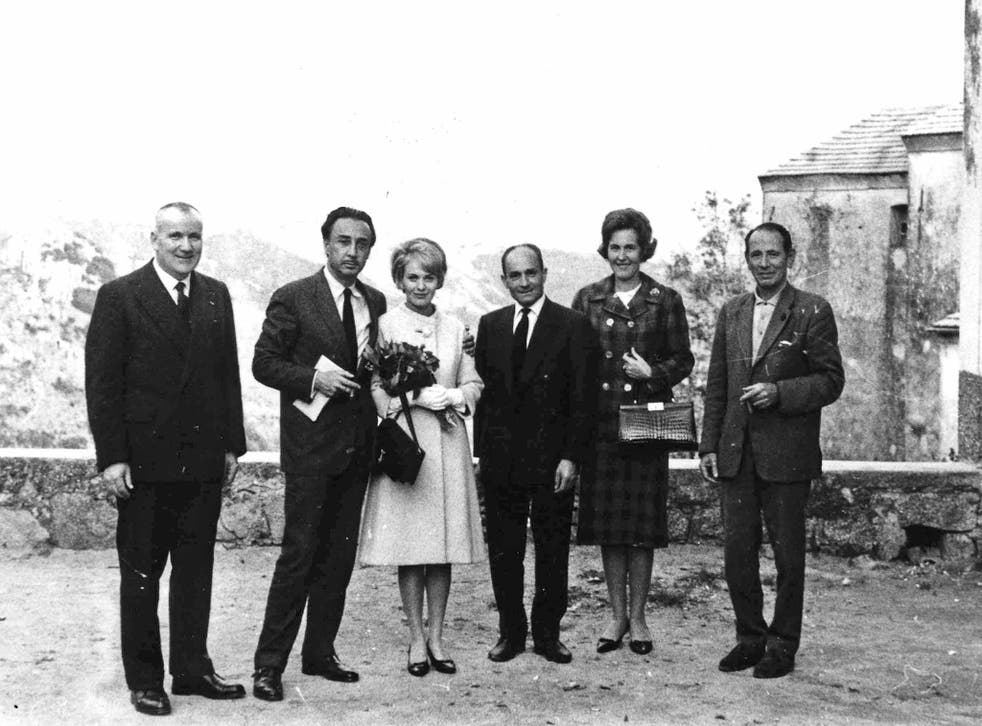 They were the most intriguing celebrity couple of their era. They had recently dined with JFK and Jackie Kennedy at the White House.
The international press knew that they were having a love affair. Their movements were closely watched.
They managed to elude the paparazzi to marry in secret in a village in Corsica. There were only five other people there, including two French intelligence officers and the village mayor.
The mayor had never heard of either the bride or the groom. They had never been to Corsica before.
The couple were Jean Seberg, 24, an American actress who had come to embody both liberated, modern femininity and French chic, and Romain Gary, 49, a Lithuanian-born French war hero, prize-winning novelist and diplomat.
The bizarre story of their wedding on 16 October 1963 has remained largely a mystery – until now.
A book published in France last week explains how Seberg and Gary came to marry in the tiny village of Sarrola in the hills north of the Corsican capital, Ajaccio. For 53 years, the circumstances of the wedding have been concealed behind two sets of locked doors: the Corsican law of silence and French military secrecy.
Last year, Ariane Chemin, one of the most respected reporters at the newspaper Le Monde, located the last living witness of the wedding. She persuaded him that, after a half century, he could finally break his Corsican vow of acqua in bocca (mouth full of water).
Why should two French intelligence agents – one of them a general, no less – have been present at a secret wedding in an obscure Corsican village between an American actress and a Lithuanian-Jewish-born novelist? Why was it so important for Seberg and Gary to marry in secrecy?
News of the wedding leaked out after five days – to the frustration of the paparazzi and "people press" and the fury of Romain Gary. A rational explanation for the choice of the tiny Corsican village was concocted. The mayor, Natale Sarrola (the same family name as the village name), was said to be an old wartime comrade of Gary and supporter of Charles de Gaulle, the leader of Free France, now President of the Republic.
In Mariage en Douce (marriage on the quiet), published by Equateurs, Chemin reveals that Sarrola was in fact a left-leaning, local politician who had never left Corsica in his life. His village had been chosen, almost at random, for the celebrity marriage of the year, by French military intelligence four days before.
Chemin explains the secrecy of the wedding by the mores and history of the period: the stifling, social conservatism of the de Gaulle era that led to France's cultural revolution in May 1968; but also the social and sexual prudishness of the US and Hollywood of the early 1960s.
The couple had been recently involved in bad-tempered divorces, caused by their love affair. They had concealed the birth of a son, Alexandre Diego, the previous year.
A public wedding – even a private wedding made public by TV and press cameras – was distasteful to Gary, a Gaullist war hero and winner of France's greatest literary prize. It was therefore distasteful to the Gaullist French state.
Chemin suggests that Seberg was less keen on the secrecy and austerity of the wedding. The surviving witness Colonel Domy Colonna-Cesari, 94, gave the author a copy of an unpublished wedding photograph, which he took outside the Sarrola town hall on 16 October 1963.
In the picture (reproduced above) Seberg looks stiff and almost middle-aged. She appears nothing like the elfin, short-haired actress who had won rave reviews two years before in Jean-Luc Godard's À Bout de Souffle (Breathless), one of the iconic movies of the French New Wave.
"She is there with her new husband and four middle-aged people that she does not know. No friends; no one of her own age," Chemin told The Independent. "I was told by Col Colonna-Cesari, the surviving witness, that they scarcely embraced. I think that the truth was that their great passion was already over. She had wanted to marry two years before."
In 1957, at the age of 17, living in small town in Iowa, Seberg was chosen by Otto Preminger from 18,000 hopefuls to play Joan of Arc. Her performance was widely rubbished. She said later that she had been "burned twice", once on screen and the second time by the critics.
Her career survived. In 1961, she won rave reviews as Patricia, a carefree young American newspaper-seller who falls in love with a French gangster (Jean-Paul Belmondo) in Breathless.
In 1957 she had married a suave French lawyer and would-be film director, François Moreuil. A couple of years later, she and her husband were invited to a party by the French consul in Los Angeles – Romain Gary. Their love affair began the following year.
Gary, real name Roman Kacew, was born in Vilnius in 1914. He and his mother moved to France when he was a teenager. He changed his name to Romain Gary when he flew in light bombers from England with the Free French air force during the Second World War.
He received many awards for bravery, including Compagnon de la Libération and Commander of the Légion d'honneur. In 1944 in London, he had married Lesley Blanch, 10 years his senior, a writer The Wilder Shores of Love and editor of Vogue.
After the war he began to write and in 1956 won the Prix Goncourt, France's equivalent of the Booker, for Les Racines du Ciel. In 1975, he would become the only writer to win the Goncourt a second time. In theory, the award can only be won once. Gary won with La Vie Devant Soi under the pen name Emile Ajar. The prize was never taken away.
The Gary-Seberg love affair – passionate, supportive, with a touch of father-child – has often been chronicled. Their wedding has never been described in detail before.
The facts, as established by Chemin, are as follows. Jean Seberg was keen to marry, especially after the birth of their son in 1962. Romain Gary was less keen.
He asked a wartime comrade General Charles Feuvrier, by then head of an arm of French military intelligence, to help him find a way to marry in secret. The de Gaulle administration gave its tacit blessing, anxious to avoid a media scandal involving an official Gaullist hero.
On 12 October 1963, General Feuvrier called in one of his junior officers, the Corsican Col Colonna-Cesari. Corsica and secrecy went hand in hand.
Col Colonna-Cesari set off for Ajaccio that day to look for a mayor who would marry the celebrities and keep his mouth shut afterwards. While having a drink on one of the main streets with a friend, he was introduced to Mayor Natale Sarrola. A couple of phone calls later, the deal was made.
General Feuvrier supplied fake banns for the wedding couple and a fake birth certificate, stating that their son was born after the marriage. The following Wednesday, Seberg and Gary were flown to Corsica in a military aircraft from the Villacoublay military base near Paris.
Three military vehicles met the couple on the tarmac at the Ajaccio airport. They were taken straight to Sarrola and married. The only witnesses were the mayor and his secretary, General Feuvrier and his wife Françoise and Chemin's informant, Col Colonna-Cesari.
"It can't have been much fun for her," Ms Chemin said. "She looks more as if she is at a funeral than a wedding."
All present were sworn to secrecy – both military and Corsican. Even when the news of the wedding leaked, they continued to make misleading statements about the background.
The marriage lasted for seven years. Seberg and Gary went on to have successful careers and many lovers. They two remained friends and even, for a time, shared a flat in Paris, separated into "his" and "her" portions. They committed suicide within 15 months of each other in 1979-80.
Gary blamed Seberg's death in August 1979 on the FBI, which had persecuted and smeared the actress in the early 1970s because she supported the Black Panther movement. Before shooting himself in the mouth in December 1980, Gary left a note saying that his suicide had "nothing to do with Jean Seberg. Fans of broken hearts should look elsewhere."
Chemin is not the first person to suggest that the note was a confession masquerading as a denial.
Register for free to continue reading
Registration is a free and easy way to support our truly independent journalism
By registering, you will also enjoy limited access to Premium articles, exclusive newsletters, commenting, and virtual events with our leading journalists
Already have an account? sign in
Register for free to continue reading
Registration is a free and easy way to support our truly independent journalism
By registering, you will also enjoy limited access to Premium articles, exclusive newsletters, commenting, and virtual events with our leading journalists
Already have an account? sign in
Join our new commenting forum
Join thought-provoking conversations, follow other Independent readers and see their replies