Barack Obama pictures show how US President has aged since taking office in 2009
Social media users leap to American leader's defence after seven years in 'brutal' job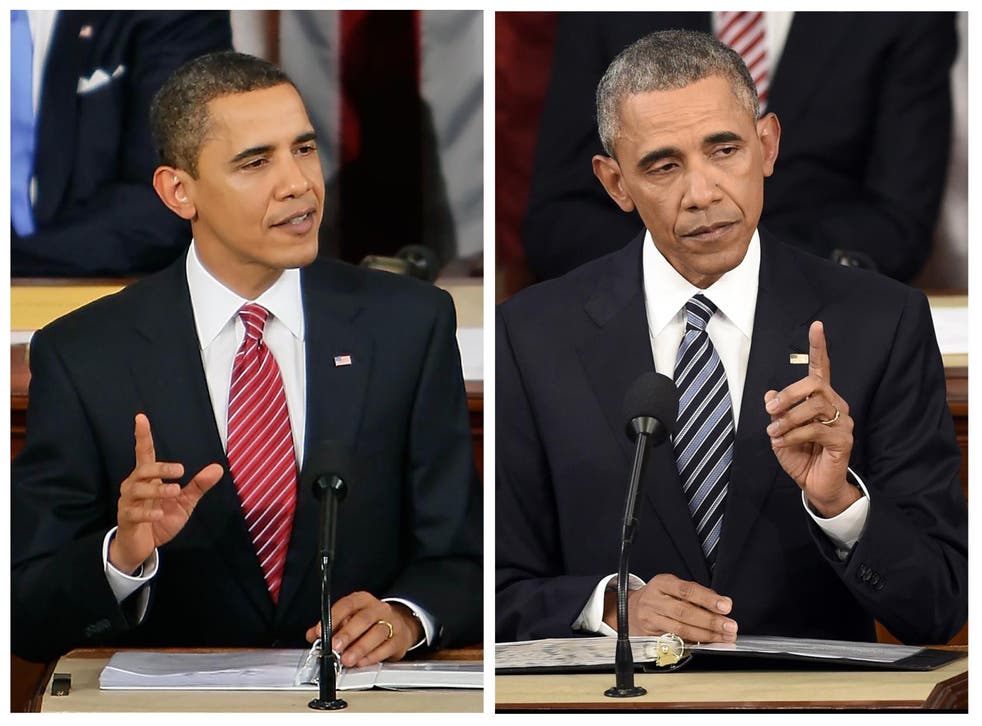 Two photos that show how much Barack Obama has aged since taking office in 2009 are being shared by social media users.
TIME magazine placed pictures of the President side by side, both taken from State of the Union addresses - the first, in 2009, and the second, from his speech on Tuesday evening.
The 53-year-old has frequently joked about going grey, but Twitter users also pointed to the worry lines, stress marks, and more pronounced age spots he has developed during his seven years as leader.
However, a number of users leapt to Mr Obama's defence, saying he has a "tough" and "brutal" job.
Mr Obama is not the only president to go grey in the White House. Abraham Lincoln was described during his tenure as having aged with "great rapidity".
Lyndon B Johnson's hairline visibly thinned while serving his term as president, while Franklin D Roosevelt's liver spots were said to have worsened under his eyes during his last term in office.
But while many commented on the toll Mr Obama's job had taken on his image accompanied, others remarked that First Lady Michelle Obama's appearance had fared far better.
Obama: Twelve months on, the star falls back to earth

Show all 14
During his 2016 State of the Union address, Mr Obama said his biggest "regret" was how he will leave the US more polarised than when he came to office in 2009.
Register for free to continue reading
Registration is a free and easy way to support our truly independent journalism
By registering, you will also enjoy limited access to Premium articles, exclusive newsletters, commenting, and virtual events with our leading journalists
Already have an account? sign in
Register for free to continue reading
Registration is a free and easy way to support our truly independent journalism
By registering, you will also enjoy limited access to Premium articles, exclusive newsletters, commenting, and virtual events with our leading journalists
Already have an account? sign in
Join our new commenting forum
Join thought-provoking conversations, follow other Independent readers and see their replies