2015 was the year that Burma's long wait for democracy was finally rewarded
World View: In 68 years of independence, Burma has yet to see power transferred smoothly - and questions remain as to how Suu Kyi and her party will be able to take control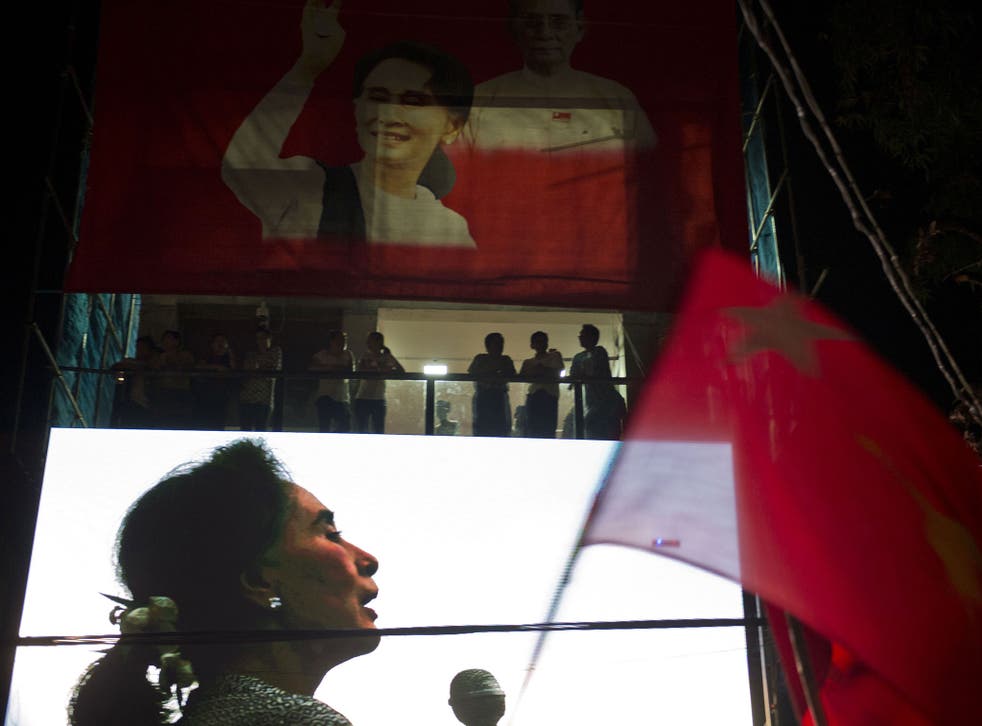 If it is better to travel in hope than to arrive, 2015 will have been a champagne year for Burma.
Floods, riots, chauvinistic Buddhists, renewed warfare on the borders, capped by an election in a country with a very patchy record for elections: that was how 2015 looked on 8 November. Then one day after polling, the sun came out and the shadows fell away.
As an exercise in democracy, it was never going to be perfect: cynical calculation by the government deprived the Rohingya community of the vote, and unrest prevented polling in 400 border villages. But the election was monitored by more than 1,000 foreign and domestic observers, and passed off with relatively few allegations of corruption or abuse. And it delivered a resounding result: a landslide win for the National League for Democracy, and a thumping endorsement for the party's leader, Aung San Suu Kyi.
That result could not have been scientifically predicted: Burma lacks even rudimentary opinion polling, there were more than 90 parties in contention, and the ruling Union Solidarity and Development Party (USDP), created by the military, threw large resources into the campaign. But the huge turnout for NLD rallies suggested the way the wind was blowing. And the grins from voters camping outside polling stations hours before they opened indicated two things: they were practically all voting for the same party, the NLD; and they were optimistic that this time their preference would be respected. Both of these turned out to be true.
This election was democratic payback. Burma's first free election in a generation was held in 1990, two years after the popular uprising that produced the NLD. The result was a landslide win for Suu Kyi's party, to the consternation of the ruling military junta, which hurriedly decided it wasn't a real election at all, locking up the MPs-elect who were not quick enough to jump the border.
Aung San Suu Kyi walks free

Show all 3
No further gambles with popular opinion were taken until 2010, after the junta had rammed through a constitution armour-plating the military's role in government. The general election of that year was a squalid fix which put the new-minted USDP in control. The NLD did not even register as a party: a precondition of registering was that all party members who had been jailed or detained would have to be expelled first, and as that would have meant expelling the party's founders, including Suu Kyi, it was out of the question. I reported the run-up to that election for The Independent, noting the utter absence of enthusiasm on the street. A week before voting I was expelled along with a number of other foreign journalists. Critical observers were not required.
Thanks to the reforms introduced by President Thein Sein in his successful attempt to woo the West, 2015's election was a different matter. Campaigning was open and lively, and for the first time Burmese showed no fear of advertising their choices. They voted freely, the votes were counted, the results announced. The monitors were happy.
But there remained grave doubts about what would happen next. In 68 years of independence, Burma has yet to see power transferred smoothly. Nearly four months were set to elapse between the vote and the handover, set for 31 March.
A lot could happen in that time: another military take-over, for example. The USDP had been crushed in the election: would its masters, the army, accept the implications?
The answer came on 2 December when, after a wait lasting weeks, both President Thein Sein – a former general – and the head of the army, Aung Min Hlaing, invited Suu Kyi to separate private meetings. They emerged with broad smiles which meant only one thing: the election result stood. The military "have an exit strategy", a retired general said. "They will fade away from politics day by day."
That prediction looked even sounder three days later, when out of the blue Suu Kyi was invited to meet Than Shwe, the former general who ruled Burma with an iron rod until his retirement four years ago. In the past, diplomats report Than Shwe storming out of meetings if Suu Kyi's name was even mentioned; now they were having a cosy chat. Subsequently one of the ex-leader's grandsons, Nay Shwe Thway Aung, wrote on Facebook, "After winning the election, it's the reality that all have to accept – that Suu Kyi will be the country's future leader."
So power will be transferred; people power wins out; Suu Kyi's 15-plus years locked up in her home are redeemed. Vital questions remain. Suu Kyi and her party are fiercely hostile to the constitution, which bars her from becoming president (because her sons hold foreign passports) and guarantees the army's central role in power. During the election campaign she made it clear that amending the charter was her first priority – yet it is immensely difficult to do. One possible solution is that Suu will be permitted to become president from on high, by fiat, if she guarantees to look after the generals' interests in return.
That possibility was reinforced by the news this week that the present government plans to pass a former presidents' security bill, granting them immunity from prosecution.
What is clear is that, after 27 years of single-minded effort, Suu Kyi holds her country's future in her hands. What she does with power we will soon begin to learn.
Register for free to continue reading
Registration is a free and easy way to support our truly independent journalism
By registering, you will also enjoy limited access to Premium articles, exclusive newsletters, commenting, and virtual events with our leading journalists
Already have an account? sign in
Register for free to continue reading
Registration is a free and easy way to support our truly independent journalism
By registering, you will also enjoy limited access to Premium articles, exclusive newsletters, commenting, and virtual events with our leading journalists
Already have an account? sign in
Join our new commenting forum
Join thought-provoking conversations, follow other Independent readers and see their replies