We need a mental health league table for universities
Some universities are failing students by not providing adequate mental health support – we should name and shame those who perform the worst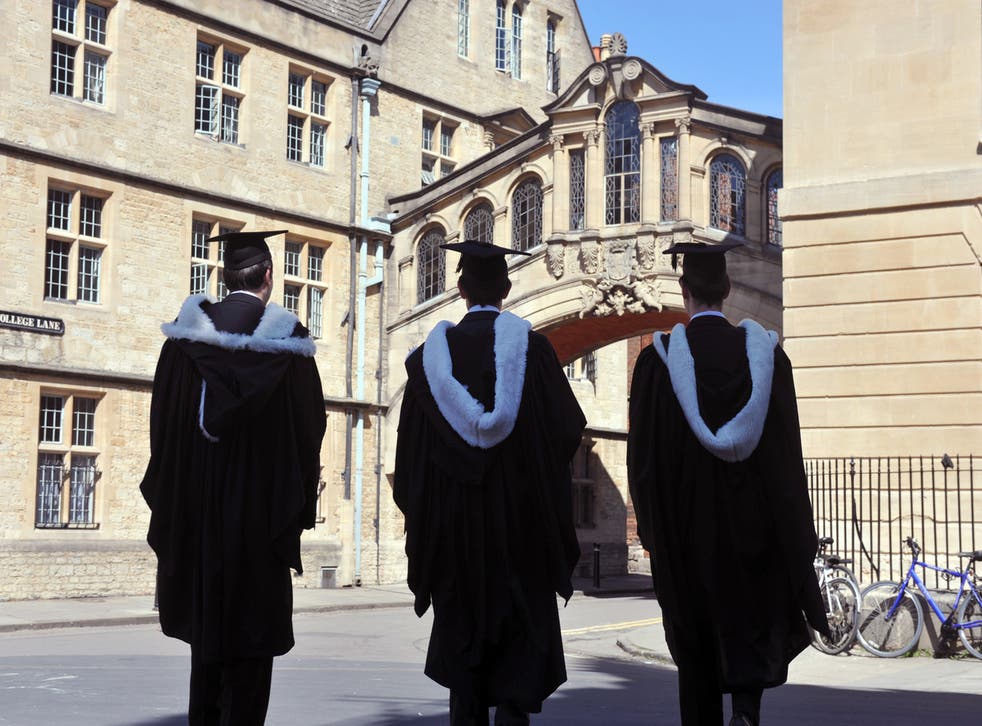 There is a mental health crisis on college campuses, and it's getting worse.
Of the roughly 410,000 students collecting their A-level results who will then move on to university, at least one in four will report experiencing a mental health problem. That number rises to 34 per cent for women and almost half for LGBTQ students.
Even if they don't report a mental health issue, more than six in ten undergraduates feel levels of stress which "interfere with their daily lives", 77 per cent experience a "fear of failure", and, of those who report mental health issues, 77 per cent suffer from depression and 74 per cent from anxiety.
Ten years ago, sat fresh-faced in an Oxford orientation session, I remember talks on binge drinking ("stick to beer and wine"), sex education ("there are free condoms outside the common room") and antisocial behaviour ("just don't") – there was hardly a peep on mental health.
QS World University Rankings: top 10 UK institutions

Show all 10
As we approached graduation three years later, of my twenty or so closest friends, none had serious drinking problems, only one had (briefly) contracted an STI, and none engaged in antisocial behaviour. However, at least five experienced significant bouts of depression, a further four suffered from anxiety, and one, tragically, committed suicide.
I fear the problem has worsened. In the United States, of those students seeking mental health services, seven per cent had been hospitalised in 2010-2011 compared with 9 per cent in 2015-2016. Of the same group, 26 per cent had purposely injured themselves without suicidal intent in 2015-2016, up from 22 per cent in 2010-2011, and those seriously considering attempting suicide increased by nine percentage points in five years to 33 per cent in 2015-2016.
This is a tragedy. 75 per cent of all mental health conditions begin by the age of 24, so the years in university dorms are crucial for shaping the next generation's mental wellbeing. The cost of mental ill health to the economy, NHS and society is estimated at £105bn per year and, put simply, the looming spectre of psychological anguish is making universities less wonderful places to be.
Diagnosing the causes is challenging, but there are some likely contenders.
Student opens A level results to find bad news live on tv
First, support services are not up to scratch. While Oxford and Cambridge spend £48.25 and £40.48 respectively per head per year on mental health services, Warwick spends only £11.92 and the University of Central Lancashire £4.64. Although three quarters of students know that their university offers a counselling service, only 30 per cent rate those services as "very helpful"; 45 per cent deem them "somewhat helpful" and 21 per cent report that they are "not helpful at all."
Second, the bar for success – and students' expectations of success – seems to have soared dangerously. At Harvard, where I am now a Fellow, some undergraduates apply for investment banking internships as soon as one month after first setting foot on campus. The stereotype of students lazily eating fast food whilst watching daytime TV is being superseded by a frenetic, hamster-wheel lifestyle of careers fairs, grade neuroticism and anxiety. With student debt rising to more than £50,000 in the UK and even more dizzying levels in the US, this is understandable.
Third, universities on both sides of the Atlantic risk becoming the wrong kind of safe spaces. The movement to make minorities and the marginalised feel comfortable to speak up and fully engaged in educational life is to be welcomed. However, on some campuses, the febrile atmosphere surrounding contentious social issues is toxic. In America, the election of Donald Trump as president has prompted many students with right wing beliefs to out themselves as feeling uncomfortable sharing their views.
Dial on mental health struggles has shifted but we can do much more - Harry
Finally, all of this is compounded by social media and the smartphone. Many students beginning university this year were born after the millennium, and so are part of iGen (those born between 1995 and 2012). They are more likely to feel lonely, stressed and anxious. Many will experience their university days through Snapchat videos of friends seemingly having more fun without them, peers boasting of grabbing the golden ticket internship, and arguments that once might have been diffused over a pint now exploding on Facebook.
Addressing the problem is not easy, but address it we must. Just as well tell mental health sufferers to, universities should begin by admitting they have a problem. Reputational concerns should never trump student welfare; ultimately, universities will receive more kudos if they are perceived as being ahead of the curve.
Now that the era of endless accommodation building appears to be at an end, that money should be reallocated towards better and more accessible on-site services. And not all solutions require money: for example, Oxford's student-run but professionally trained anonymous phone counselling service Nightline could be replicated across the country.
Equally, it doesn't cost anything to ensure every student receives a proper induction talk, not only about what to do if they experience mental health issues (which many will), but also what to do if they experience friends with mental health issues (which all will do).
Careers offices should interface with mental health services, and the former should see their role as helping students to take the next step in a holistic sense rather than pressuring them into finding the highest-paying pigeon hole possible.
Finally, the Department for Education should partner with leading academics and non-profits to devise an evaluation method to test how well universities support mental health. If these rankings were published annually, I have no doubt that Vice Chancellors would pay attention.
Addressing this epidemic is not just good policy. It is a moral obligation owed to the next generation and the one after them.
Benjamin Clayton is a Fellow at Harvard's Kennedy School of Government. He was previously Chief of Staff at the British government's National Infrastructure Commission
Register for free to continue reading
Registration is a free and easy way to support our truly independent journalism
By registering, you will also enjoy limited access to Premium articles, exclusive newsletters, commenting, and virtual events with our leading journalists
Already have an account? sign in
Join our new commenting forum
Join thought-provoking conversations, follow other Independent readers and see their replies