Like many women, I had an abortion in Ealing – and this is why I know they needed a buffer zone
We heard someone shout suddenly, 'You are awful, AWFUL people!' It was a loud and angry blast. From the look of astonished horror my son was giving me and the sensation in my throat, I realised the shouting had come from me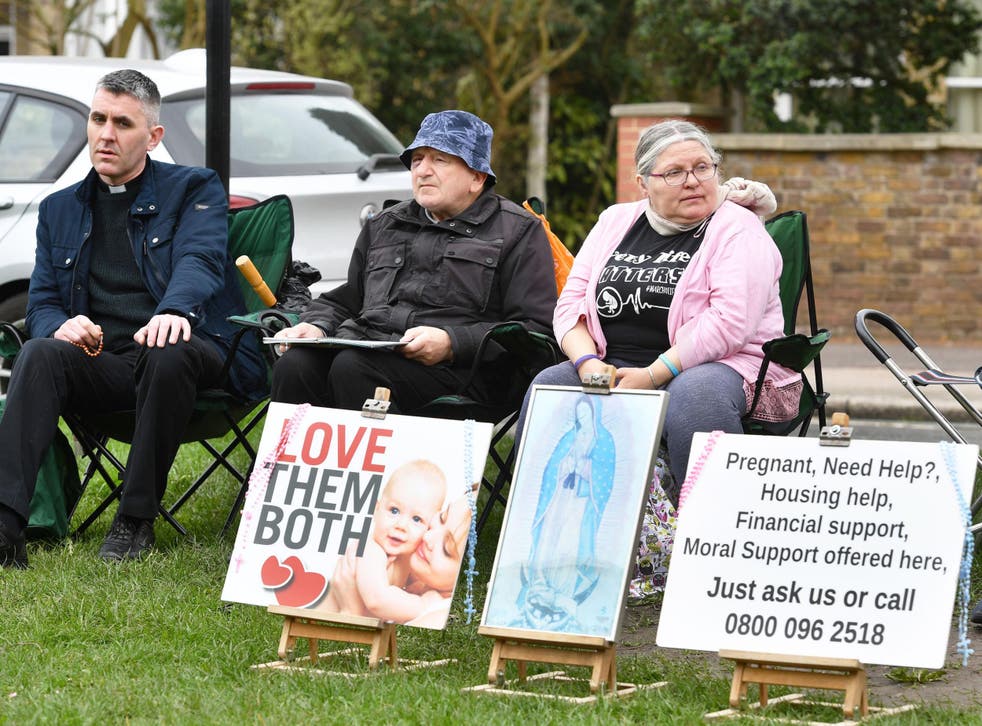 Tucked away in a quiet corner of my native Ealing, dubbed "queen of the suburbs" on account of all the trees and general awesomeness (such as Ealing Studios and the country's first Nandos) is a Marie Stopes abortion clinic. It's just near the entrance of Walpole Park where, aged 15, I was stood up by a boy and wept poetically by the pond before wandering sadly home after waiting a mere two and a half hours for him.
A few years ago, after living most of my adult life in much more "cool" parts of London, both north and south, I moved back to my childhood manor to be nearer my parents. I was single and pregnant and needed my mum and dad on my doorstep (literally in my mother's case, and every day. I sometimes wonder if giving her a key was a good idea.)
I first went to the Marie Stopes clinic in Ealing to support a friend. We were 18. She had not told her parents about the pregnancy, so my dad did the drop-off and pick-up and helped me look after her.
There were a lot of Irish girls in the waiting room. They were all about my age so I talked to quite a few of them (I was then, as now, inappropriately chatty). Until that day, I'd had no idea abortion was illegal in Ireland. What a sad thing that these girls, on top of everything else they were going through, had to endure the bother and expense of travelling to do this.
I forgot all about the place until, at 38, I found myself sitting in that same waiting room, about to have an abortion.
Thousands march in Dublin for Irish abortion rights

Show all 5
It was a traumatic day. I already had a child and desperately wanted another but this pregnancy was not to be. The reasons are private, as all the reasons for such things are. I am in awe of people like Helen Linehan and her husband Graham, the Father Ted writer. In 2015, they publicly spoke of their own circumstances which led to a termination in 2004. They also sought to highlight the injustice towards women under Ireland's eighth amendment in a video with Amnesty International.
At 38, this was perhaps my last chance to have a child, the second which I'd longed for as fiercely as I had my first, but the circumstances I was in made it impossible. Despite my atheism and views about when "life" begins, I felt wretched. My parents swept in, supported my decision and reminded me to "think about the child you have and what you need to be well enough to look after him", so that's what I did.
My aunt took me to my appointment. As I passed the protestors outside of the clinic, I held my head up high and glared at them. A man approached me with a leaflet and muttered something about "being a good mummy". I raised my palms up at him and barked, "Stay away from me!" and he did.
Life moved on and, two years later, I was lucky enough to have my daughter. Last year, my son and I were jogging to the park and ran past the Marie Stopes clinic. I'd honestly forgotten it was there, so firmly had I put that day behind me. The usual cluster of anti-abortion protesters were there at the entrance with their placards and blown-up, very graphic images.
We heard someone shout suddenly, "You are awful, AWFUL people!" It was a loud and angry blast. From the look of astonished horror my son was giving me and the sensation in my throat, I realised the shouting had come from me.
It wasn't the right thing to do, I know. Shouting at these people only strengthens their resolve that they are fighting for what they believe is right. It is hard not to shout, however, at people harassing women who are already having a pretty rubbish day.
"Why did you shout at them?" my poor, baffled nine-year-old asked. I had to then, with anger still rushing through me, figure out how best to explain why his mum suddenly screeched at strangers standing in the street. A heavier topic than is ideal on a pleasant mother-and-son outing.
The incident forced me to change my running route as it turns out that I can't control my vocal chords when passing these people. They have called women entering the clinic in Ealing "murderers" or pressed plastic foetuses into their hands. I should think being aggressively prayed at is awful enough.
This week, Ealing council voted for a "buffer zone" around the clinic so protesters are forced away and the women going in for this medical procedure are protected. I'm proud of my suburb-of-origin for paving the way in this landmark ruling for others to do the same.
Rupa Huq MP – who I happen to have gone to primary school with – brilliantly fought the corner for women against the anti-abortion "vigils". Protest, by all means, when you feel strongly about something, but if you are intimidating women at such a vulnerable time, the law is quite right to say jog on.
Register for free to continue reading
Registration is a free and easy way to support our truly independent journalism
By registering, you will also enjoy limited access to Premium articles, exclusive newsletters, commenting, and virtual events with our leading journalists
Already have an account? sign in
Register for free to continue reading
Registration is a free and easy way to support our truly independent journalism
By registering, you will also enjoy limited access to Premium articles, exclusive newsletters, commenting, and virtual events with our leading journalists
Already have an account? sign in
Join our new commenting forum
Join thought-provoking conversations, follow other Independent readers and see their replies