After five lost years, the Coalition is finally falling apart
The deficit – which this Government 'came together in the national interest' to solve – is still running at £90bn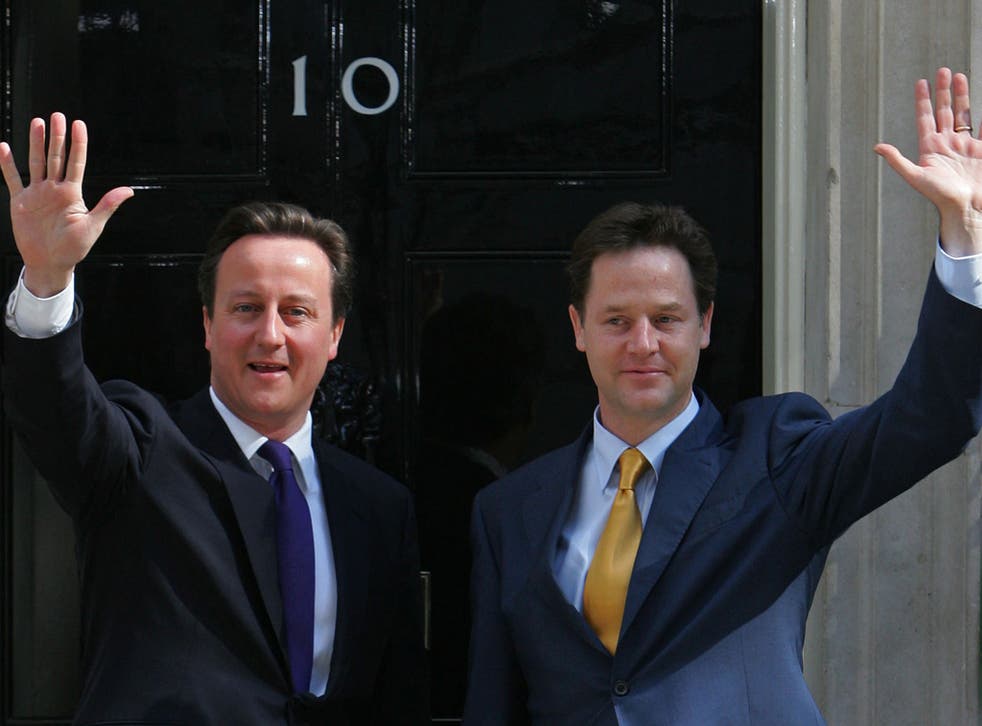 George Osborne has attempted to tell the nation that since he took office in 2010, the economy has recovered, and that everyone across the country is doing A-OK. But people around the country won't, and don't, believe him. Because they're not feeling this so-called recovery.
And that's because it's not a real recovery for most. It has to be acknowledged that this is a "recovery" fuelled by debt – and frankly, if we are borrowing over £600bn over the course of five years, you would expect some growth on the back of that. But it is artificial, and sadly not being felt by those who need it most.
Think about it. Labour took 13 years to double the national debt. It took this Conservative-led Coalition just five years to do that. And the deficit – which this Coalition "came together in the national interest" to solve – is still running at £90bn.
And let's take a look at the wages of ordinary workers across this country. They're been squashed, and depressed, by the influx of migrant labour into this country – a policy that the Labour Party pursued in government, and that the Conservative Party continued from 2010 to today.
No matter how many marginal constituencies the Chancellor names, as he did today in what can only be considered blatant electioneering, there is nothing he can do to reverse the past five years' Coalition policies. For many in the country, it has been a lost five years. And I suspect if the Chancellor is honest with himself, he'll probably see it that way too.
Election Analysis: The Key Voters

Show all 6
That's why, whether it is bingo taxes, or a measly penny off beer tax, the Chancellor will try to buy his way out of this problem. Announcing measures to spend taxpayers' money subsidising an increase in house prices across the country is not only fiscally irresponsible, but it shows the desperation of the Chancellor to try and appear to be doing something – abandoning common sense along the way.
And of course, we can't ignore the fact that the Lib Dems' Danny Alexander farcically trotted out in front of the Treasury today, yellow briefcase in hand, to deliver a Lib Dem budget – another sign that this Coalition government has already fallen apart. "Together in the national interest" turns out to be more like: "together in our electoral interest". This is why up and down this country, I get asked the question: "What would Ukip do differently?"
Well I'm pleased to say that at the moment, I believe that Ukip has the best fiscal plans, with ways to make savings from the national expenditure, without impacting the lives of ordinary working people. How? No, we're not magicians. We're just using our heads. We can save up to £8bn per year on EU contributions. We can save up to £70bn in total on the cost of High Speed Rail 2. And we can save £9bn per year from Britain's foreign aid budget.
We'd also scrap green subsidies, which push up the energy bills of ordinary taxpayers, and we'd scrap the Department of Energy and Climate Change, with its £1.5bn a year budget, and roll core functions into the Department for Environment, Food and Rural Affairs. The Climate Change Act costs Britain's economy up to £18bn a year, and we know that our policies can get thousands of people back into work by bringing down net migration and taking those on minimum wage out of tax.
But because the Conservative and Liberal Democrat parties are still so allied to the idea of the UK's EU membership – they can't offer half of these things. They'd clash with European rules – and for that reason, they just cannot offer the British public very much at all.
Register for free to continue reading
Registration is a free and easy way to support our truly independent journalism
By registering, you will also enjoy limited access to Premium articles, exclusive newsletters, commenting, and virtual events with our leading journalists
Already have an account? sign in
Join our new commenting forum
Join thought-provoking conversations, follow other Independent readers and see their replies