After the latest attack on Istanbul, why is Turkey still making it difficult for the West to defeat Isis?
Losing Turkey as an ally could make life more complicated for the US, but Turkey is no longer the asset it once was. Instead, it has become a liability and a destabilising actor in the region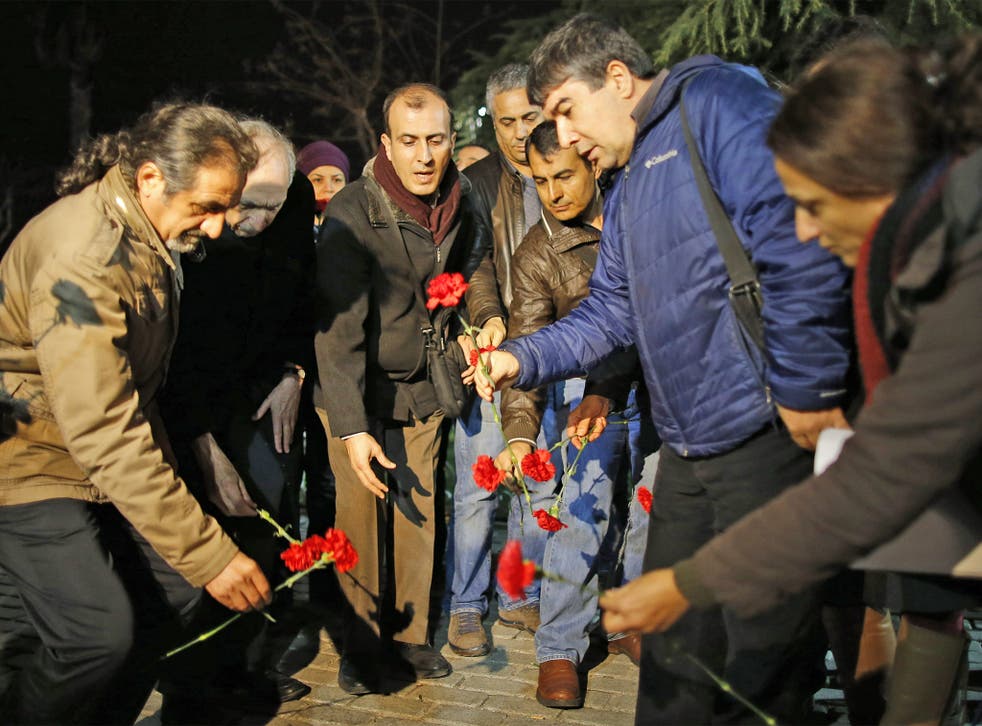 Turkey suffered another terrorist attack in six months this week at the hands of Isis jihadists who struck Istanbul. That was their fourth attack in six months and comes as Turkey's strongman President Recip Tayyip Erdogan intensifies his war on the Kurdistan Workers' Party (PKK), which has fought the state for political and human rights for the country's beleaguered twenty million Kurds.
Turkey can hurt Isis when it wants to. It has, ostensibly, killed 200 Isis jihadists in response to Tuesday's suicide attack - but this comes after the fourth terrorist attack it has suffered in six months, and almost two years since the international community launched its own campaign against Isis.
Rather than launch a serious campaign against the terrorist group, as the West and the international community have called upon him to do, Erdogan remains focused on the PKK, which continued the tit-for-tat conflict by striking a police HQ last night and killed six people.
That is because Erdogan is in electioneering mode: targeting the PKK and marginalising the Kurds allows Erdogan to divide the country and rally the nationalist vote ahead of a proposed referendum that could grant him greater powers and the chance to become a modern-day Sultan.
Erdogan also wants to save face: his approach to the Syria conflict has been disastrous. Syria's jihadist and ineffective rebels have failed to overthrow the Assad regime, despite the considerable resources and political capital Erdogan has invested in them. That includes Ahrar Al-Sham, the group that enjoys close ties with Al-Qaeda and wants its own "Islamic State".
To compound matters, Syria now has an autonomous Kurdish region led by the Democratic Union Party (PYD), a sister-group of the PKK. The rise of Syrian Kurdistan, which has considerable cultural and social ties with Turkey's Kurds, is a success story amidst the devastation of the Syria conflict.
It has also revitalised Kurdish nationalism in Turkey and the previously moribund PKK. Having once advocated peace with the PKK and even criticising the logic of using force to defeat the group, Erdogan now wants to destroy the Kurds' capacity to mobilise by conducting what Human Rights Watch describes as an indiscriminate military campaign against Kurdish towns and cities.
Erdogan will, therefore, go as far as it takes to expand his powers - even if that means more war and bloodshed.
The West must intervene and stop Erdogan. If defeating Isis is a priority then that means stopping Turkey from weakening the only real partner the US has in its war on the jihadists. Along with the PYD, the PKK has risen to international acclaim for being the most effective, pro-Western anti-ISIS force.
There is plenty the West can do. In the short-term, it must force a ceasefire and mediate a peace process, such as the settlement put forward in 2013 but that quickly unravelled. Turkey must also be pushed to lift its embargo on Rojava, where Kurdish towns and cities require urgent humanitarian assistance. Lifting this embargo will alleviate the humanitarian crisis and, therefore, the refugee flow into Europe.
For all that to happen the West needs to force Turkey into action. That requires threatening Turkey with expulsion from NATO if it fails to pursue a peaceful settlement. Expulsion from NATO makes sense from a Western security perspective since Erdogan's personal ambitions have transformed Turkey into anything but an indispensable ally over the past decade.
Under Erdogan's control, Turkey has rejected western alignments and has directly challenged Western security interests. Even with the resurgence of Russian militarism, Turkey has failed to live up to its commitments as a NATO ally, having failed to support Western sanctions on Russia for its invasion of Ukraine and even strengthening economic ties with Moscow after sanctions were imposed.
Ankara also refused to send combat troops to NATO missions in Afghanistan and Kosovo, voted against US-backed Security Council sanctions on Iran and, before the Syria war, forged strong ties with Iran and Syria, whose governments at the time were facilitating and sponsoring terrorist attacks in Iraq against US personnel and Iraqi civilians.
Erdogan also strained relations with Israel, courted Sudan's President Omar al Bashir – who is wanted by the International Criminal Court (ICC) for genocide and war crimes in Darfur – and was the last recipient of Muammar Gaddafi's infamous International Prize for Human Rights.
Turkey should be warned that being a member of NATO is a privilege, not something to be abused. And Erdogan will not be indifferent to the threat of expulsion, as even the threat itself will diminish Turkey's great-power status.
Losing Turkey as an ally could make life more complicated for the US, but Turkey is no longer the asset it once was. Instead, it has become a liability and a destabilising actor in the region – one that poses a direct threat to the West's campaign to defeat Isis.
Register for free to continue reading
Registration is a free and easy way to support our truly independent journalism
By registering, you will also enjoy limited access to Premium articles, exclusive newsletters, commenting, and virtual events with our leading journalists
Already have an account? sign in
Register for free to continue reading
Registration is a free and easy way to support our truly independent journalism
By registering, you will also enjoy limited access to Premium articles, exclusive newsletters, commenting, and virtual events with our leading journalists
Already have an account? sign in
Join our new commenting forum
Join thought-provoking conversations, follow other Independent readers and see their replies