The Alfred E Smith dinner reveals just how bizarre the US election has become
It's weird to ask Clinton and Trump to bicker viciously on Wednesday over who needs to be jailed and who is a sexual predator and then follow it up with an annual Catholic fundraiser dinner for needy children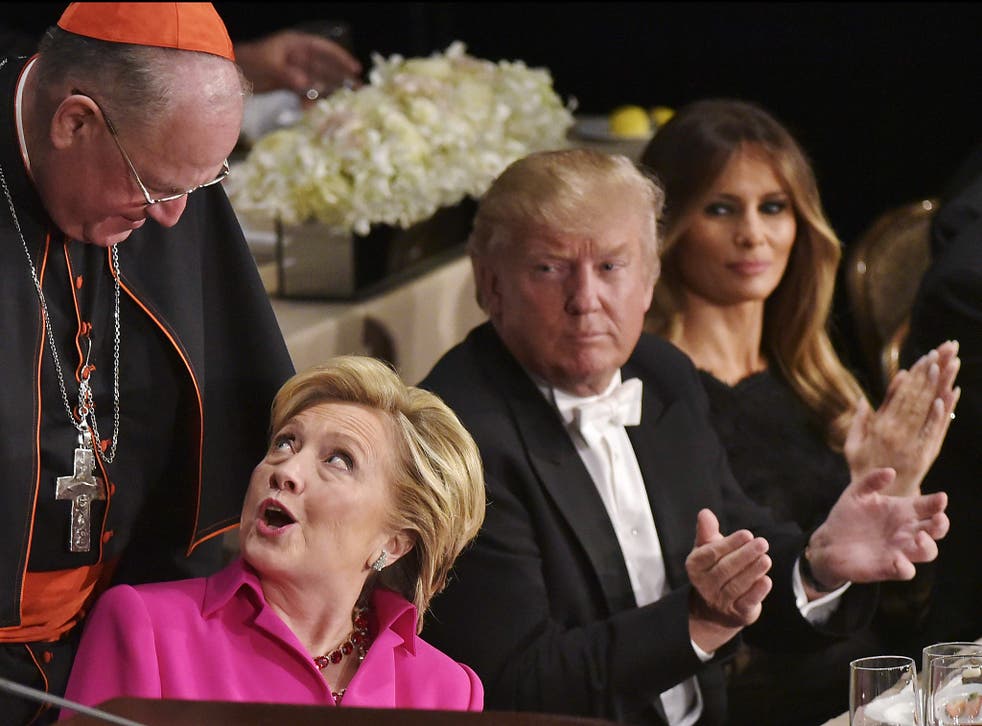 As a casual onlooker to the US elections, the final twelve weeks of Clinton v Trump, with particular reference to last night's joke-filled Al Smith dinner, have reminded me a lot of the 1987 Arnold Schwarzenegger blockbuster The Running Man. The gist of this fantastic yet awful post-dystopian movie set in eerie future – in actual fact 2017 – is that contestants are chased, hunted and tormented to their deaths on live TV in a gladiatorial death match watched by a baying primetime audience. Man is inhumane, it seems to say, and we are specifically vile if riled up and given a scapegoat. And these last few weeks of campaigning have had an oddly inhumane feel to them.
Let's be honest, if either one of this not exactly youthful pair had suffered a stress-related stoke and died during the debates it would have been hideous. Sure. But also terribly exciting. "Donald is very worried about my health," wise-cracked Hillary last night, "He sent a car for me tonight", "Actually, it was a hearse."
Trump and Clinton trade barbs at 'good-natured' gala
But on balance, it may have been more compassionate to scrap Wednesday's Las Vegas debate followed by last night's Al Smith laugh-in and instead, like on The Running Man, hire a psychotic Japanese ice hockey player to chase contenders from the Bellagio Hotel to the Grand Canyon on skates vowing to "slice his enemies limb from limb into quivering, bloody sushi." I told you The Running Man was fantastically awful. And this is one of the more subtle plot points.
But it is only slightly weirder than asking Clinton and Trump to bicker viciously on Tuesday over who needs to be jailed and who is a sexual predator, followed by an annual Catholic fundraiser dinner for needy children, where they'd be expected to deliver a tight, Edinburgh Fringe-worthy ten minute set of perfectly judged witty but brutal one-liners. Think of a Comedy Central Roast where speakers queue to put Charlie Sheen in his place via the power of banter, except with the next leader of the free world.
"This is such a special event that I took a break from my rigorous nap schedule," joked Hillary referring to the widely circulated rumours that she is pretty much a cadaver held aloft with adrenalin shots. "Michelle Obama gives a speech, and everyone loves it. It's fantastic" laughs Donald, "They think she is absolutely great. My wife, Melania, gives the exact same speech and people get on her case." This joke is about the laughing stock his wife has become. If it is painful, he certainly doesn't show it.
Every woman to make sexual assault claims against Donald Trump

Show all 16
Likewise, Hillary, we all know, has such a terrific capacity to feign goodwill that she greeted an end-of-speech balloon shower at the Democrat National Conference like a toddler spying its first Catherine Wheel.
"Donald really is as healthy as a horse – you know, the one that Vladimir Putin rides around on!" chirps Clinton. "Hillary accidentally bumped into me," jokes Trump, and she very civilly said: "Pardon me. And I very politely replied: 'Let me talk to you about that after I get into office'." Trump's going to put her in prison you see! Hilary laughed riotously at his zinger. By God, I bet she would have rather been at home. Loose fitting pyjama bottoms, macaroni cheese on a tray and full access to the Ti-Vo. Not to be out-done Host Alfred Smith IV made light of "pussy-grabbing" Trump, King of the "locker room" chat. "I have no doubt that our guests tonight are up to the task. In fact before the dinner started, Donald went up to Hillary and asked her how she was doing. She replied: 'I'm fine. Now get out of the ladies' dressing room'."
For what it's worth, my favourite joke of the night was a gentle, self-deprecating one that could easily have been by Les Dawson or even Alan Bennett, "People say, and I hear them," Clinton said, "that I'm boring compared to Donald, but I'm not boring at all. In fact, I am the life of every party I attended, and I have been to three." The election could not come quick enough. We all need a holiday and we're only the ones watching.
Register for free to continue reading
Registration is a free and easy way to support our truly independent journalism
By registering, you will also enjoy limited access to Premium articles, exclusive newsletters, commenting, and virtual events with our leading journalists
Already have an account? sign in
Register for free to continue reading
Registration is a free and easy way to support our truly independent journalism
By registering, you will also enjoy limited access to Premium articles, exclusive newsletters, commenting, and virtual events with our leading journalists
Already have an account? sign in
Join our new commenting forum
Join thought-provoking conversations, follow other Independent readers and see their replies