Whatever you think of Alex Salmond and Scottish independence, let's keep politics out of the latest sexual assault allegations
These are allegations which Salmond has denied, and they are now the subject of a legal challenge – but regardless of their outcomes, partisan politics has little place near any discussion of sexual assault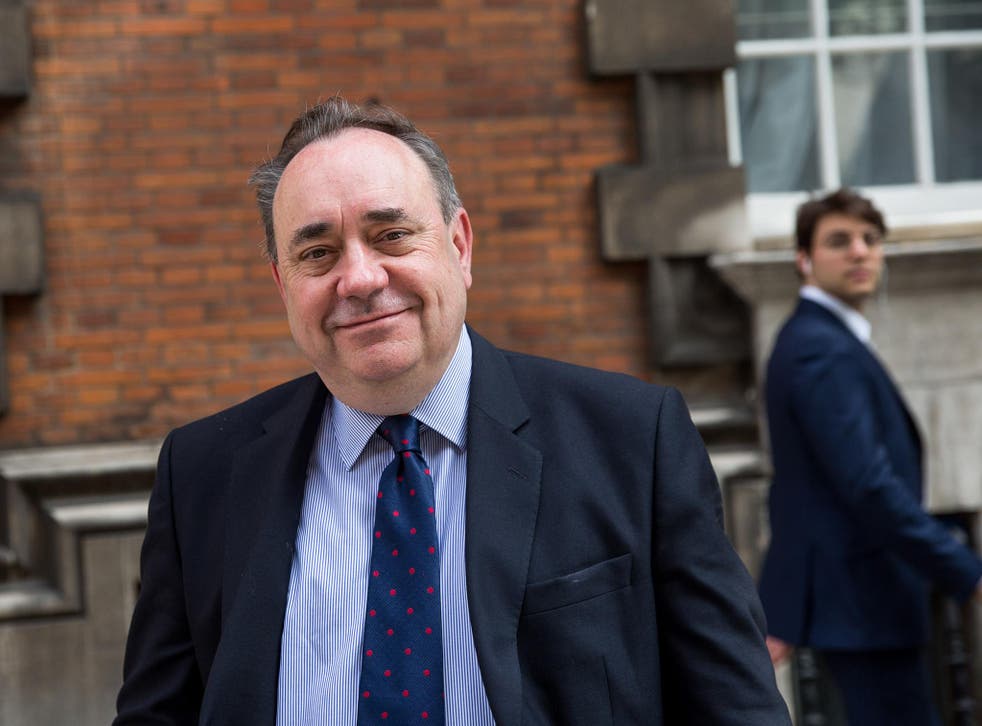 Given the roll-call of high profile sexual assault allegations which have streamed onto our newsfeeds over the last few years, you'd think we might have learned how to respond sensitively and appropriately when another allegation is made. But, it seems, some of us still need reminding.
Last night, Scotland's political sphere was thrown into turmoil at the news that former First Minister Alex Salmond was being investigated for historic allegations of sexual assault. In an already fraught and often divided political climate, the story appeared to present a challenge for many: a former First Minister; an architect of the ongoing campaign for Scottish independence; a leader who had embraced equality and women's rights in his time in office. Darker corners of the internet saw claims spring up about "convenient timing" and Unionist plots, or thinly veiled links made between Salmond's politics and his alleged behaviour.
The truth is that there is no difficulty here. These are allegations which Salmond has denied, and they are now the subject of a legal challenge – but regardless of their outcomes, partisan politics has little place near any discussion of sexual assault allegations.
We often talk about the statistic that one in three women will experience sexual abuse in their lifetimes. The reality of this is that every throwaway tweet about a political sexual abuse investigation and every Facebook comment underneath a Harvey Weinstein report will be seen by multiple survivors who may or may not have voiced their experiences or pursued justice. How we respond matters.
This is precisely why Tarana Burke, founder of the #MeToo movement, reacted this week to allegations against Asia Argento by reminding us that the moment was never meant to be about individuals or celebrities, writing on Twitter: "It will continue to be jarring when we hear the names of some of our faves connected to sexual violence until we shift from talking about individuals and begin to talk about power."
I believe it is talking about power rather than individuals that allows us to place power itself at the root of all sexual abuse, and see how it can never possibly be the domain of one industry, social class, or political party. If your reaction to a story about allegations of sexual assault changes based on who is implicated, you have failed to understand this – and you've failed to support survivors, weaponising a sensitive and traumatic issue at the expense of the many who are affected by it, both immediately and more widely.
International Women's Day: groundbreaking figures from history

Show all 17
At the highest level, Scotland's First Minister Nicola Sturgeon has shown great leadership in response to the Salmond allegations, reaffirming in a statement her commitment to fair and transparent processes around sexual harassment, and emphasising the need to take all complaints seriously. The wider Twittersphere could learn a lot from both Sturgeon and Burke: political alliances and celebrity faves should pale into insignificance against a society-wide conversation about power and accountability.
Just as allegations against Asia Argento are no more or less serious because of her proximity to the Me Too campaign, the allegations against Alex Salmond are no more or less serious because of his political leanings or achievements. Regardless of the specific facts of these cases, survivors of sexual abuse in general deserve better than to see discussion of these issues weaponised and ranked on a scale of seriousness depending on how much we happen to like the person involved.
It's high time our understanding of sexual abuse moved beyond individual case studies and towards an analysis of power and structures. To treat allegations as case-by-case debates is to fundamentally miss the point: that we need to engage with the dynamics of abuse and power, rather than the appeal of individuals.
Register for free to continue reading
Registration is a free and easy way to support our truly independent journalism
By registering, you will also enjoy limited access to Premium articles, exclusive newsletters, commenting, and virtual events with our leading journalists
Already have an account? sign in
Register for free to continue reading
Registration is a free and easy way to support our truly independent journalism
By registering, you will also enjoy limited access to Premium articles, exclusive newsletters, commenting, and virtual events with our leading journalists
Already have an account? sign in
Join our new commenting forum
Join thought-provoking conversations, follow other Independent readers and see their replies