Consumers, not Amazon, are to blame for the death of the high street – we've chosen convenience over tradition
Instead of complaining about the minimal amount of tax these online giants pay, we need to shine a light on the calibre of people employed by HMRC to take them on. Are they up to the job?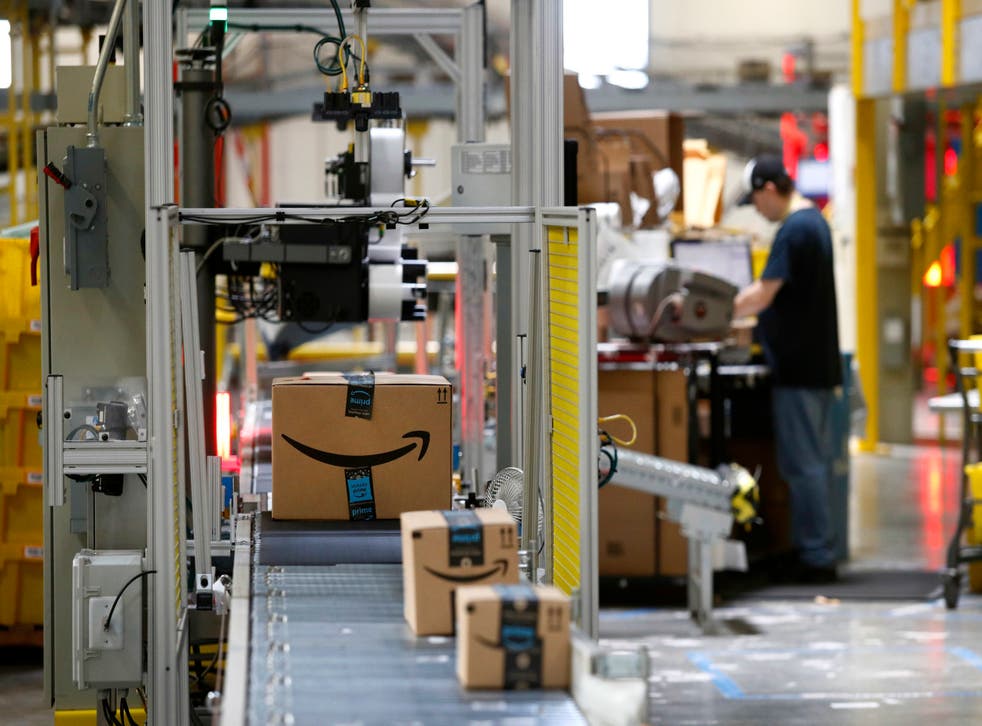 Why am I not surprised that Amazon, in spite of increasing profits in the UK, managed to pay less corporation tax than it did last year? In the year to December 2017, its UK division (which handles warehouses and logistics) was told the company was liable for £4.6m in tax – a drop of around 50 per cent on 2016. Astonishingly, Amazon didn't even have to pay the full amount, because it deferred £2.9m of the bill, meaning it only handed over £1.7m. The details of what Amazon pays to the UK government are hard to extract from its accounts, which are published in Luxembourg.
In the UK, Amazon employs around 20,000 people, and success means the work force is rising to 27,000. A new head office is an expense which must have helped to offset its tax liabilities. Another of its UK companies, Amazon Web Services, has almost doubled its revenue from £53m in 2016 to £99m last year – and yet only paid tax of £1.3m by filing profits of just £5m.
At the same time as there's understandable outrage at the manner in which multinational companies like Amazon and Google "minimise" their tax liabilities by basing key parts of their business in low tax zones in the EU and elsewhere, an emotive campaign is being waged to "save our high streets". It's a mistake to link the two. We can't blame Amazon for turning our high streets into dead zones, full of charity shops and boarded-up windows. We, the shoppers of the UK, have done that: every time we sit at home and click on a "buy" button on our laptops, another shop closes.
Fashions in everything – from breast size to wine – change with the centuries. Shopping is an activity which is no different. We have decided that our time is better spent on a keyboard placing an order for swimming shoes, bath salts, bio-oil or an audiobook than trudging around a shop, talking to an assistant, and then finding what we want isn't in stock. We have reallocated how we spend our time, and shopping for basics (or even impulse buys) is not a priority.
High streets can't be saved, not in their previous incarnation, when mum shopped every day and no one had a fridge, just a larder. People actually cooked their evening meal from scratch in those days. On Saturdays, men spent hours in ironmongers discussing screw sizes; every dad in my street wanted to emulate television handyman Barry Bucknell and build shelves, remodel fireplaces and put up room dividers. Those days will never return.
Amazon's fleet of automated warehouse robots
I am writing this in Long Melford, a delightful Suffolk small town which has a thriving high street with a beautician, antique stores, a butcher, a Co-op and chemist, several pubs, a village hall and a post office and newsagent. What it doesn't have, in spite of the middle class population, is a greengrocer. That's because, in spite of not wanting anything about picturebook Britain to change, the locals go to Tesco or Sainsbury's down the road on the edge of Sudbury. That is a story repeated all over Britain as Tesco and retail giants systematically eliminate some (not all) small traders. Now the might of Amazon and online shopping for household goods is impacting on iconic department stores like John Lewis, who are fighting for their lives. Toys R Us, House of Fraser and Comet have all abandoned the unequal struggle.
Traditional retailers claim it's an unequal playing field, that Amazon doesn't have to buy property in town centres, pay staff wages or the rates they do. Amazon's deliveries come from faceless boxes called (euphemistically) fulfilment centres, which are situated in industrial estates, and their workers are low paid, although the company does offer them a chance to participate in share deals.
Jeff Bezos, the founder of Amazon, is now the richest man on the planet. Does this annoy us, or should we just accept that he has removed a lot of niggles out of our lives? Recovering from my recent knee replacement, online shopping has been invaluable. When worthies tell me to stop, I laugh – there is zero chance of success with that particular campaign, particularly with older consumers and working women.
There's no sign of online sales slowing down, in spite of wages flatlining. Online sales in May were nearly 20 per cent higher than the previous year. There was an astonishing rise of 74 per cent for gardening stuff bought online during the heatwave, everything from barbecues to loungers.
UK news in pictures

Show all 50
The battle we should be fighting is not to save our high streets – hopefully they will morph into residential and mixed-use zones, with primary schools and old people's homes placed side by side, as well as specialist shops that are worth visiting because they sell products which are homemade, crafted, unique. Even pound shops are going to the wall because they don't offer true value for money or a worthwhile shopping experience.
No, the real battle is to get HMRC to stop pussyfooting around companies like Amazon and Google, and doing special deals. Let's shine a light on what goes on their HQ, and what calibre of people they employ to claim tax from these slippery giants. And the heads of these companies – like Amazon's UK boss Doug Gurr – should stop making preposterous statements like his recent announcement that there could be "civil unrest" within two weeks if Britain left the EU without a deal.
That grandstanding approach reveals a sinister aspect to Amazon, Google, Facebook and co, the companies who have an increasing amount of our money and a direct link to our personal data. I suspect their bosses think this is the future: they are replacing governments and old-fashioned frontiers. They, not our democratically elected parliamentarians, will be shaping our future.
Amazon has already managed to whip our tax system into shape – so what next?
Register for free to continue reading
Registration is a free and easy way to support our truly independent journalism
By registering, you will also enjoy limited access to Premium articles, exclusive newsletters, commenting, and virtual events with our leading journalists
Already have an account? sign in
Join our new commenting forum
Join thought-provoking conversations, follow other Independent readers and see their replies