Amber Rudd is making enemies in the tech sector over her extremist content crackdown
Encryption keeps us all secure online. It allows businesses to operate and thrive securely. Any weakening of encryption will ultimately make us all less safe. For if you weaken encryption, you run the risk of letting in the bad guys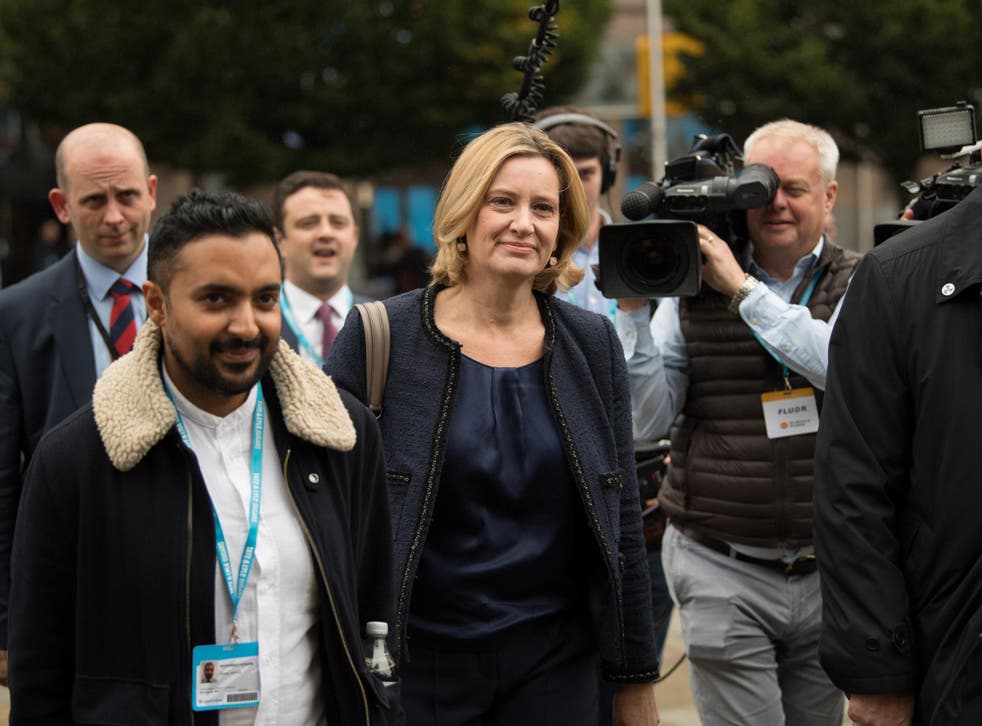 Amber Rudd made an unusual boast at the Conservative Party Conference. The Home Secretary suggested she didn't much understand how encryption works, but she kind of felt it helped criminals.
This is really taking Michael Gove's entreaty against expertise a little far. If you don't want to understand how encryption works, you probably won't be across all the possible consequences. And this collateral damage when we're talking about weakening encryption could be catastrophic.
Encryption keeps us all secure online. It allows businesses to operate and thrive securely. Any weakening of encryption will ultimately make us all less safe. For if you weaken encryption, you run the risk of letting in the bad guys.
But this Conservative government can only see things in black and white – ignoring the realities of technology. The Home Secretary's key note speech called on tech giants to work together and, with government, to take down extremist content faster than ever before. My party completely support her in that mission. The only way we will defeat this scourge is to band together – exchange information, invest in new technologies and present a united front.
What is worrying however, is Damian Collins, Conservative MP and Chair of the Digital, Culture, Media and Sport select committee suggesting we might want to impose "heavy fines" on tech companies who don't act fast enough to take down extremist content. This "stick" approach is heavy-handed and threatens to turn our allies in this fight into enemies.
This approach has been favoured by Germany where a new law has just come into effect requiring social media companies to take down hate speech or other criminal material in 24 hours or face fines of up to 50m euro.
Yet this arbitrary and tight time limit has led to concerns of over-zealous takedowns and censorship not only from parliamentarians and NGOs but also the UN's Special Rapporteur on Freedom of Expression.
Here at home our own Independent Reviewer of Terrorism Legislation is wary of going down this route of fines, urging cooperation instead.
After all, if we are going to find a technological solution then it is likely to come from the likes of Facebook and Google who have both the technical expertise and the cold hard cash to work on solutions. Let us work with them to find these solutions rather than turn them against us.
It will always be easier to say "something, anything, must be done" and point to easy scapegoats, but in the interests of our national security we should take a calm, considered and above all cooperative approach.
Philip Hammond's Conservative Party Conference speech in 60 seconds
Just look at the European Union. Only last week it issued new guidelines to curb the spread of illegal content online. It has warned that if there is not enough action from the tech companies then they will look at legislative alternatives. But they have understood the value of offering a clear signal of intention to provoke action. When a bloc as large as the European Union, made up of 28 sovereign states, speaks with one voice even Google will listen. If Rudd really thinks we need to stand up to the internet giants, why is she supporting a Brexit process that would leave us outside the one body strong enough to regulate the media behemoths.
Yet soon the UK's voice will disappear from this powerful forum. Instead we will be left isolated, and if the Conservatives are still in charge, we will probably sound shriller than ever screaming from the side-lines whilst progress is made elsewhere.
UK news in pictures

Show all 50
The Conservatives have long cultivated the image of being the grown-ups of politics, trusted to bring maturity to policy making and the economy. Yet this Class of 2017 seems anything but when it comes to their attempts to regulate the internet.
Amber Rudd does need to understand encryption and indeed how the whole internet works. She is in an unrivalled position to become well versed on the issue with an army of civil servants and tech experts willing to help.
I would urge her to work with these experts to find solutions. The Conservatives' current approach might win votes and please the Daily Mail but ultimately it will prove futile in defeating the spread of extremist content online.
Sir Edward Jonathan Davey, FRSA is a British Liberal Democrat politician. He is the Member of Parliament for Kingston and Surbiton
Register for free to continue reading
Registration is a free and easy way to support our truly independent journalism
By registering, you will also enjoy limited access to Premium articles, exclusive newsletters, commenting, and virtual events with our leading journalists
Already have an account? sign in
Join our new commenting forum
Join thought-provoking conversations, follow other Independent readers and see their replies