Calling Amber Rudd's speech 'hate crime' is nonsense – I should know, I've experienced it
During a road incident, a man got out of his car and started banging on my bonnet calling me the p-word. This is hate crime; a disagreement over policy ideas between a politician and a member of the public is not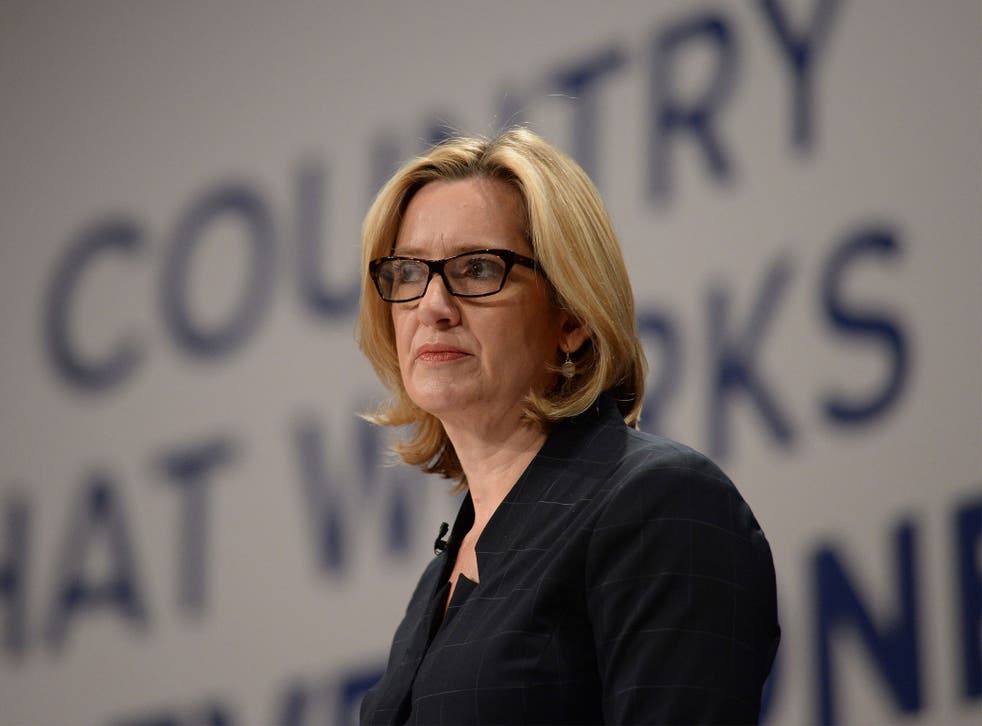 As a proud Welsh Asian woman who has experienced hate crime, I found myself looking on in horror as a middle class white man, Oxford Physics Professor Joshua Silver, reported Home Secretary Amber Rudd's 2016 Conservative conference speech as a hate crime. The police have since recorded the speech as a "non-hate crime incident".
At the annual Tory event Rudd said: "I want us to look again at whether our immigration system provides the right incentives for businesses to invest in British workers." Silver felt that this was, "discriminating against foreigners". The hate crime I myself experienced were very different and I feel that the recognition provided by the police diminishes the very real and sometimes violent experiences of individuals across the UK who are affected by these incidents.
Amber Rudd argues British firms should favour employing British workers
The emotional scars of being made to feel like the "other" are not something that fade easily. I was once accosted on a train by a drunk man who saw fit to recite a passage from Enoch Powell's infamous rivers of blood speech at me, while proceeding to tell me that people like me have taken jobs away from him. Another time, during a road incident, a man got out of his car, and started banging on my bonnet calling me the p-word, and more. This is hate crime; a disagreement over policy ideas between a politician and a member of the public is not.
Let's be clear, I am a child of East African Asian migrants who made a life in Wales after being expelled from Uganda in 1971, by the dictatorial Idi Amin. We are all Conservative voters, we haven't agreed with all speeches at Conservative Party Conference, but the idea that disagreement equals hate crime is nonsense.
The Government doesn't always get it right when it comes to our diverse communities. However, they do back track when they get it wrong; plans to force companies to reveal foreign staff numbers were abandoned as quickly as they were foolishly uttered. Yet this 'hate incident' remains on the record, as national police reporting rules introduced in 2014 require all complaints of hate crime incidents to be recorded "regardless of whether or not those making the complaint are the victim and irrespective of whether or not there is any evidence to identify the hate crime incident".
Brexit racism and the fightback

Show all 9
The question for me is, why can't we have a conversation about immigration? To have this discussion isn't racist or xenophobic and yet the liberal sense of political correctness thrust upon us all has seen people turn away from the mainstream political parties. This has meant the understandable rise of Ukip across the UK. Whether Rudd was right or not, at least she was attempting to start a conversation about how this might look with regard to immigration and employment.
The content of Amber Rudd's speech was not a hate crime. The Government interest is to boost the economy and create unity and the Home Secretary has made it clear that they want to create a Britain that works for everyone, not just the privileged few.
Register for free to continue reading
Registration is a free and easy way to support our truly independent journalism
By registering, you will also enjoy limited access to Premium articles, exclusive newsletters, commenting, and virtual events with our leading journalists
Already have an account? sign in
Join our new commenting forum
Join thought-provoking conversations, follow other Independent readers and see their replies