In case you worried your new unelected Tory PM might be progressive, Andrea Leadsom wants you to know she still opposes gay marriage
Leadsom is 'not happy' about the gay marriage law because of 'hurt caused to many Christians' – and Theresa May's track record isn't much better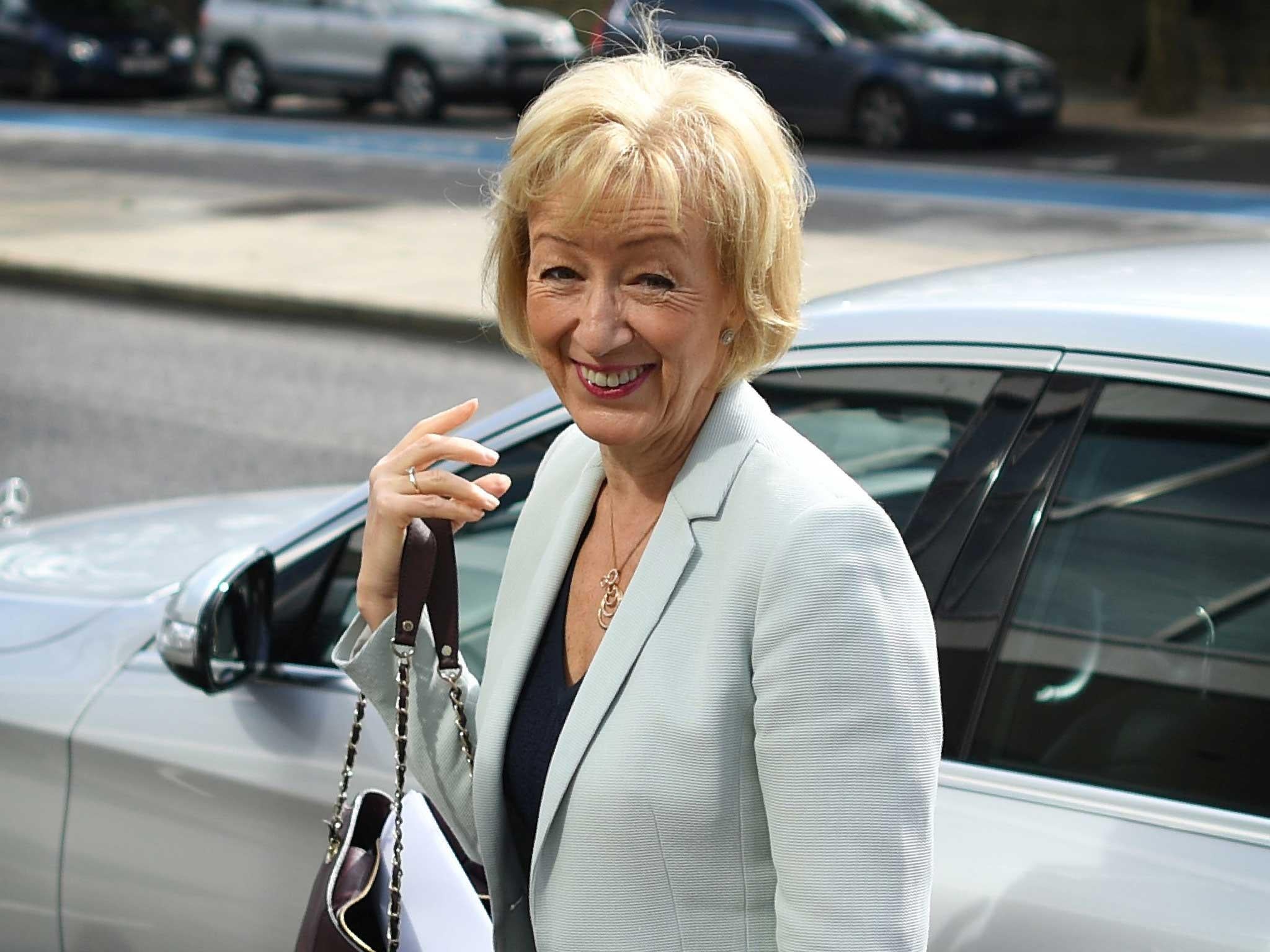 In just a matter of weeks we'll have a new Tory leader to serve as our unelected Prime Minister. While the backstabbing contest to make the final ballot will tonight reach a predictable crescendo, we can say one thing about the next Prime Minister for certain: they're hardly going to be a gay rights champion.
Stephen Crabb and Liam Fox might now be out of the leadership race, but the fact they even tried to make it to Number 10 should have us worried. Throughout his time in Parliament, Fox has failed to support any LGBT equality legislation, labelling the introduction of same-sex marriage "divisive" and "absurd".
Meanwhile, Stephen Crabb's alleged links to evangelical Christian groups who promote "gay-cure therapies" don't seem to have kept him out of the cabinet. He said this week that the idea he believes in a "gay cure" is a "complete fabrication"; nevertheless, his office employed interns through a scheme organised and funded by Christian Action Research and Education (CARE) which has previously sponsored events referring to gay and bisexual people as "sexually broken" and advocating that they can become "ex-gay". That looks about as enlightened as his vote against equal marriage and his opposition to the Equality Act in 2007.
Funnily enough, Michael Gove - now eliminated - was the only one whose record was entirely clean of anti-gay conduct or connections.
Take a look at Theresa May who, in 1998, voted against equalising the age of consent for gay sex. That's the same Theresa May who voted against repealing Section 28 - legislation that banned the "promotion" of homosexuality by local government and schools. She said no to same sex adoption and she didn't once bother to turn up to vote on the Gender Recognition Act either.
In her time at the Home Office, policies have been put in place which forced LGBT asylum seekers to "prove" their sexuality, some allegedly through intimate photos and videos of same-sex sexual activity. Others were told that they couldn't be gay simply because they had children.
In pictures: UK's first gay weddings
Show all 16
Andrea Leadsom is the final contender, and despite only being elected to Parliament in 2010, she's already managed to flex her anti-gay credentials. She too failed to vote in favour of same sex marriage, and has said that straight couples should have priority over gay ones when it comes to adopting children. Today on ITV News she clarified that she was "not happy" about the gay marriage law because of "hurt caused to many Christians". Marriage, she continued, should have remained "as a Christian service that was for men and women who wanted to commit in the eyes of God".
Her proudest supporter, Brexit blond bombshell Boris Johnson, has compared same sex marriage to men marrying dogs, and argued that the repealing of Section 28 would allow "left-wing local authorities to waste taxpayers' money on idiotic and homosexual instruction". Ah, that lovable clown.
In just a matter of weeks, the United Kingdom looks pretty much set to be governed by someone who has actively opposed equal rights for gay people. "But who cares?" I hear you cry. "Now that #lovewins, can't you put this in the past?"
Sadly it's just not the case that love has won; the LGBT community remains in crisis and under threat. This government decided not to provide life-saving HIV prevention drug PrEP on the NHS, medicine that has been proven time and time again to save lives. The austerity politics we've suffered through since the 2010 election hit LGBT support services - which so often rely on local government finding - the hardest.
I'm not bemoaning the fact these people haven't stood alongside us in the fight for equality - these are Tory Party politicians; I'm not naive. The struggle for LGBT rights, respect and equality hasn't come from asking nicely, and conservative politicians aren't natural allies for the cause.
David Cameron didn't push through same-sex marriage legislation because he wanted to: a looming European court case and a change in public opinion after years of work meant he had no choice. The likes of Andrea Leadsom, however, couldn't even bring themselves to support it when it was politically toxic not to. That should tell you everything you need to know.
In my view, these politicians are responsible for fuelling casual homophobia - normalising prejudice that leads to violence and stigma in people's everyday lives. Refusing to vote for equal rights has a nasty trickle-down effect, and hearing that you don't deserve to be a parent unless a straight couple can't be found starts to take its toll.
Leadsom and May might both be women, but there's nothing progressive about either of them. The next Prime Minister of Britain is going to be a gay rights dinosaur, and our broken democracy means there's nothing we can do.
Join our commenting forum
Join thought-provoking conversations, follow other Independent readers and see their replies