Angela Merkel's legacy as saviour of the German economy may be more down to luck than strategy
Within Europe many do unfairly blame Germany for failing to expand demand and buy more from abroad, but the reason Germany is running a huge trade surplus is that it produces the things that people in other countries want to buy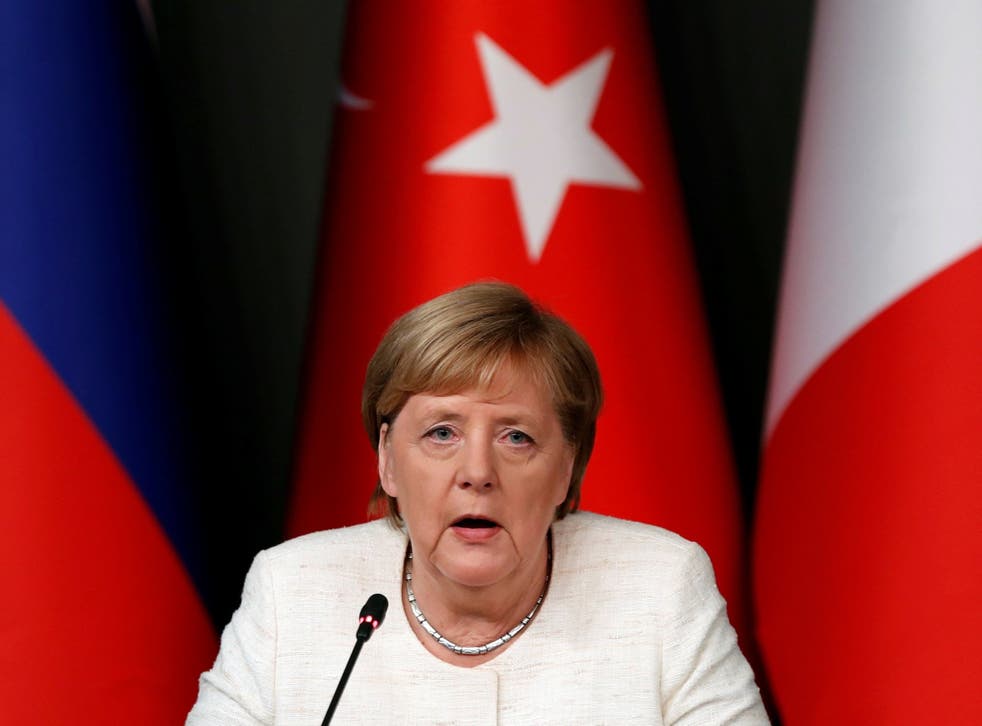 Angela Merkel remains chancellor of Germany for the time being at least, but her decision to step down next year as party leader and not to stand again for the job signals the end of an era.
It is for the political commentators to assess her achievement, though maybe we should wait for the historians to put some perspective on it. But it is not too early to make an economic tally of the pluses and minuses of the development of Germany's economy during her period of office.
She became Chancellor in 2005, and on the face of it the Merkel years have been a huge success. Here are three sets of numbers.
First, unemployment in Germany hit 12.6 per cent in 2005, the highest since Hitler came to power in 1933. Last month it dropped to 4.9 per cent – the lowest since reunification in 1990. Second, in 2005 there was a budget deficit of 3.5 per cent of GDP. This year there will be a budget surplus estimated at 3 per cent of output. And third, in 2005 there was a current account surplus of 2 per cent of GDP, this year it will be close to 8 per cent.
This is an extraordinary turnabout. There is a lively debate, however, as to whether the current numbers are politically sustainable, and another as to the extent that Angela Merkel is really responsible for the vast improvement in the country's fortunes.
The achievement in cutting unemployment is tempered somewhat by the social impact of the reforms pushed through in the early 2000s that enabled this to happen. These reforms created so-called "mini-jobs", with limited hours and without the protection of regular jobs, with the effect that many people have to piece together full-time employment with a series of part-time posts.
As far as the budget surplus is concerned, the German government is being urged to use it to boost public spending. Infrastructure, particularly in the former West Germany, has been neglected as resources were pumped into the East. Running a surplus is enshrined in German law, but many think the present one is too large.
As for the current account surplus, this is the largest in the world, and has been attacked from both within Europe and outside. From a European perspective, running such a large surplus unbalances the eurozone. Other countries argue that Germany does not import enough from its neighbours and undermines its own producers by supplying too much of the goods that people buy. As for the world reaction, Germany's surplus is one of the reasons why Donald Trump is attacking what he argues is an unfair trading relationship between the US and Europe. The threat to put tariffs on imported cars is targeted directly at Germany, though other countries including Britain and Japan have been caught in the crossfire.
Business news: In pictures

Show all 13
All this leads to three questions. Should Germany be blamed for its success? To what extent is this down to Angela Merkel? And is the success really so secure?
Within Europe many do blame Germany for failing to expand demand and buy more from abroad. That seems to be to be unfair. The reason Germany is running a huge trade surplus is that it produces the things that people in other countries want to buy. That it does so at a competitive price is because it has held down its costs better than they have.
Before the euro was introduced Germany adjusted by periodically revaluing its currency, the deutsche mark. Merkel is on record as acknowledging that she thought that the mark would have a "different value" if it still existed – in other words Germany would have revalued its currency. But it cannot do so now. It seems to me to be unfair to attack Germany for a structural failure within Europe, particularly since the country joined the euro at an overvalued rate and had to endure many years of austerity to regain competitiveness.
That hints at the answer to the next question, for the labour market reforms that led to the present competitiveness of Germany were put in place by her predecessor, Gerhard Schröder. They were deeply unpopular at the time, and he lost office as a result. As for the commercial reforms by German companies that they brought in to hold down their costs, it is hard to credit the government for these. German industry had to drive its products up market to justify higher prices, and shift production of lower-value output to countries in eastern Europe with cheaper labour. It was a very tough period – people talked of Germany as the "sick man of Europe" – but companies rose to the challenge.
So Merkel has been lucky. She came into office at a time when the economy had already started to pull round. She has not, in economic terms, made any big mistakes, and she deserves credit for that. But she has not been the architect of the present success.
Is that success secure?
Support free-thinking journalism and attend Independent events
That is hard to answer in a satisfactory way. On the one hand you should never bet against the German economy. Again and again it has overcome what seemed enormous pressures, and emerged in triumph. On the other hand its present success is based on quite a narrow base: top-end manufacturing, and in particular its motor industry. But its motor industry has been slow to switch to electric vehicles, a development led by the US, China and South Korea.
Small fact: in the last quarter Tesla outsold Mercedes in the US market for the first time ever. A company founded in 2003 beat one whose history goes back to that first car of Karl Benz in 1885.
The tough question is whether Germany is very good at making things that people want now but may not want so much of in the future – or where it may be undercut by lower-cost producers.
Look beyond manufacturing and the record is less stellar. Its universities are mediocre. Looking at the new QS ranking, Germany does not have a single university in the world's top 60 – the UK has 10. Its banks are underperforming, its professional services are uneven.
And there is the disaster story of its inability to complete the new Brandenberg Airport in Berlin. This is already six years behind schedule and in the view of a top Lufthansa executive, may never be completed.
So the German economy is not invincible. It is at least conceivable that its best days are over. If that proves right then the Merkel years may be seen as ones of wasted opportunity, of drift, and it will be up to one of her successors to revitalise the country's economy.
Register for free to continue reading
Registration is a free and easy way to support our truly independent journalism
By registering, you will also enjoy limited access to Premium articles, exclusive newsletters, commenting, and virtual events with our leading journalists
Already have an account? sign in
Register for free to continue reading
Registration is a free and easy way to support our truly independent journalism
By registering, you will also enjoy limited access to Premium articles, exclusive newsletters, commenting, and virtual events with our leading journalists
Already have an account? sign in
Join our new commenting forum
Join thought-provoking conversations, follow other Independent readers and see their replies