Anthony Scaramucci has already signally failed to restore order at the White House – and it is very frightening
After just a week in the job, he has made the White House operation seem more gauche, more bullying and more shambolic than it did already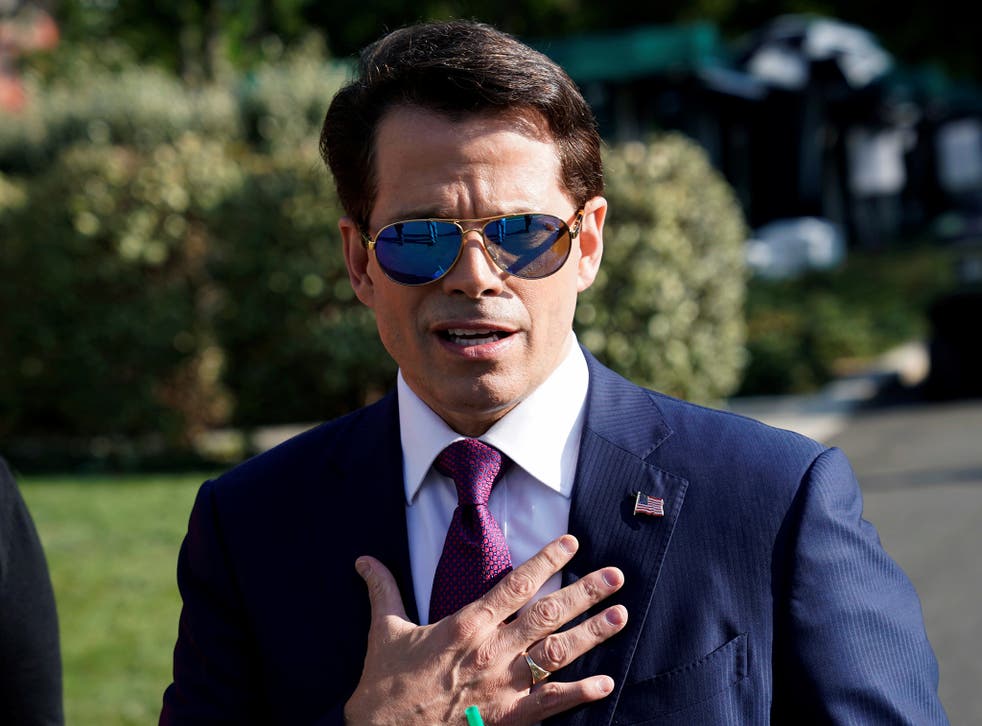 Donald Trump's appointment of Anthony Scaramucci to be his director of communications has brought the chaotic, political fandango inside the White House to a new, dizzying pitch. Characterised by aggressive gestures, passionate yells and frequent missteps, it's not a dance for the faint of heart. Scaramucci has taken to it with aplomb.
After just a week in the job, the ex-Goldman Sachs man has done what few thought possible by making the White House operation seem more gauche, more bullying and more shambolic than it did already. It is quite an achievement. His latest, unguarded broadsides against Reince "dear friend" Priebus and Steve "one of the smartest people I know" Bannon were so vulgar that the report of his comments on Radio 4's Today programme was the broadcasting equivalent of an embarrassed blush.
A former financier who helped to raise funds for Barack Obama in 2008, Scaramucci switched sides four years later to back Mitt Romney. No wonder he seems to feel so comfortable stabbing colleagues in the back – or, as he put it in his extraordinarily oily interview with the BBC's Emily Maitlis, in the front.
Donald Trump's first 100 days: in cartoons

Show all 33
Steve Bannon, the White House chief strategist, is reported to have said that Scaramucci would get the director of comms job "over my dead body". Bannon remains alive and kicking, although another prominent Trump staffer, Sean Spicer, was sufficiently angered by the appointment that he decided to fall on his sword – which, as it happens, is a euphemism Radio 4's finest might have thought fitting to deploy.
Scaramucci's outburst about Bannon and Priebus came in a phone conversation with the New Yorker's Ryan Lizza, who had angered the White House man by tweeting information about who he was dining with (the Trumps, Fox News's Sean Hannity and ex-Fox executive Bill Shine). That he made the call in the first place shows the degree to which the bulls in the White House cannot stand the reality of not being able to control the media. That he went on to make such extraordinary, profane remarks provides an insight into Scaramucci's own character; but also into the febrile atmosphere which reigns at the White House. After all, when the man at the helm regularly aims volleys of abuse at all and sundry, why should his first mates not follow suit.
Having slated his colleagues/rivals, Scaramucci dispatched a tweet (natch) indicating that he would pull back from using "colourful language" in the future. But a couple of hours later he was turning his sights on Lizza, tweeting that "I made a mistake in trusting a reporter. It won't happen again". The seamless fit with the President's anti-media narrative will no doubt play well with core supporters.
Indeed, even some who are hardly fans of the President questioned whether Scaramucci's fruity remarks ought to have been published if he hadn't known he was talking "on the record". Frankly, that is absurd. Scaramucci is the White House director of communications, not a media naïf. If he had wanted to talk without fear of being quoted, it was up to him to make clear that was speaking not for publication. It's not up to a reporter to ask the question in such circumstances.
Scaramucci: Trump sinks 3-foot putts. Official transcript: Trump sinks 30-foot putts
More obviously, Scaramucci could have avoided this latest rumpus by simply not attacking other members of the inner sanctum to a journalist. That he did not restrain himself must at least beg the question of whether he intended his remarks to be reported – and, by extension, whether he had the President's approval when he made them? With Trump himself seemingly at odds with half of his own appointees – including Priebus – it is almost impossible to know quite what games are being played, or even who is on which side.
Scandal and disorder have never been far from the White House since Trump's arrival. Appointees come and appointees go; allegations about the administration's supposed links with Russia rumble on; the rift between the President and the media grows ever wider. To make matters worse, Trump makes little headway on matters of policy. The humiliating failure by Republicans in the senate to repeal Obamacare is the latest blow.
If Scaramucci, part used-car salesman and part playground bully, was brought in to bring order to the chaos (a big if), he has signally failed. Instead, he has brought with him more of the thunderbolts and lightning that already crash around the White House. As an exemplar of professional, political communications it is very, very frightening.
Register for free to continue reading
Registration is a free and easy way to support our truly independent journalism
By registering, you will also enjoy limited access to Premium articles, exclusive newsletters, commenting, and virtual events with our leading journalists
Already have an account? sign in
Join our new commenting forum
Join thought-provoking conversations, follow other Independent readers and see their replies