What I've learned from playing the queer Arab villain in a traditionally British pantomime
I'm used to being asked to audition for the role of terrorist, but relishing my role as the 'baddy' is new to me – and strangely empowering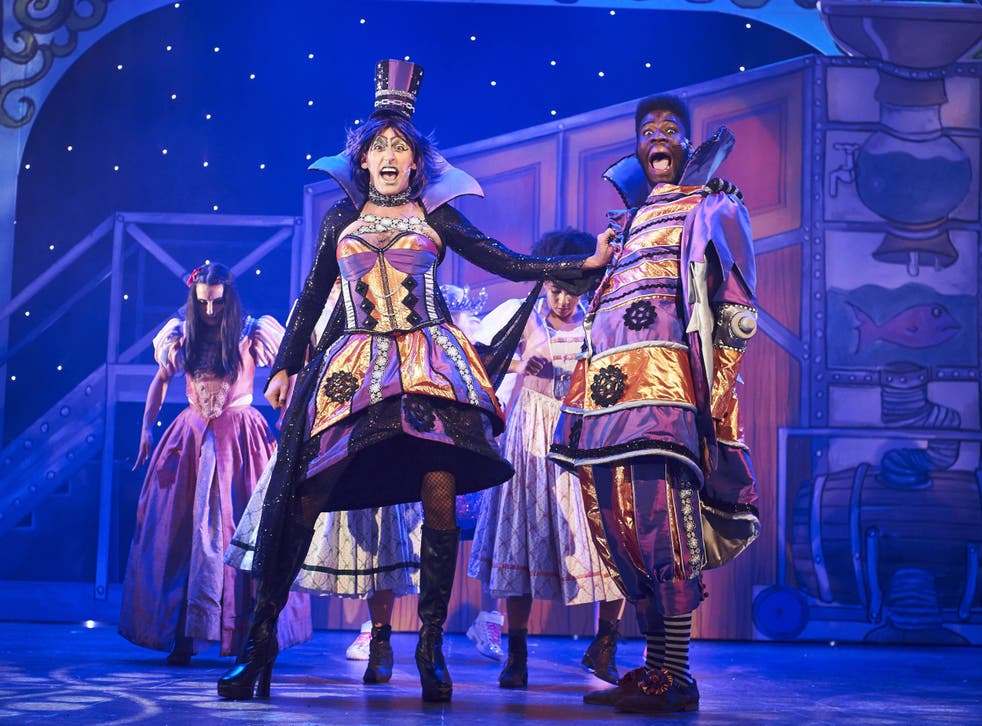 Earlier this year, I wrote an article about being repeatedly asked to audition for the role of terrorist in film and on TV. In truth, the majority of Arab performers in the West endure Islamophobic racial profiling in casting. We're used to it.
This Christmas season, being coded as "the baddie" due to my ethnicity reached its logical (and absurd) conclusion: I am currently playing the villain, Dame Judy Hench, in the Oxford Playhouse pantomime of Jack and the Beanstalk. And the experience has been utterly empowering. In fact, I've totally revelled in it.
As a queer Muslim living in an increasingly xenophobic Britain, I am used to the everyday boos of society. Micro-aggressions pop up every which way I turn; when I have baggage on the tube (concealing nothing more than wigs and heels) I am eyed suspiciously, even moved away from.
When I travel through airports, I am more likely to be searched than my white friends; forced to withstand the emotional labour of explaining why I am carrying "so many lipsticks" to the security officer.
When I try to date, men on Grindr tell me they are "not into Asians" or that they "don't date femme guys"; on the other end of the spectrum, I am viewed as an "exotic" offering. One guy even told me that the idea of sleeping with an Arab was "sexy and dangerous". Breaking news: Arabs don't scream "Allahu Akbar" when we ejaculate.
Piers Morgan fails spectacularly at turning on Christmas lights
On a broader level, the systemic racism and homophobia of Western society instils a paranoia that you are being socially booed all the time. When someone looks your masculine white friend in the eye over you in group conversation, you immediately wonder if it's because of your race, your gender non-conformism, or both. But of course, as with inherited prejudices, these feelings stay mostly unexpressed in social spaces, festering away in entrenched hierarchies like invisible viruses.
The joy of being the drag queen Arab villain in a pantomime? I get to point this out, loudly and proudly. Rather than the quiet, maddening isolation that comes from the silent boos of being a minority in the West, I get to strut on stage, and exercise agency in my being vilified.
As the villain, I beg for boos, I demand more of them, I bathe in them, as if they are everything I've ever desired. The more they boo, the more I cackle. The more they try to break me down, the more resilient I become.
As the Arab villain in a British pantomime, I am allowed to turn my experience of feeling "villainous" on its head. It allows me to show the audience that I am in charge of this social position – it is no longer something I am victim to, but one I have ownership of, poke fun at, and ultimately subvert.
For the 50,000 audience members that will come through the Playhouse panto doors, it might hopefully recode how they socially imagine the Arab "other". For the villain is, as I'm discovering, truly loved; it is a role onto which audiences can exorcise all their social rage and prejudices, but ultimately escape them and renegotiate them.
I am no longer the scary Islamist, nor the vulnerable outsider, but a triumphant queen, an Arab immigrant who can laugh at the social order of things, while permitting the audience to laugh with me. Following shows, many audience members have come up to me to thank me, with their kids asking for hugs, no longer in fear of the so-called "other", but keen to celebrate them.
UK news in pictures

Show all 50
On the hilarious flipside, a somewhat "upset" ex-Ukip reviewer was offended at my making "Brexit jokes".
Pantomimes are a peculiarly British tradition, and when done well, inherently political. Their whimsy and spectacle attract huge crowds of people, many who make this their only theatre outing of the year: their accessible stories have cogent morals that are easy to follow, gender is subverted on several levels, and shows can be enjoyed by multiple generations in one room.
They offer a truly democratic theatrical experience, in which people from all walks of life and generations are invited to shape what happens on stage. It is, in a sense, a theatre for the people, in which audiences are invited to examine social constructs under a ridiculous light, to subvert their notions of what makes a good person and what makes a bad person, and to ultimately laugh at the absurdity of the world's social codes.
Given that 2017 has been a bottomless well of political piss, I can't recommend a better way to see it out.
Register for free to continue reading
Registration is a free and easy way to support our truly independent journalism
By registering, you will also enjoy limited access to Premium articles, exclusive newsletters, commenting, and virtual events with our leading journalists
Already have an account? sign in
Register for free to continue reading
Registration is a free and easy way to support our truly independent journalism
By registering, you will also enjoy limited access to Premium articles, exclusive newsletters, commenting, and virtual events with our leading journalists
Already have an account? sign in
Join our new commenting forum
Join thought-provoking conversations, follow other Independent readers and see their replies