Young people do care about politics - they just don't give a damn about the parties
The only thing that will make the difference is first-time voters coming out in large enough numbers - the course of this election rests on this one simple, vital fact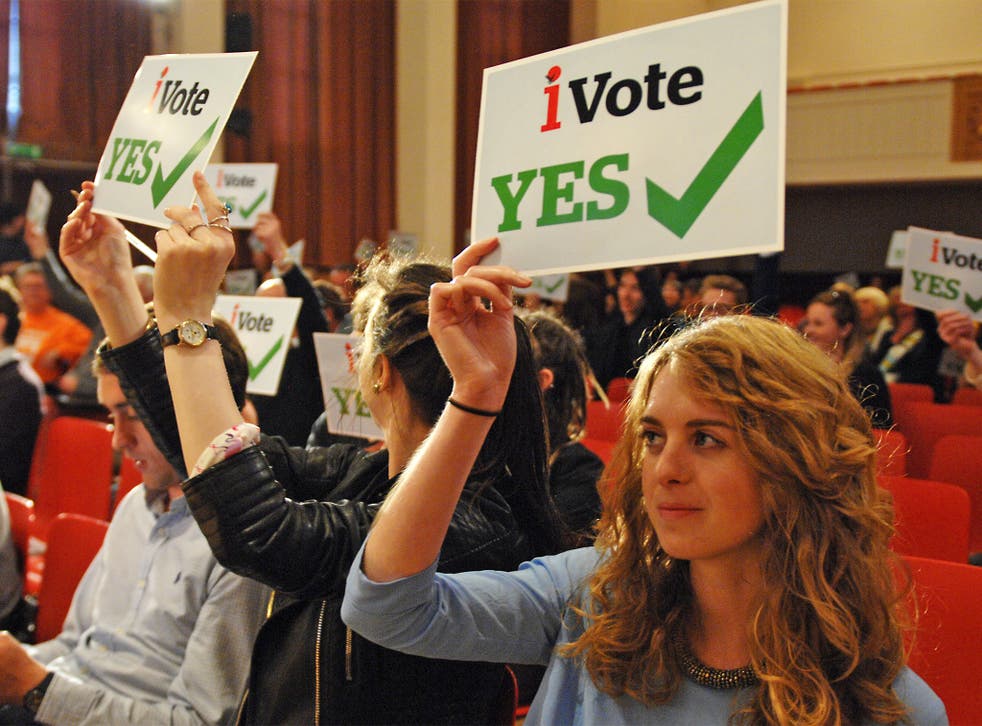 I was a guest earlier this week of GCSE and A-level students at Maria Fidelis School in north London, speaking to them about the election. The event was organised by Speakers for Schools, a fantastic charity that approaches industry leaders, creative powerhouses, inspirational sporting heroes, and then me, and gets them in to give speeches and talks to state schools.
It was my first time doing one of these, and I was nervous. Anyone who heard David Cameron's recent grilling by 18- to 24-year-olds on Radio 1 will know that they're a tough, demanding audience who can sniff bad argument and false logic a kilometre away. In fact, I was probably more nervous this week walking into the school library to give my talk than I was when I did a three-hour live election broadcast to the entire country on the night of the 1997 election. And that was a pant-wettingly nervous occasion: I can still remember looking into a camera with a red light on (indicating we were on air) and hearing a voice in my earpiece saying: "Just talk for two minutes."
I needn't have been scared this week, though. The students' desire to campaign for the things that matter was overwhelming. Some of them had even helped persuade Google UK to agree to the Living Wage for heaven's sake. Why aren't small airplanes flying that headline across the sky? I refuse to believe those who, usually with a more selfish agenda at stake, say that young people aren't interested in politics. What was clear talking to these Year 11, 12 and 13s was that they were hugely interested in the political process and political causes, but not political parties. They admitted frustration that it's difficult to find out what the parties are really saying.
In pictures: Experts' predictions for the General Election - 26/04/15

Show all 10
How can you blame them for feeling exasperated? The Institute for Fiscal Studies has been arguing for weeks that the main manifestos hide significant detail on spending cuts, and just a few days ago Alan Budd, the first head of the Office for Budget Responsibility, was complaining that all the parties were "terrified" of giving voters too much detail in their spending plans, preferring to leave them "in the dark". You can see why young voters are put off. They switch on the news and see party leaders talking to eight-year-olds or holding up a halibut. Why engage with this nonsense? Why vote for a great big Unknown?
And so young would-be voters engage in single-issue campaigning. They participate in an alternative politics that utilises the likes of UK Uncut, the Campaign for a Living Wage, 38 Degrees, Save Our NHS, or much more localised campaigns against bad housing or unfair rents. These achieve silent but significant victories, so it's easy to see why this form of activism alone can transform circumstances for the better. The point I made to the students, though, and the point I make to first-time voters here, is that not to vote in this election is to withdraw from perhaps the most powerful and far-reaching debate in decades about how Britain is run.
We've been told so often that this election is on a knife-edge, it's easy to forget how significant a knife-edge it actually is. It's not just about two parties being neck and neck, though that would be exciting enough. We're poised between the status-quo on one hand, and on the other the very real possibility that many parties will take charge of the agenda, that Parliamentary votes will have to be conducted across party divisions, that block votes, tribes, and whips' menaces could be replaced by something more reflective of how we all conduct ourselves outside the House of Commons, that is, not by shouting over one another.
More interestingly still, with the surge in nationalist support in Scotland, and the effect that will have on English voters, the vote on 7 May may tip us into a situation where we have to examine again how Westminster works in relation not just to Scotland, Northern Ireland and Wales, but to the English regions. It could tip us also into looking at the voting system itself, especially if smaller parties get many more or many fewer seats than they deserve in proportion to their share of the vote. Will Labour, for example, resist the call for proportional representation if it gets 24 per cent of the vote in Scotland and no seats?
Further still, this election could force Parliament into considering giving more power to backbenchers and to reforming the upper House of Lords. And finally, it could make one final, dynamic change to democracy by lowering the voting age to 16. This has already been passed in principle in a free vote in 2013, and is now in the Lib Dem and Labour manifestos. One more heave, if they come out in strong numbers on 7 May, and the young electorate could have a lasting legacy and responsibility to take from this most unpredictable of elections.
If they come out. The result, of course, could easily tip the other way, back into conventional, uninspiring more-of-the-same. The only thing that will make the difference is first-time voters coming out in large enough numbers. The course of this election rests on this one simple, vital fact.
Register for free to continue reading
Registration is a free and easy way to support our truly independent journalism
By registering, you will also enjoy limited access to Premium articles, exclusive newsletters, commenting, and virtual events with our leading journalists
Already have an account? sign in
Join our new commenting forum
Join thought-provoking conversations, follow other Independent readers and see their replies