The Independent's journalism is supported by our readers. When you purchase through links on our site, we may earn commission.
As a gay British Muslim, this is what I think of the poll finding over half of UK Muslims want homosexuality banned
Muslims don't talk about difficult things related to relationships and sex. On a religious level, it's seen as taboo and on a more practical level, some British Muslims don't share the native language of their parents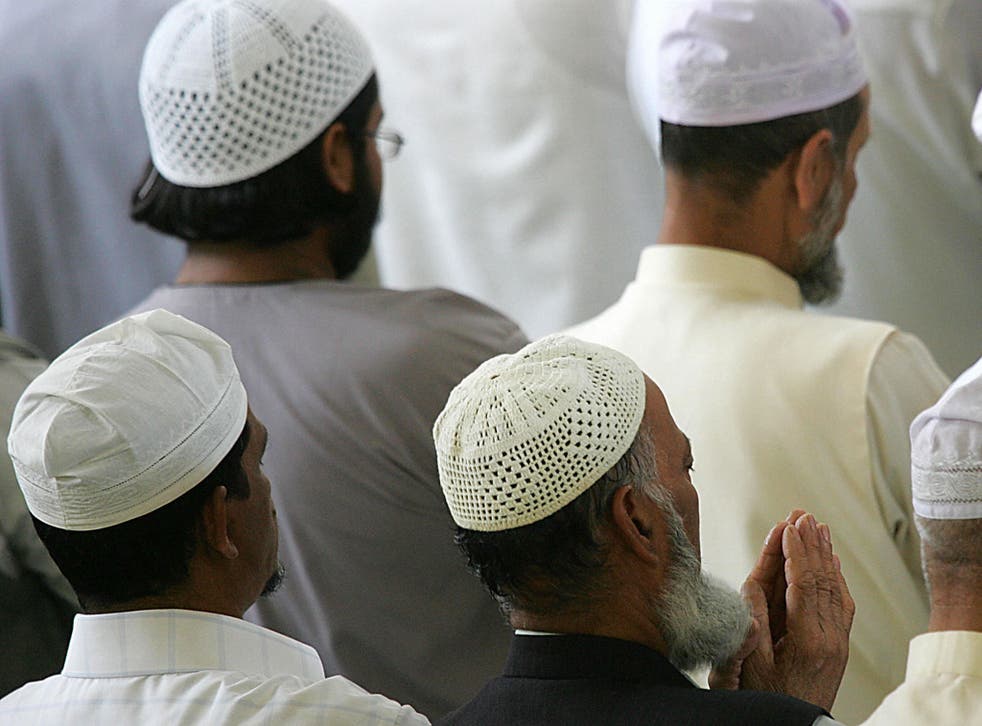 The halal chicken I ate today represents progress. Not just because it came pre-marinated so I didn't have to faff with all the masalas, but more so because I bought it from a mainstream supermarket: ASDA. That's right. It's not just ASDA price, it's halal ASDA price.
As a child I remember feeling genuine fear whenever I visited a halal butcher. I would have to put on an accent, pretend I knew what kind of mince we needed for keema peas, and pay in cash just to avoid a life of vegetarianism. Now I just pop to the halal counter in ASDA, pick up something from the shelf, tap my debit card and away I go. Progress.
Channel 4's survey into British Muslims' attitudes to living in Britain released today is also a sign of progress. An overwhelming 86 per cent of the over 1,000 Muslims surveyed said they feel a strong sense of belonging to Britain (higher than the national average of 83 per cent).
It comes as no surprise. It's not just halal chickens in ASDA, but the feeling that we can practice our religion freely in Blighty and that local MPs that reflect our views. This means that - on the face of it at least - being Muslim and being British goes hand-in-glove (or should that be head-in-headscarf?) nowadays.
But not so fast. Because apparently, more than half of all British Muslims think homosexuality should be illegal.
Let's remember it took the rest of Britain a sexual revolution, a lot of activism, art and cinema along with some major reform to get to where we are now on gay rights. While all of that was happening, British Muslims were spending their time integrating and finding a way to mix two cultures that stem from very different roots, all the while revolutionising British cuisine. I'm hardly surprised that 52 per cent don't think homosexuality should be legal. They simply haven't had the time and space to evolve their thinking.
It's fuelled by secrecy.
Muslims don't talk about difficult things related to relationships and sex. On a religious level, it's seen as taboo and on a more practical level, some British Muslims don't share the native language of their parents, meaning those awkward conversations are lost in translation.
And it's not only a sexuality thing; just ask anyone from a Muslim background who has tried to marry a non-Muslim. Trying to broach the subject of a move away from the status quo is like pushing treacle up a hill. And doing so can have far reaching consequences on both individuals and the community.
That's why so many gay British Muslims choose to stay in the closet. This leads to a secret double life with dark consequences, such as the gay Muslims living in straight marriages. I've seen countless examples of marriages built on a bed of lies, frustration and the unrelenting pressure to conform. It's not just the closeted individual that suffers. There's a knock-on effect for the next generation of children who end up finding out that their parents' marriage isn't at all what it seemed.
For those who do speak up, the consequences can be devastating. Naz Mahmood killed himself after his mum found out he was gay. Since then, his partner of 13 years Matthew Mahmood-Ogston set up the Naz and Matt Foundation to make sure religion doesn't come in the way of unconditional love between parents and their children. This was the first story I ever read in the mainstream press about a gay Muslim - is it any surprise that so many choose to stay silent when they see 'people like me' encountering such fatal struggles?
Being gay and Muslim is 'like deciding which arm to cut off'
Every time I speak truthfully about being a gay Muslim, I encounter positivity from other Muslims – from "Wow, I've never met someone like you!" to "I've always suspected my uncle was gay…I wish he could come out". I've encountered a plethora of other gay Muslims now, including Britain's first out Muslim drag queen, Asifa Lahore, and have found forums such as Stonewall's inter-faith seminar, which brought up topics such as how Muslim communities can support LGBT people earlier this year. Change is happening, it's just slow - and will take years of conversations.
Just this morning, I visited the bank and started talking to the clerk - she was white British. She told me she was building up the energy and courage to tell her parents about her engagement. Why didn't they know? Because she was marrying someone non-traditional: another woman.
She'll eventually get there, but I found her journey similar to so many British Muslims working on being true to themselves. We're really not so different at all.
Today's research shows that the time has come for British Muslims - straight, gay or otherwise - to break the silence and start having more difficult conversations. It's the only way we can start to create a mainstream space for homosexuality within British Islam, and cut that 52 per cent statistic down as far as possible.
Register for free to continue reading
Registration is a free and easy way to support our truly independent journalism
By registering, you will also enjoy limited access to Premium articles, exclusive newsletters, commenting, and virtual events with our leading journalists
Already have an account? sign in
Register for free to continue reading
Registration is a free and easy way to support our truly independent journalism
By registering, you will also enjoy limited access to Premium articles, exclusive newsletters, commenting, and virtual events with our leading journalists
Already have an account? sign in
Join our new commenting forum
Join thought-provoking conversations, follow other Independent readers and see their replies