As a nurse, I see my colleagues go to food banks because of low pay – without Corbyn's NHS policies, our profession won't survive
We need an education system that gives chances to people like me from working class backgrounds to become nurses, rather than puts them off – and a social care system that allows us more than 10-minute slots with the most vulnerable people in society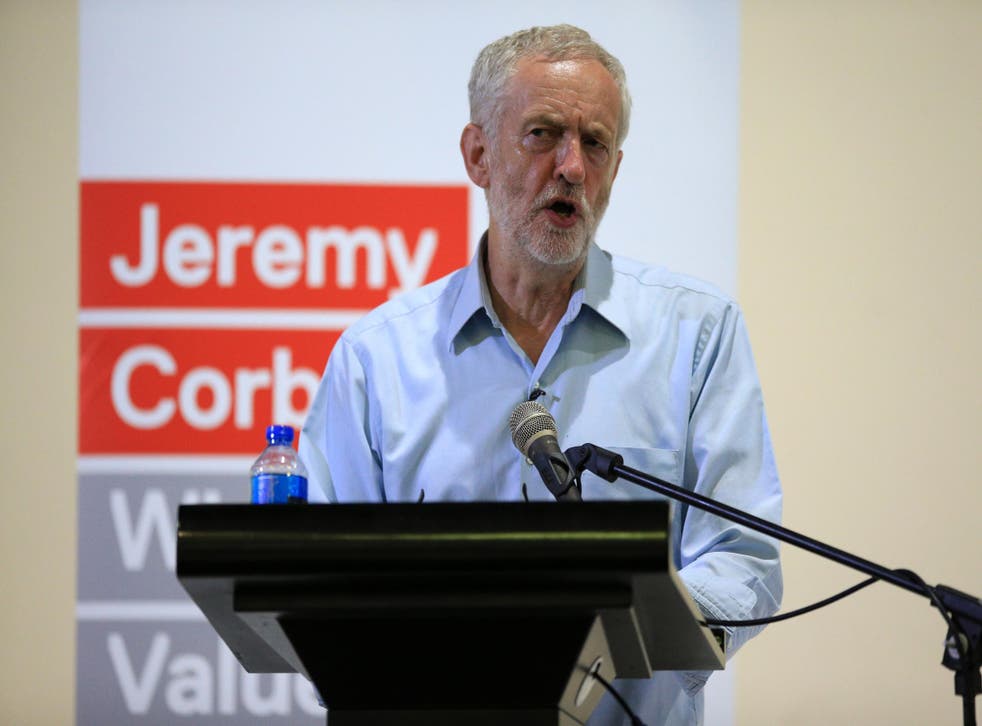 As a trainee community nurse, my daily experiences are testament to the fact that social care in Britain is in crisis. By 2013, the number of community nurses working in the NHS had already halved, from 12,620 a decade earlier to 6,656. Now the shortage of nurses is reaching a critical level.
Some of this decline is down to people being put off nursing altogether, so fewer choosing to enter the profession – and that is set to get worse. Earlier this year, the government abolished bursaries for student nurses, forcing prospective nurses to take on more and more debt. We don't expect that to boost recruitment, to put it mildly.
But much of our crisis in numbers is also down to a process of privatisation and outsourcing, which has accelerated after the introduction the Health and Social Care Act in 2012. Community nursing is increasingly run by private companies.
Privatisation and cuts have been a disaster for patients. Disjointed and running on different systems, social care has been put out to tender to the best bidder rather than carefully moulded to create an integrated single system. Take for example an elderly person who is discharged from hospital and needs a wound dressing after surgery. Community nurses can provide this care, but after the £1bn cut to elderly social care, we are often only allocated a 10-minute slot. As a result, we just can't be there to help them have a nutritious meal, assist them to do exercise or simply to keep them company for a chat later in the day.
We are doing our best. On placement, I have worked with some of the most inspiring and hardworking people you could wish to meet – nurses who, due to cuts, saw 17 patients a day in different areas and walked between all of them on foot.
We are also very often the eyes and ears on the front line of poverty. We build bonds with patients trying to adjust to living with debilitating illnesses, whose welfare has been cut to the bone. They get out of hospital and face the reality of losing their homes because of the bedroom tax, or because they can't pay the rent.
Often we see patients who have already been made homeless – who have lived through scary, damaging and lonely times, and who have struggled for years to have the chance to get a place in a house, somewhere they can call their own. We might get to visit them once a week to help with medication and check on their welfare – but it should be more.
Only this week Jeremy Hunt issued yet another letter to the NHS Pay Review Body asking for another year of pay restraint, meaning that we will not even receive a 1 per cent pay rise. The Royal College of Nursing has found that nurses have faced an average 14 per cent pay cut since 2010. No one does nursing for the money, but it is heartbreaking to hear that your colleagues are accessing food banks because they are unable to provide food for their family.
Labour leadership contest: Jeremy Corbyn vs Owen Smith

Show all 8
Despite the negatives, I believe I have the best job in the world. I feel fortunate to be able to make a different to the patients I treat. Social care is essential for social inclusion, individual independence and dignity – but our service and jobs are under threat.
I hope that this week's announcement from Jeremy Corbyn and Diane Abbott will spark a public debate about the future of the NHS and social care. We need a system that is integrated and which works together – and the role of private providers, who prioritise profit over the quality of care, must be challenged.
Saving social care and rebuilding the NHS has to be part of a wider vision for society. We need an education system that gives chances to people like me from working class backgrounds to become nurses, one that attracts people to the profession. Nursing should be for those who care, not for those who are willing to take on a £64,000 debt in order to train.
Facing the front line of poverty and austerity measures as a community nurse during my placement, I have seen their dark consequences. Making this vision a reality will require political will – it will require politicians with the courage to take on tax avoidance and reshape the economy so that public services are well funded and no-one is left alone without the care they need.
So the critics can scoff, but for me Jeremy Corbyn's Labour Party is the only political project that gives me hope for a way out of this nightmare – for nurses and patients alike.
Register for free to continue reading
Registration is a free and easy way to support our truly independent journalism
By registering, you will also enjoy limited access to Premium articles, exclusive newsletters, commenting, and virtual events with our leading journalists
Already have an account? sign in
Join our new commenting forum
Join thought-provoking conversations, follow other Independent readers and see their replies