What the Autumn Statement tells us about the relationship between Theresa May and her 'spreadsheet' Chancellor
Hammond might look like a cross between an accountant and an undertaker, but his confident performance showed there is more to him than that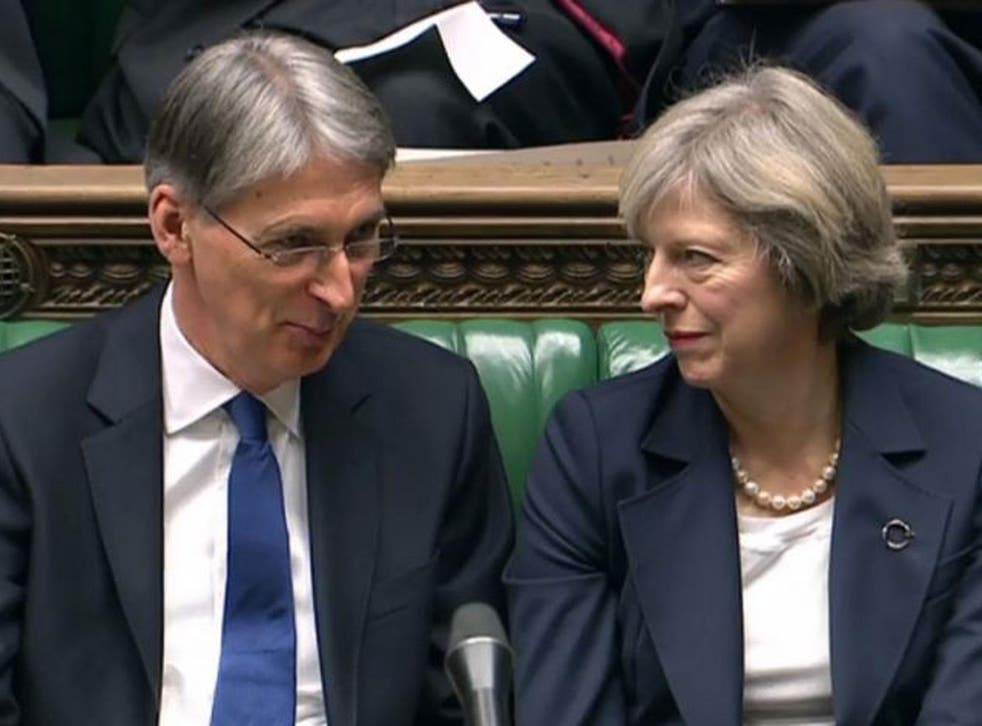 Philip Hammond's vision for Britain is clearer after his first set-piece economic event. In his Autumn Statement, the Chancellor argued that controlling public spending is "compatible with maintaining world-class public services and social improvement". But what really motivates him more than that is solving Britain's "productivity puzzle" – why, as he put it, a German worker produces in four days what a British one achieves in five.
His plans to tackle the problem through infrastructure spending and more housebuilding may pay dividends long after he has left the Treasury. But they will take years to have an impact, and are modest in scale because of the issue that will define his tenure: Brexit, which will knock a £59bn hole in the public finances over the next five years.
Hammond might look like a cross between an accountant and an undertaker. But his confident Commons performance showed there is more to him than the man dubbed "Spreadsheet Phil", who made £1m before becoming an MP though residential and commercial property and annoyed his wife by reading spreadsheets on the beach.
In Numbers: Philip Hammond's Autumn Statement
Hammond has been a friend of Theresa May since their Oxford University days but the build-up to the Autumn Statement showed that they are not political twins with a joint project, like David Cameron and George Osborne.
Hammond's hands-off instincts told him the best thing he could do for May's target audience, the six million "just about managing" families (or "Jams"), was to ensure a stable economy to limit the uncertainty caused by the Brexit vote.
Hammond formally buried Osborne's plan to run a budget surplus by 2019-20 and rolled it forward to "as early as possible" in the next five-year parliament. But that wasn't Hammond's decision; the target was ditched, first by May and then Osborne, after the referendum.
May believed the ensuing flexibility gave Hammond room to help the Jams now, allowing her to say she was delivering on the promises outside Downing Street when she became Prime Minister in July. But Hammond resisted, arguing that he needed the welfare savings already in the pipeline.
After some very tense discussions between them, a messy compromise that will please no one was agreed. Instead of abandoning £3bn of cuts to Universal Credit top-ups for low paid workers, as May would probably have preferred, the Chancellor drew the line at a slight softening that will not protect the Jams from a cut in living standards over the next few years.
The stand-off showed that he is own man. Unlike Osborne and Gordon Brown before him, Hammond has no ambition for the top job; that gives him the strength to stand his ground. It also means he does not want to micromanage government departments and filch policy announcements from Cabinet colleagues in the way Osborne and Brown did.
Hammond will allocate departmental budgets and let ministers decide how to spend them. His decision to scrap the Autumn Statement and have one fiscal event a year – an autumn Budget – instead of the two introduced by Brown, is typically unflashy. It is also a welcome shift away from government-by-headline.
If he gets the chance, Hammond could become a reforming Chancellor. He showed a tiny bit of ankle by announcing a wholesale review of government spending, hinting that it could spell the end after 2020 of the "triple lock" under which the state pension rises by inflation, wages or 2.5 per cent, whichever is highest.
Dropping the pledge in the next Tory election manifesto would be bold and politically risky, as pensioners vote. But it needs to happen to tackle the unfair inter-generational settlement under which today's hard-pressed workers will have to support through their taxes a rapidly growing number of over-65s who are better off than them.
The 6 most important issues Theresa May needs to address

Show all 6
Hammond's flexible new rules will allow him to bring in a fiscal boost if Brexit has a chilling effect. He fears it might, despite performing better than the Treasury expected since the referendum. Hardline Tory Eurosceptics have dubbed Hammond "Mr Gloom". But he believes that Liam Fox and Boris Johnson are naively optimistic about the likely benefits of Brexit, and wants a transitional deal with the EU to prevent business falling "off a cliff" after the two-year Brexit negotiations, which are unlikely to include a long-term trade agreement.
The Chancellor will need all the flexibility he has given himself – and not just to cope with the "Brexit effect". One thing on which he and May agreed was that there was no need to inject more money into social care, even though the crisis in provision is putting the NHS under enormous strain. This was a mistake; it will return to haunt Hammond.
Everyone knows that our health and social care systems are far from "world class". They will need a bailout before the next general election. In that sense, the Autumn Statement was a missed opportunity.
Register for free to continue reading
Registration is a free and easy way to support our truly independent journalism
By registering, you will also enjoy limited access to Premium articles, exclusive newsletters, commenting, and virtual events with our leading journalists
Already have an account? sign in
Join our new commenting forum
Join thought-provoking conversations, follow other Independent readers and see their replies