Cameron's weak political leadership got us into this Brexit mess and Hammond's weak economic leadership will leave us in it
It will take Big Money to steer Britain through this rocky period. Instead, Chancellor Hammond has promised to continue slashing the very departmental expenditure essential to smooth the path. We must conclude that he does not wish to invest in a safe Brexit at all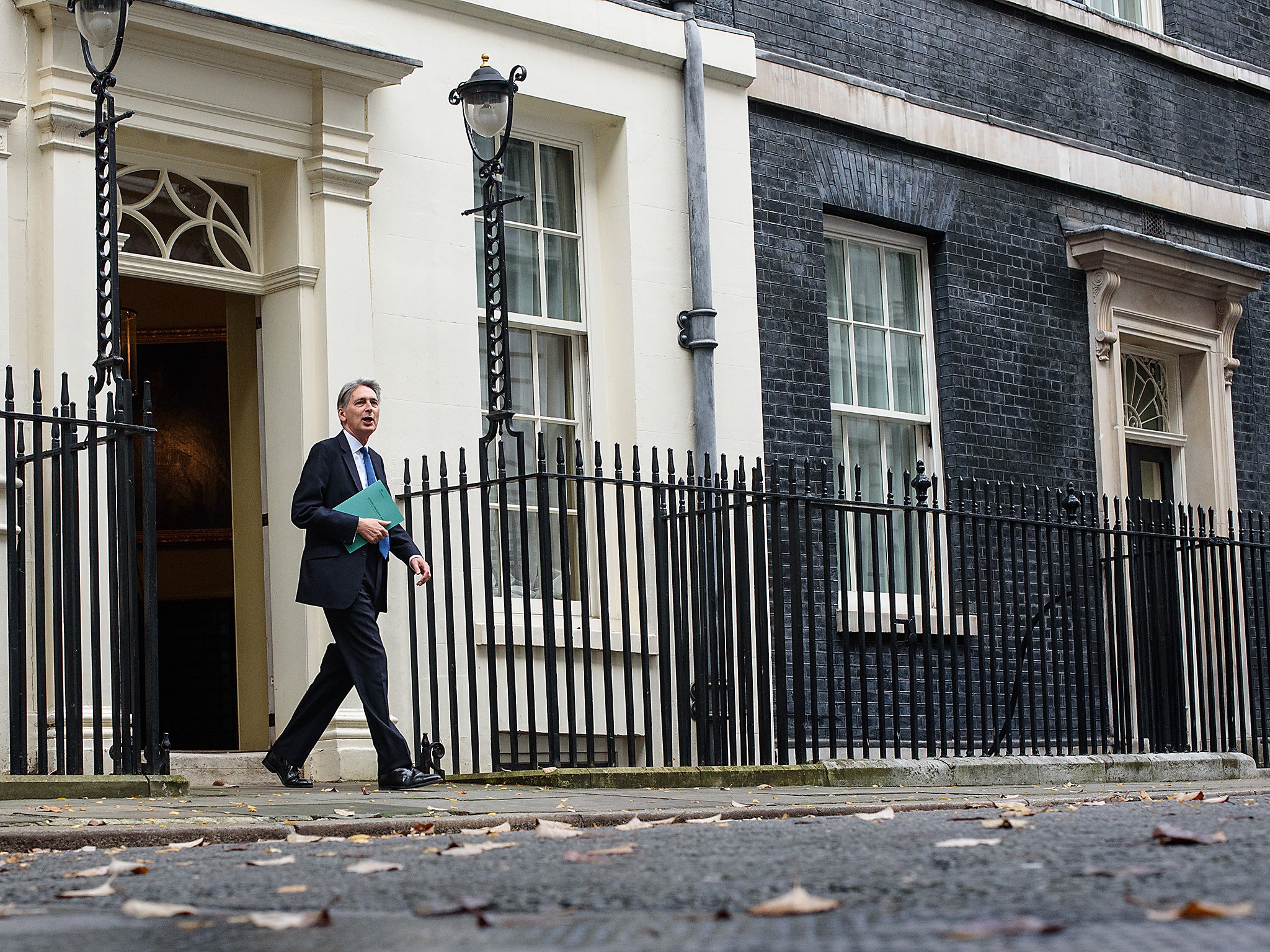 We live in perilous times. The demand by millions of people for protection from austerity and globalisation has fuelled support for extreme right-wing parties across the world. The possible election of a far-right party to the French presidency keeps many awake at night. The American President-elect rode the wave of popular insurrection and now poses threats not just to world trade and the global economy, but to global geopolitical security.
Into this dangerous mix, Philip Hammond today announced a cautious programme of "fiscal tightening" (his own words), with the nation once again repeatedly harangued "to live within its means" – as if it's the fault of taxpayers that the private banking system collapsed in 2007-9, and that since then banking sector weakness, coupled with government-driven austerity, has consistently stalled recovery.
In one welcome change, Philip Hammond will not even try to uphold the rigid neoliberal "fiscal rules" that George Osborne introduced but failed to enforce. The reason is common sense to all but the Treasury officials and advisers who no doubt helped draft Hammond's speech.
The fiscal stance (or budget balance) cannot and does not depend on "fiscal rules". It is entirely dependent on whether activity in the whole economy is up or down. When it is up – when employment, incomes and profits rise and there are no threats from Brexit – the budget deficit falls. When it is down – employment is low, insecure or part-time; when millions are low-paid and earnings are lower than 10 years ago; when firms struggle to borrow, invest and expand; and when Brexit looms – lo, the budget deficit rises.
In Numbers: Philip Hammond's Autumn Statement
It's not rocket science.
So, the Chancellor should learn to say after me: when the economy is up, the budget deficit is down. When the economy is down, the budget deficit is up. As sure as night follows day.
The task this new Chancellor faces is to get the economy up again, and to stabilise it through the trauma of Brexit. That will take money and investment. Given the insecurity and indecision surrounding Brexit, and given the shortage of civil servants to undertake complex negotiations, it will take Big Money to steer Britain through this rocky period. Instead Chancellor Hammond has promised to continue slashing the very departmental expenditure essential to smooth the path to Brexit. We must conclude that he does not wish to invest in a safe Brexit. He would prefer to Remain.
A measly £23bn will be borrowed for infrastructure investment over five years. That represents less than 0.5 per cent of GDP in each of the years ahead.
To add insult to injury, the OBR reveals that taxpayers will continue to face £27bn of losses from bailing out the largest high street banks, because share prices dropped after the Brexit vote.
Let us not forget the backdrop to this autumn Budget. Brexit – and its economic costs – is itself the consequence not just of leaving banks to "self-regulate" their activities. It is also a consequence of the quite reckless decision by David Cameron to call a referendum on European membership at a time when many British voters were suffering from falling real incomes, and the wider consequences of austerity. Weak political leadership got us into this mess. And weak economic leadership will leave us mired in it.
Ann Pettifor is director of Prime (Policy Research in Macroeconomics)
Join our commenting forum
Join thought-provoking conversations, follow other Independent readers and see their replies