Azealia Banks was right about the Nicki Minaj waxwork: it's a sexist, racist mistake
All of Nicki Minaj's fans are wondering why she didn't get a waxwork that accurately reflects the industry powerhouse that she is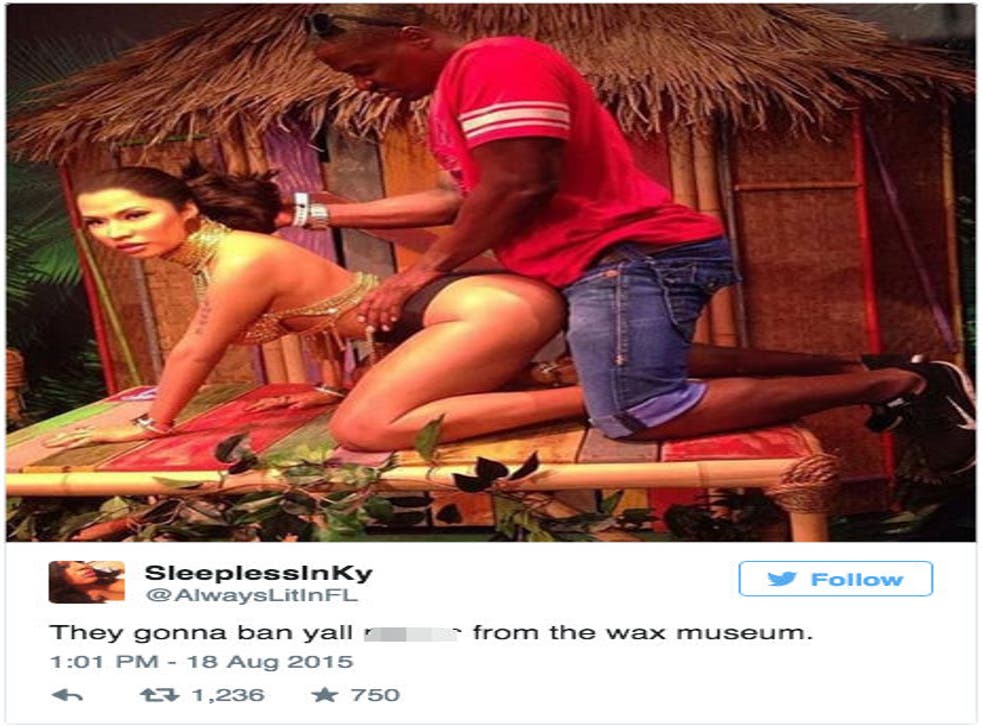 Without the aid of a crystal ball Azealia Banks called it earlier this month on Twitter, with thousands of others nodding in a chorus of agreement. You put a famous woman on display on-all fours and people will take advantage of it. Granted, she's wax, but some of the creepier selfies Nicki Minaj's figure has had to endure give a dark glimpse into the minds of those taking them.
I appreciate the artists at Madam Tussauds have a tough job on their hands, really I do. After all, a line-up of singers of any gender with mics in their hands will start to look boring after the first five photos. Where's the visitor experience in that?
The real issue, as identified by Banks, is that for all her accomplishments they chose to immortalise Minaj in a vulnerable and sexualised position that doesn't do justice to the strong woman herself.
You can almost, almost see why the pose was chosen: Minaj's Anaconda video, which her waxwork is portraying, is iconic. It broke a VEVO record with 19.6 million views in 24 hours. The controversy around its exclusion from the Video of the Year award nominations at the VMAs highlighted the discrepancy and discrimination for black women in the industry. That was all Nicki.
But anyone that's seen the lifeless stare from her waxwork while visitors perform lewd sex acts on it will undoubtedly feel uncomfortable. The reassurance from Madam Tussauds that they will be making sure "more staff are present in this area" and are having the set "redesigned so that a picture like this cannot be taken again" does little to address the real problem at play.
If you are in any doubt of the sexism and racism here ask yourself a general rule of thumb question – would this have happened to a man? Channing Tatum, of Magic Mike fame, is stood with his hands in his pockets in a suit and tie rather than half-naked and gyrating on a pole. He might be wax but his stance says he's in control.
Some of Madame Tussaud's worst waxworks

Show all 22
Minaj's pose doesn't say control; it screams sex object. Sure, if you've ever visited one of the 20 Madam Tussauds museums around the world, you will undoubtedly have taken some funny pictures with the waxworks of your favourite celebs – pretending you're fixing Boris Johnson's tie, for example, or arriving as the red carpet date for Kate Winslet (who has appeared naked in at least nine separate films, by the way, but doesn't appear on her back with her legs in the air. Could it be because she's white, something Banks mentioned in her tweets?) That's usually where the line gets drawn.
Minaj said she loved the waxwork and has not yet commented on some of the more disturbing pictures. I don't blame her. What do you say about a 'fan' who mimics penetrating you from behind because he can? 'Thank you for your interest in my body'? Perhaps 'Get away from me now, you pervert' would be more appropriate.
So to Madam Tussauds, a request: Nicki Minaj is fierce, fit and fabulous, a musical powerhouse and a respected force for change within the music industry. Can she please have a waxwork to match?
Join our new commenting forum
Join thought-provoking conversations, follow other Independent readers and see their replies