Today, amid protests and human rights abuses, Bangladesh will vote in a hotly contested election – here's why it matters
The prime minister has created what is essentially an authoritarian state. Security forces carry out extrajudicial executions, torture and disappearances and those with dissident views are attacked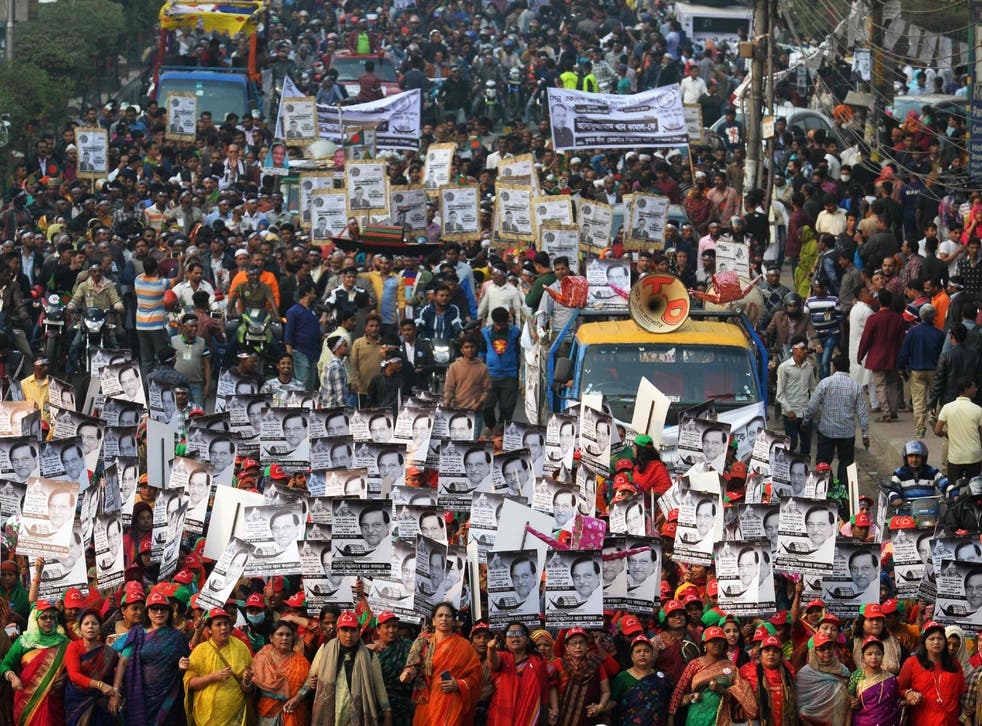 Expats of any country are interested in what is happening in their motherland and British-Bangladeshis are no exception. Many of them have friends and family in Bangladesh and may wish to return at some point. Some may be sending their hard-earned money to Bangladesh, so are naturally concerned about who represents the national parliament.
The conduct of people and politics in one's country of birth, or even those with Bangladeshi heritage, can impact how others view all Bangladeshis, regardless of their country of residence, so they are undoubtedly concerned about the pre-election violence perpetrated by supporters of the ruling Awami League.
Although the British government wishes to see a "free, fair and pluralistic election in Bangladesh", set for 30 December, the discord between supporters of opposing parties has continued to escalate. Human rights groups have accused current prime minister, Sheikh Hasina, of stifling dissent by wielding draconian laws to curb free speech.
The conflict is not just evident among the voters, but between the leaders of the main parties. The ruling secular, socialist Awami League's Hasina and right-wing Bangladesh National Party (BNP) leader Zia Khaleda, are referred to as the "Battling Begums" ("Begum" refers to a Muslim woman of high rank). Nevertheless, the two leaders put aside their political differences in the 1980s by ousting General Ershad to restore democracy to Bangladesh. Despite their critics, we cannot deny that the Battling Begums are incredibly strong women in a volatile political spectrum.
Khaleda is currently serving a 10-year prison sentence for alleged corruption in the establishment of an orphanage fund during her first term as prime minister in the mid-90s, and for another corruption charge linked to a charity fund named after her late husband. The High Court rejected five applications seeking suspension or a stay on conviction and sentences to allow the petitioners to contest in the elections, meaning that she is barred from fighting the elections.
World news in pictures

Show all 50
The opposition is now led by Kamal Hossain, an Oxford-educated leader of the newly formed alliance, Jatiya Oikya Front, which is composed of 20 parties, including the BNP, to demand an impartial government.
Earlier this month, Hossain's car was attacked, allegedly by Awami League supporters, as he was returning from paying tribute to victims of Bangladesh's independence war. Between 10 and 12 December, more than 100 people were injured and two people killed in pre-election violence involving Awami League and BNP supporters in the districts of Noakhali and Faridpur. In addition, activists and political workers opposed to the government live under an increasing threat of being jailed. Or worse.
Prime minister Hasina has created what is essentially an authoritarian state. Security forces carry out human rights abuses, including extrajudicial executions, torture and disappearances. Meanwhile, those with dissident views – including secularists, academics, religious minorities, and LGBT+ activists – are attacked by Islamist extremist groups.
Despite her critics, Hasina has brought stability to Bangladesh, which has contributed to its socioeconomic progress over the last decade. Research conducted at the Global Development Institute at the University of Manchester documented that Bangladesh overperforms on multiple social development indicators such as education, health, sanitation and fertility. Her government also gained respect around the world for its continued efforts to build the Padma Bridge (linking the southwest of the country to northern and eastern regions) with its own fund after the World Bank and other development partners withdrew their funding.
Nevertheless, Hasina's opponents are more concerned about the removal of citizens' rights, particularly anyone opposing her views. The Islamist party Jamaat-e-Islami lost its right to contest in national elections, and many of its central leaders who were in jail during the 2014 election have since been executed.
It seems that anyone who expresses a negative opinion about the current government is punished, which is akin to restraining free, and political speech.
Support free-thinking journalism and attend Independent events
I lost family members in the 1971 Bangladesh Liberation War and my mother often recounts Sheikh Mujibur Rahman's words in March of that year in an address to thousands of people. Rahman, the founding father of Bangladesh, said: "Today the people of Bengal want freedom, the people of Bengal want to survive, the people of Bengal want to have their rights. What wrong did we do?"
We British Bangladeshis are witnessing a Britain divided over Brexit, while also awaiting the fate of our motherland in the forthcoming elections.
How the country votes will depend on whether citizens are happy to waive their basic constitutional rights for statistical prosperity, or whether they would prefer free speech, a sense of security and a true democracy.
Register for free to continue reading
Registration is a free and easy way to support our truly independent journalism
By registering, you will also enjoy limited access to Premium articles, exclusive newsletters, commenting, and virtual events with our leading journalists
Already have an account? sign in
Join our new commenting forum
Join thought-provoking conversations, follow other Independent readers and see their replies