It's about time we recognised that nature documentary makers regularly deceive us – and we're partly to blame
Over and over we hear revelations that scenes are staged and mischaracterised, yet David Attenborough seems to remain beyond reproach in the eyes of the British public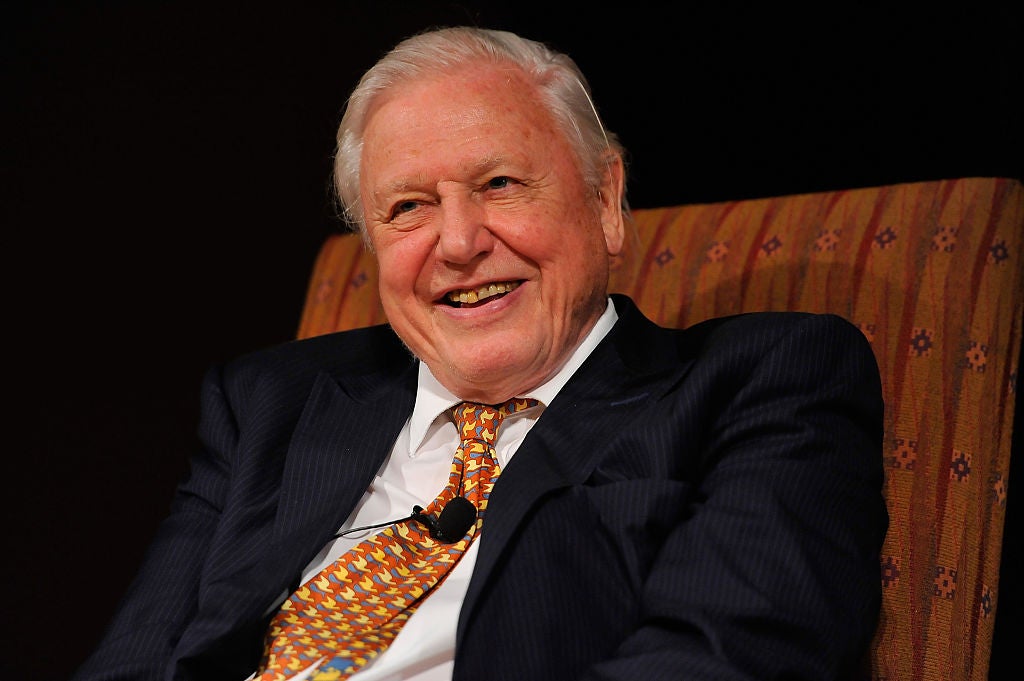 David Attenborough is regarded as a national treasure, and to take issue with anything the great man does seems to amount to treason, or thought crime at the very least, but I for one can't abide the programmes he presents about the natural world.
They are tranquilising television, a form of social calming, as soothing and unthreatening as a hot bath.
These award-winning series routinely show mammals procreating in close-up shots, accompanied by a hushed commentary of utter banality, and portentous classical muzak. The programme makers ascribe human qualities to animals and their behaviour in a patronising form of dumbing down.
We've known for years that the real animal kingdom does not operate in accordance with the demands of modern filmmakers, who have budgetary and time restrictions, as well as the rapacious demands of a global audience who want sex, gore, thrills and engrossing drama acted out by insects, sharks and snakes.
Sir David Attenborough and Blue Planet II win 'Impact' award at NTAs
Armchair travellers and amateur naturalists want heroes and villains, predators and victims, legitimised murder involving furry things with several legs or slithering reptiles. It's not surprising that delivering these elements can involve some manipulation of reality.
In 1997, a sequence with a bear and her cubs was filmed in a zoo in Belgium, but viewers were not told this at the time.
There was a scandal in 2011 when the BBC was forced to admit that scenes featuring a polar bear and her cubs in Frozen Planet were actually filmed in a zoo in the Netherlands and not in an Arctic environment. The same year, the Human Planet series showed a young camel being killed by a wolf, but later it emerged that because the filmmakers couldn't find a wild wolf, they used a semi-domesticated animal brought to the location on a lead.
In 2013, Doug Allan, a distinguished wildlife cameraman who has worked on many of the BBC's series, revealed that most sequences involving small mammals were filmed in controlled environments, and claimed the audience were "not bothered".
Chris Palmer has written two books about the tricks used in wildlife photography, revealing that sweets are used to entrap subjects, and even train bears. Close-ups are routinely shot in zoos or pens at wildlife parks. Fish are shot hatching at research centres, a long way from the ocean. Predators are attracted within range using carcasses. Sharks have been attracted towards cameras by using a fake seal.
One camerman said: "After two days when you've got nothing and you've got 24 hours left and the money's running out, you get kind of desperate".
Surely we should feel a bit ashamed by the way we expect animals to entertain us? Are the tricks used to film wildlife much better than those employed by trainers at a circus?
As a keen walker, every sighting of an animal or reptile in their natural habitat is a precious memory, not something I want to have on permanent repeat on a phone or a television. I can't forget the time I met a weasel on Graveney marshes or saw a stoat dancing in a garden in Yorkshire. Most viewers wouldn't settle for this – they demand to get up close and personal.
Attenborough says filming in controlled situations is kinder to the animals, and he constantly talks up the skills of his crews. In 2016, the BBC's Natural History Unit staff underwent anti-fakery training and there are strict editorial guidelines. Nevertheless, the way that "drama" is constructed in many of these films about the natural world is inherently untruthful. The same tricks are used when filming isolated tribes who live in remote habitats – we treat them no better than animals when it comes to providing exotic entertainment we can marvel at from our cosy homes.
David Attenborough: Life in pictures
Show all 35
Later this month, the BBC will show My Year With The Tribe, which returns to the Korowai tribe in Papua New Guinea, originally filmed for Human Planet in 2011. It emerges that the treehouses the tribe built high above the tropical rainforest back in 2011 were constructed especially for the cameras, and that the locals don't bother with anything so ridiculous, preferring to live much closer to the ground. In other words, they built a camera-friendly treehouse (described in the commentary as "their new home") for a sequence which won the BBC loads of awards for their fearless coverage of an exotic way of life.
I visited Papua New Guinea as a guest of the British Council, and spent time on a remote island. As a visitor, you are privileged to experience a way of life that is disappearing fast. I want to retain the sights, sounds, colours and tastes of that trip in my memory, not on film, but I worry that too many visitors commercialises a cash-free culture which operates by bartering. The BBC, like so many other broadcasters and film crews, could be accused of helping to erode that by providing an incentive to perform.
Now, the BBC has admitted that footage of mountains shown in their Earth's Natural Wonders series last February was not Nepal, but footage of Italy's Dolomites. If their mountains are transposed from one continent to another, what next?
Join our commenting forum
Join thought-provoking conversations, follow other Independent readers and see their replies