Inside the troubled Bernie Sanders campaign, from Russian bots to American trolls
'He got up on stage and used two black women as shields for him. That was a smack in the face'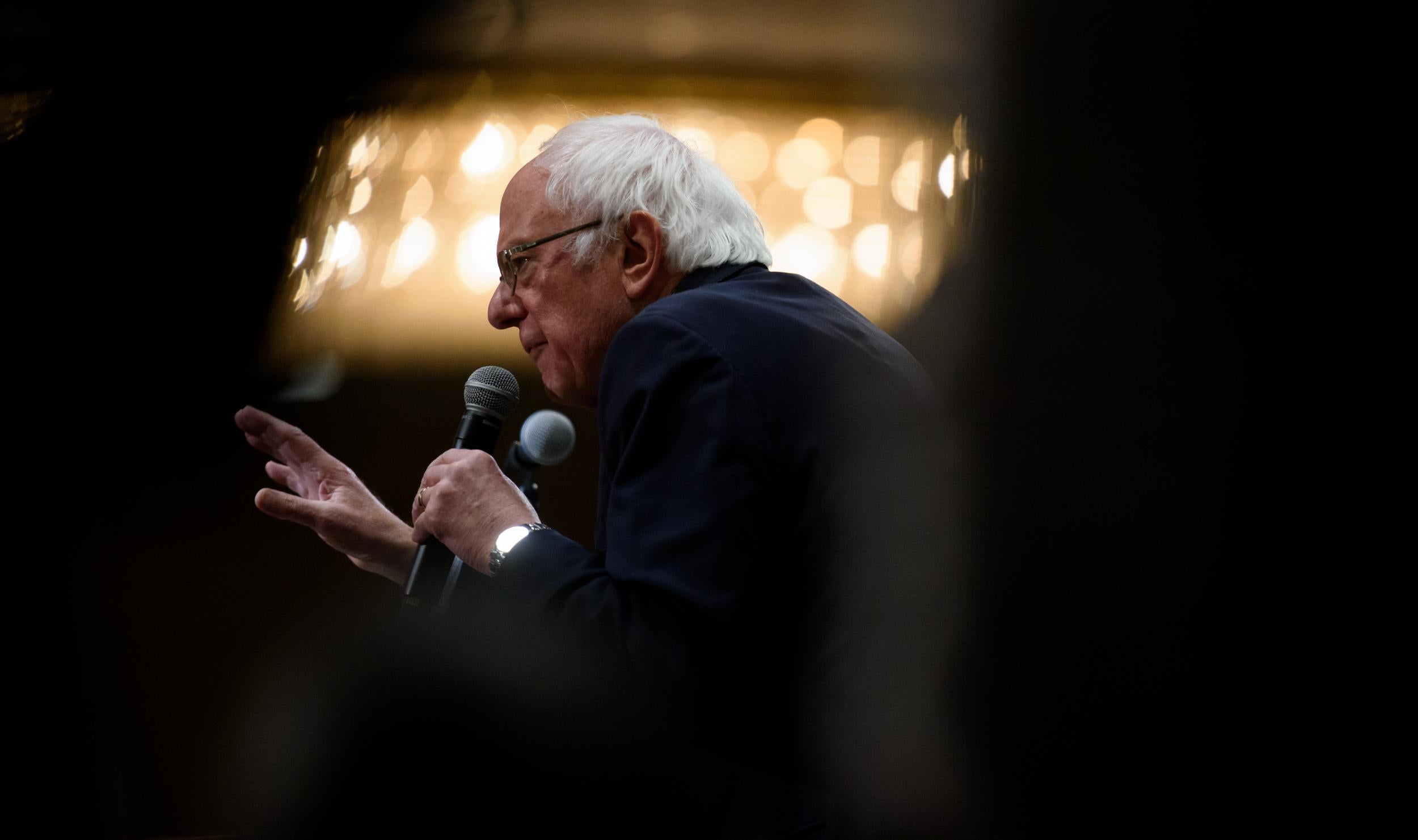 For anyone who paid attention to ex-FBI Director Robert Mueller's investigation into what he called a "sweeping and systematic" campaign of interference meant to influence the 2016 election, recent reports that Russia is trying to boost Vermont Senator Bernie Sanders' candidacy should come as no surprise.
After all, it was Mueller and his team who, in February 2018, secured an indictment against a slew of Russian nationals and companies for creating and using a network of fictitious online personae to flood social media platforms with content meant to boost the chances of Sanders and then-candidate Donald Trump.
Four years later, Russia's preferences for Sanders and Trump appear to be unchanged. The same could be said for the nonchalant attitude of Sanders, who has spent most of those years ignoring or dodging questions about Russia's prior efforts to use him to elect Trump.
In a statement issued Friday in response to the reports that Russia was once again acting to boost his candidacy, Sanders accused Russia of wanting to "undermine American democracy by dividing us up," and said he stands firmly against their efforts, as well as those of "any other foreign power that wants to interfere in our election."
But the septuagenarian Vermonter also seized on last week's bombshell report as an opportunity to accuse The Washington Post of deliberately choosing to report the story on the day before the Nevada caucus in order to damage his candidacy. He also used the news to cast doubt on suggestions that his aggressive online fan base had made a mess for him after Nevada's largest and most powerful labor union incurred its wrath by reporting to the more than 60,000 restaurant, hotel, and laundry workers it represents that Sanders' Medicare-for-All would eliminate their union-backed private health insurance plan.
"In 2016, Russia used internet propaganda to sow division in our country, and my understanding is that they are doing it again in 2020. Some of the ugly stuff on the internet attributed to our campaign may well not be coming from real supporters," he said. In comments to reporters, he explained that he'd been briefed on the matter roughly a month ago, and when asked why he thought the reports were emerging then, said sarcastically that it was because the Post was a "good friend."
Sanders' statement echoed comments he made at last week's Democratic primary debate after former South Bend, Indiana Mayor Pete Buttigieg said that Sanders was "at war" with the Culinary Workers Union Local 226, citing reports of threatening emails, phone calls, and tweets being made in his name against union officials. It seems the so-called Bernie Bros were angered after the union released a scorecard showing that the single-payer plan backed by Sanders and Massachusetts Senator Elizabeth Warren would bring an end to the union-run healthcare trust which covers 130,000 union members and their families. The union had refused to publicly back any one candidate, but had effectively "anti-endorsed" Sanders. Sanders, of course, won out in the Nevada caucus over the weekend anyway — but failing to secure the biggest union in the state's support had nevertheless been a blow.
Pete Buttigieg warns against Bernie Sanders' nomination
"You're the one who is at war with the Culinary Union right here in Las Vegas," said Buttigieg, who offered himself up as the candidate who could "build a movement without having legions of our supporters online and in person attacking Democratic figures and union leaders alike."
When given a chance to respond, Sanders defended "99.9 per cent" of his supporters as "decent human beings" and "working people… who believe in justice, compassion, and love."
"And if there are a few people who make ugly remarks, who attack trade union leaders, I disown those people. They are not part of our movement," he said. He also suggested that the people making threats in his name were Russian trolls or bots rather than authentic supporters of his campaign, but offered no evidence to support such an assertion.
Sanders' claim to "disown" supporters whose behavior crosses the line was far stronger a denunciation than what he'd offered days before, when his campaign responded to reports of the threats against Culinary officials with a statement urging "supporters of all campaigns" to refrain from "bullying or ugly personal attacks". He appeared to excuse such conduct by his supporters in his next breath when he added that some of the "African-American women on [his] campaign" — including former Ohio State Senator Nina Turner, his national co-chair — had been subject to "disgusting" attacks as well.
But a number of Democratic activists, strategists, and campaign insiders who know how Sanders operates say his protestations ring more than a bit hollow.
Instead, these insiders describe a campaign that has dispensed with the largely positive tone which characterized Sanders' 2016 presidential run in favor of a combative, grievance-driven one. They say it is led by a team of "true believers" who have little experience with presidential campaigns, are too enthralled by Sanders to question or challenge him, and who knowingly wield swarms of angry, harassment-happy pro-Sanders social media users like any other tool in the campaign toolbox for a candidate who, despite claims to the contrary, is perfectly fine with it.
"That's the tone that has been set by campaign leadership," said one Democratic strategist, a Bernieworld veteran. He pointed to the campaign's frequent use of email fundraising solicitations which warn supporters that the "establishment" is trying to keep a rigged system in place by stopping Sanders' candidacy.
He noted that the rhetoric coming from the top of Sanders' campaign had taken a more combative turn since October, when Elizabeth Warren's slide in the polls, Sanders' heart attack, and Rep. Alexandria Ocasio-Cortez's endorsement began to propel him back into the top echelons of the Democratic race.
"Clearly, they think it's a winning strategy. Beforehand, people just looked at the campaign as being kind of a little bit mean and nasty, but it's gone up a notch and I think they probably feel justified [by polling results]."
But it's not just bombastic fundraising emails that are driving some Sanders supporters to attack, threaten, and harass those deemed to have maligned the Senator in one way or another.
In many cases, the victims of what online disinformation experts call "swarms" or "dogpiles" have found themselves singled out for abuse by those who take their cues from campaign staff and prominent surrogates.
Fred Guttenberg, who has become a prominent gun control activist in the two years since his daughter Jaime was murdered during the February 2018 mass shooting at Marjorie Stoneman Douglas High School in Parkland, Florida, said he has found himself on the receiving end of pro-Sanders mobs since he began to criticize Sanders for his often-friendly relationship with the National Rifle Association.
"There are people in this campaign who operate in a very uncivil way… they're relentless," he said. In particular, he said three of the most frequent ringleaders from whom Sanders' online mobs take their cues are national campaign co-chair and former Ohio State Senator Nina Turner, national press secretary Briahna Gray, and speechwriter David Sirota.
Guttenberg noted that he has also frequently been targeted by President Trump's supporters in retaliation for criticizing Trump's lack of interest in helping to pass any legislation that might be opposed by the NRA. But he said being the target of Sanders' supporters is worse because they have far longer attention spans than the "MAGA" crowd.
"I used to say the Bernie supporters were just like Trump's supporters, but I was wrong — they're worse," he said. "They're more confrontational and they're more aggressive."
Shireen Mitchell, an author, technology analyst, and diversity strategist whose Stop Online Violence Against Women project tracks online disinformation, voter suppression, and targeted harassment campaigns, said Sanders' debate night suggestion that Russian internet trolls or bots were framing his real supporters was "a slap in the face" given his previous denials that anything had happened during the 2016 cycle. She went on to say that the tactics used by Russia in 2016 have been adopted by two 2020 campaigns: Sanders' and Trump's.
"He denied everything in 2016, and then all of a sudden he wants to save 2020 when it's actually his staff who are participating in these activities? Right," she said, with more than a hint of sarcasm in her voice.
"Everybody's not doing it. They [the Sanders campaign] are doing it and they think it's acceptable, and so they project it onto everybody else's campaign."
Like Guttenberg, Mitchell singled out Gray and Turner as frequent ringleaders in disinformation campaigns, and slammed Sanders for invoking their skin color as an excuse or defense for his supporters' behavior.
"He got up on stage and used two black women as shields for him. That is a smack in the face to me because I have been working on this since 2013, and with the ways in which black women are being targeted online, it really doesn't matter whose campaign they're on," she said. "But these two black women are participating in these tactics."
One frequent disinformation tactic, Mitchell explained, is to discredit "fact producers" by finding reasons the Sanders campaign can use to say that any information they're providing is false, even if they're telling the truth.
"They'll use something else to discredit the point, whatever the point is, or whatever the issue is," she said, offering up the example of a Monday morning tweet by Gray, in which she claimed that any discussion of abusive or malign behavior by Sanders supporters — what she called "The 'Bernie Bro' smear" — is "racist erasure."
"Use it, and you're complicit. It's that simple," Gray added.
Such statements, Mitchell said, start "misinformation conversations."
"'Bernie Bros exist," she added. "What we're trying to debate is how much of his following is white males versus everybody else, and so when the 'Bernie Bros' argument gets used, it's not just being used because it's some random narrative. It's the people who actually come after others, and a his majority of following is quote-unquote white working class white men," she continued.
"For her to say, Well, everyone else who is supporting Bernie and all the support he's getting from all the brown community is being erased by saying 'Bernie Bros' is absurd… it's like arguing about the 30 per cent of the white supremacists that are supporting Trump. This is stupid."
But what's worse, Mitchell said, is the way Gray and Turner use appearances in the mainstream media to inject disinformation into the discourse, such as when Gray falsely claimed that former New York City Mayor Michael Bloomberg had suffered a heart attack because he had two stents inserted to prevent artery blockage years ago.
"What Briahna does [is use] a lot of using certain statements out of context as evidence, like when on TV she was basically saying that Bloomberg had a heart attack when he did not, then she tried to 'correct' herself with a tweet," she said. "The damage is done, it's on TV, and the problem with them is that this is not just happening on social media, it's that it's also happening on mainstream media and not being corrected in real time."
Mitchell also noted that Turner had used a similar tactic against Bloomberg some days before.
"I'm watching terminology being used right now because Nina Turner started the whole 'oligarchy' thing [on MSNBC] and now everybody's using oligarchy," she said. "But we don't have f**king oligarchs!"
Although Guttenberg and Mitchell are continuing to sound the alarm about Sanders supporters' malign behavior and online disinformation, a Democratic activist who speaks regularly with Sanders campaign staff says it's unlikely that Sanders will make any effort to rein in his staff or change their behavior, or that of his supporters, because he approves of it.
"Bernie knows exactly what's happening," the activist said. "And his campaign is in the loop about this coordinated viciousness."
The Democrat challengers to Trump in 2020
Show all 25
One top Democratic operative with ties to Bernieworld and a deep knowledge of how his campaigns tend to operate said Sanders 2020 campaign appears to be consciously crossing lines that his 2016 operation would not.
"I don't remember in 2016 there being any kind of really out-of-bounds stuff — not at the candidate level, or the principal surrogate level, or at the staff level. It got tough, but nobody was really over-the-top," the strategist said.
Another veteran Sanders operative attributed the 2020 campaign's apparent lack of political and messaging inhibitions to the relative inexperience of the campaign's top leadership.
While much of Sanders' 2016 campaign was shaped by consultants and advisors from the firm of Devine Mulvey Longabaugh, with whom Sanders has had an on-again/off-again relationship for decades, the only veteran of his 2016 campaign to return is Jeff Weaver, Sanders' longtime strategist and adviser.
Instead, Sanders' 2020 staff is being run by newcomers to presidential politics like Faiz Shakir, a former editor of the defunct progressive news site ThinkProgress and ex-aide to House Speaker Nancy Pelosi and ex-Nevada Senator Harry Reid, and Gray, who is a former senior politics editor for the pro-Sanders news site The Intercept, but had never worked as a press secretary at a national level.
Weaver, the operative said, is often a moderating force on Sanders, but said that most of the senior staff are devotees who lack the relative stature to stand up to the Senator, and instead end up mirroring his disdainful attitude towards those who disagree with him.
"This year, you're just getting Bernie, totally unvarnished Bernie," he said. "There's no one in the room who could possibly stand up to the guy."
That, he added, is why the abusive behavior and disinformation coming from the Sanders campaign and his supporters won't be letting up anytime soon.
"That's been the tone that is set by the campaign leadership. And broadly speaking, I don't think the Senator has a problem with that."
Join our commenting forum
Join thought-provoking conversations, follow other Independent readers and see their replies