Bernie Sanders has unleashed a revolution he can't control – and 'Bernie or Bust' voters could let Trump win
He could have done a Ted Cruz, the bitter runner-up who goes to the convention and still refuses to endorse his conqueror on the floor. That would have thrilled his die-hard followers. He's chosen to live in 'the real world – but have the 'Bernie or Bust' crowd?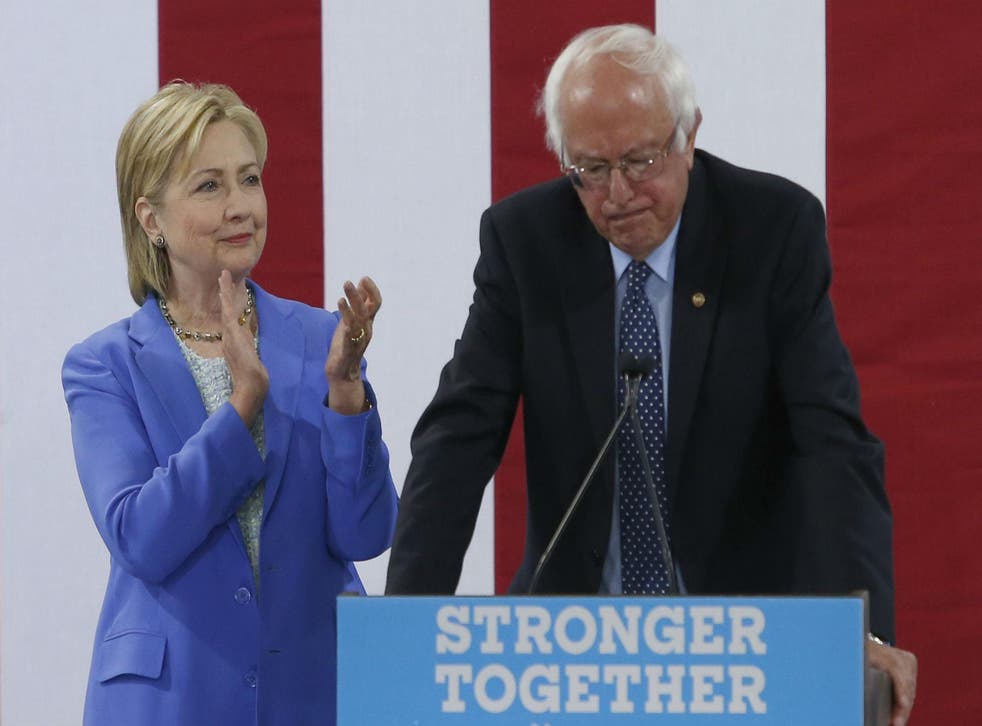 Hillary Clinton couldn't have asked for more. Bernie Sanders' first endorsement of the Democratic nominee two weeks ago was a tepid, reluctant affair, a grudging and defiant admission of defeat reeking of the bitterness of a draining primary campaign lost. But here at the party convention, Sanders was all in.
He could have done a Ted Cruz, the bitter runner-up who goes to the convention and still refuses to endorse his conqueror on the floor. That would have thrilled his die-hard followers. But it would have set in stone divisions in the party that would open the door for a Donald Trump victory in November.
However there was none of that. "I'm proud to stand with her," Sanders declared. Clinton had to be elected, and "I'll do all I can to make that happen." He praised her healthcare reform. Yes, the two had (and most certainly still have) their differences. But that, he noted, was what democracy was all about. On a couple of occasions, the cantankerous old grandad even managed a smile.
Bernie Sanders endorses Hillary Clinton in passionate plea
To his diehard "Never Hillary" supporters he had a simple message: you might have problems with her, but this election was simply too important to sit out. Earlier he'd delivered the same lecture, even more bluntly, at a pre-convention rally in Philadelphia, telling them that "this is the real world we live in" – a world in which the alternative was Donald Trump, "a danger for the future of our country, who must be defeated. I intend to do everything I can to see he is defeated."
Last night, though, was prime time. His speech helped salve the wounds left by the Wiki-leaked Democratic National Committee emails confirming what everyone knew: that the party machine had been against Sanders from day one. He could have got in a dig at the DNC. He didn't.
Democratic National Convention 2016 in pictures

Show all 15
But has the party really been re-united? The earlier speeches in the evening – the anti-Trump salvoes from Elizabeth Warren, even the paean to Clinton delivered by Michelle Obama, will quickly be forgotten. Sanders, not them, had won 13 million votes in the primaries. He was the one that mattered.
A snap verdict, based on reaction in the hall, would be that Democrats have come together. There was a smattering of disagreement, but no more, from the "Bernie or Bust" crowd, quickly submerged in cheers. But that may not be the end of it. Yesterday's other lesson was that Sanders may have unleashed a revolution he can no longer control.
Sarah Silverman tells 'Bernie or Bust' Democrats 'You're being ridiculous'
Some of his delegates were wiping tears from their eyes even as they cheered him to the rafters. Sanders rightly tells the faithful that he's secured the most progressive Democratic platform ever, assuring them that "we've begun a political revolution to transform America, and that revolution continues".
But Sanders may no longer be in its vanguard. His great contribution in this incredible election year has been to raise issues that have never been tackled head-on: the de facto corruption that permeates a rigged system, the need for truly universal healthcare, a concentration of wealth unmatched since the Gilded Age. Facing this challenge from her left, Clinton now vows to change that. But many people still don't trust her – including many Sanders voters.
Join our new commenting forum
Join thought-provoking conversations, follow other Independent readers and see their replies