At his first press conference, Biden sent a surprisingly scathing message to Republicans
At one point, the 46th president said he didn't know if the GOP would even have a party by the next election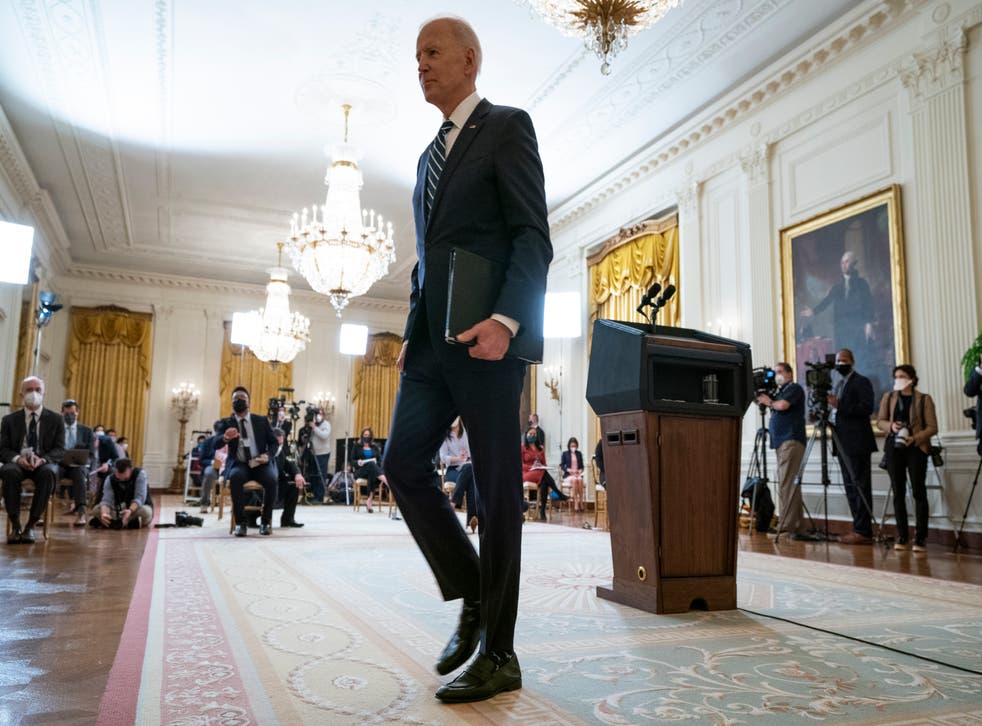 No one expected Biden's first press conference to be scathing, in the same way no one expected America's Mayor to start railing about Will Smith's dad outside an adult book store and a crematorium at 11.30 in the morning. And it was never going to be a Trumpian event — that much was for certain. Yet the years of Donald taught us to always stay on our toes, and continuing that habit was worth it today. Because among scripted, expected remarks about building back better, getting great jobs and growing the economy, the new(ish) president managed to get a few well-aimed digs in that made it clear his patience with the GOP is being severely tested.
It started out gently. "Here's the deal," he said, in response to a question by an Associated Press reporter, "I think my Republican colleagues are going to have to determine whether we're gonna work together or… continue the politics of division." Then, later, in response to a further question about the situation at the southern border, "Well, look. I'm not going to just let them starve to death on the other side… No president ever did that either, except Trump. I'm not gonna do it. I'm not gonna do it."
Once he got a bit of momentum going, it started coming thick and fast. "My predecessor — oh God, I miss him," he laughed derisively, when asked if he expected to run against Trump in 2024. On his "old friend" Mitch McConnell's claims that he had moved "far left" since becoming president: "I know Mitch well, Mitch knows me well. I would expect Mitch to say exactly what he said." Has Biden spoken with Senate Republicans who, according to rumors, have refused to work with him until the border situation is "under control"? "No, because I know they have to posture for a while. They have to get it out of their system." Most devastatingly, when pushed again on that 2024 run teased endlessly by Trump, the 46th president had an eyebrow-raising answer: "Oh, come on. I have no idea. I have no idea if there'll even be a Republican Party [by then]. I know you don't have to answer my questions, but do you?"
An endlessly calm, sometimes soporific speaker, Biden has a way of slipping in some truly scathing commentary that only leaves you reeling minutes after the fact. He made a number of references to former Republicans voting for him in the election, saying, "What I know I have now is electoral support from Republican voters. Republican voters like what I'm doing… Take a look at [Mitch McConnell's] party. Over 50 percent of them must be [far left] as well," he continued, when asked about the Senator from Kentucky. When asked by a CBS reporter about Republicans passing recent state-level legislation which makes it harder to vote, he professed to be shocked about "how un-American this whole initiative it is. it's sick. It's sick… and the Republican voters I know find this despicable." Leaning closer to the mic, he repeated, "Republican voters!" before adding the clearly pre-prepared soundbite, "This makes Jim Crow look like Jim Eagle."
It began with an update on Covid vaccinations and included long monologues on drainage systems, bridge-building and the Federal Reserve, but make no mistake: this press conference was a warning to Republicans.Work with me or against me, but you're starting to look ridiculous. And I will not hesitate to point that out if this continues any longer.
To reporters, he was was warm and affable. Answers were directed to the small room of socially distanced journalists — "Most of you live in the Washington area now but in your hometowns, I don't know where you're from, you must see it," he said at one point about gun control; at another, "You don't understand — actually, I know you understand, I don't mean to say it that way — it's just an important point to note," he self-corrected while answering a female journalist's question, "Am I giving too long an answer? I don't know how much detail you want," he said at the end of a monologue about immigration — when every answer from Trump was, by contrast, aimed squarely at the cameras. "OK, hang on, sorry, hello," he muttered with a smile as he peered at the piece of paper with reporters' names on it from behind the podium. On three occasions, he took long, thoughtful pauses before addressing the question posed. "A lot of you disagree with me still, and I respect that," he added, when a couple of people present appeared to react badly to one of his missives.
At times, he was refreshingly transparent. When will journalists be allowed to see inside all immigration facilities? "I don't know." Will all American troops in Afghanistan be relieved of duty by May? "The answer is it's going to be hard to meet the May 1 deadline." Would he agree that the filibuster is a relic of the Jim Crow era? "Yes." Then why not abolish it now? This was where one of the long pauses came in. Then, eventually, the answer: "Successful electoral politics is the art of the possible. Let's work out how we can get this done."
It was far from perfect; at many points, those present became visibly bored with the numbers, the lists and the data the president was reeling out. He is not a highly energetic speaker nor anyone's first choice for host of any fast-paced reality TV program. But the data was there. The knowledge was clear. And underneath it all was a surprisingly steely resolve to hold the opposition to account for what transpired between 2016 and 2020.
"Folks, I'm going," he finished, before walking quickly out of the room an hour after he'd started. It was an abrupt end to what had felt like a slow-paced, business-as-usual event. Yet what lingered in the air was a realization that something had changed. Shots had been fired, quietly, politely, and pointedly. Uncle Joe has his limits. And the GOP members still flirting with Trumpism have clearly been testing them.
Register for free to continue reading
Registration is a free and easy way to support our truly independent journalism
By registering, you will also enjoy limited access to Premium articles, exclusive newsletters, commenting, and virtual events with our leading journalists
Already have an account? sign in
Join our new commenting forum
Join thought-provoking conversations, follow other Independent readers and see their replies