The Independent's journalism is supported by our readers. When you purchase through links on our site, we may earn commission.
Biden's White House communications strategy is driving Republicans insane
In the words of one House Republican campaign operative, 'It's a nightmare'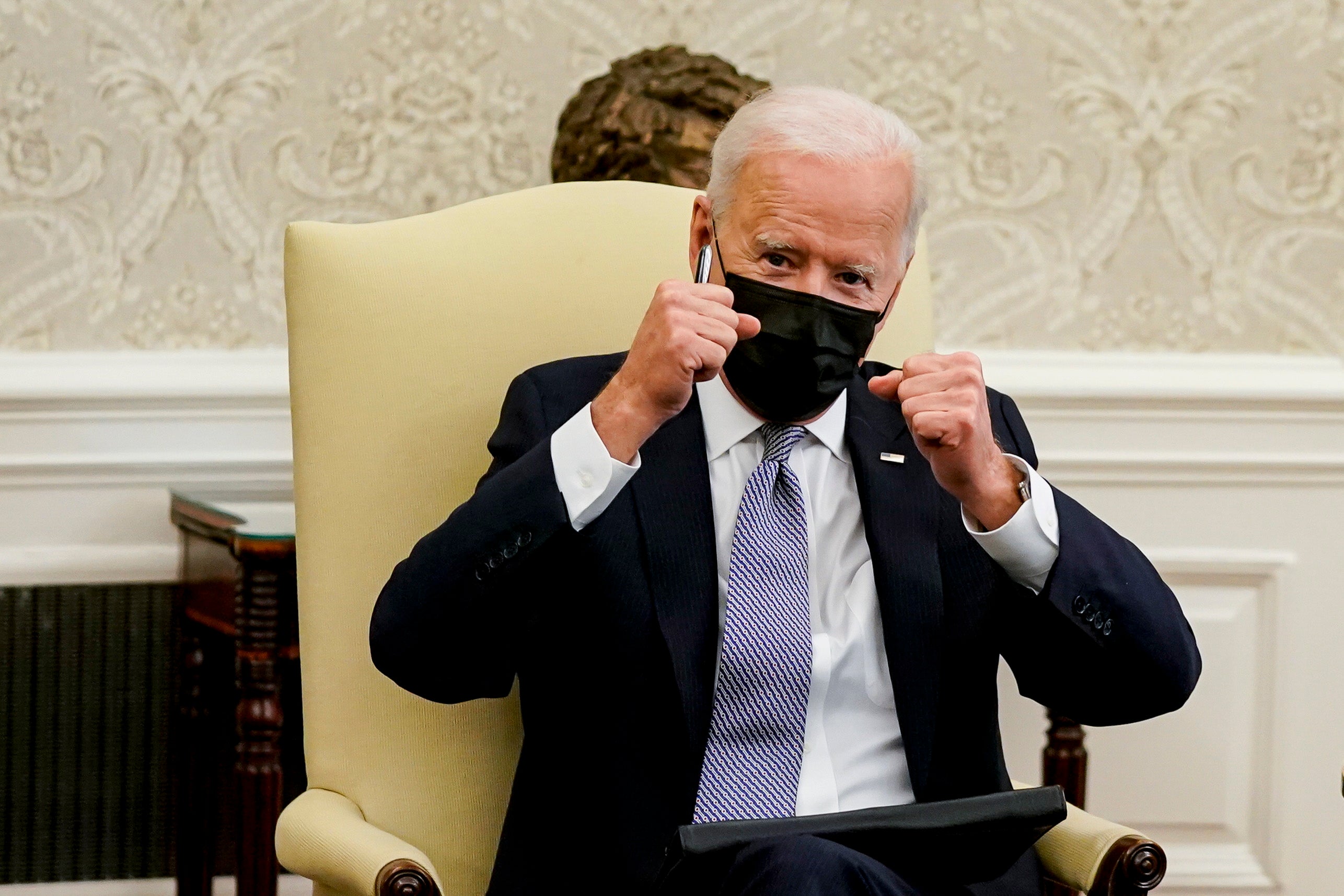 If there's a cliché that summed up Joe Biden's defeat of an extremely progressive Democratic primary field, it's the pithy maxim that Twitter is not real life. And since Biden assumed the presidency this past January, his deliberate, plodding, and downrightboring communications strategy has followed a similar — but related — rule: TV isn't governing. 
As of the morning of April 13, the presidential statement trackers at factba.se report that Biden has spoken 2,288,361 words since being sworn in. Most of those have come in the form of prepared remarks during pre-arranged appearances, after which he has taken precious few questions. And even adding in his single East Room press conference and a television town hall held just a month into his term, the man who once famously called himself a "gaffe machine" has managed to spend his first 83 days in office remarkably gaffe-free, with perhaps his most newsworthy public statement of late being the ESPN interview in which he said he would support Major League Baseball if the decision was made to shift the national pastime's all-star game away from Atlanta due to Georgia's recently enacted restrictions on voting. 
For Republicans looking to capitalize on a major misstatement or slip-up, Biden's less-is-more strategy has meant that the pickings have been slim. 
"It's a nightmare," said one House Republican campaign operative when asked about his party's efforts to render Biden — and therefore his agenda — unpalatable to the majority of Americans. 
For the most part, Republicans have responded to Biden's nascent administration and the accompanying Democratic control of Congress by reverting to their Obama-era playbook. That means denying the administration support for any of its major legislative initiatives — just as they did with the 2009 American Reinvestment and Recovery Act and the legislation that followed it.
The GOP also worked to cast both Obama and his policies as unpalatable and vaguely radical — often in racialized terms — in ways that successfully poisoned his own brand and that of the Democratic Party in the eyes of many voters. For instance, when Obama said during a July 2009 news conference that a Cambridge, Massachusetts police officer had "acted stupidly" by arresting Harvard professor Henry Louis Gates Jr in his own home, then-Iowa Representative Steve King said the remark "demonstrated that he has a default mechanism in him that breaks down the side of race that [favors] the Black person". The incident was covered for weeks in conservative media to the point where Obama felt the need to invite Gates and the officer to the White House. In his memoir,A Promised Land, the former president wrote that internal White House polling at the time showed that that one incident cost him more white support than any other event during his presidency.
Kurt Bardella is an ex-Republican communications operative who served as a spokesperson for Republicans on the House Oversight Committee during the Obama administration. He told me that Biden's successful avoidance of culture war traps and gaffes that can be weaponized by conservative media figures shows that he and his team have "learned a lot of lessons from the experience of President Obama's early years".
"if anything, the Obama White House was naïve in how they viewed Republicans and the damage that Republicans could cost the administration," he said, adding that in his opinion, "the Biden team was going into this with their eyes wide open".
The GOP campaign consultant — a veteran of both presidential and congressional politics — said Biden's relative reticence, combined with his age and race, has made it harder to launch culture war-based attacks on him.
"You'll never get anyone to admit this on the record, but it's really f**king hard to drive down the negatives of an affable, gentlemanly white man who says nice, positive things most of the time," he said. 
Instead, Republicans have reverted to an unsuccessful tactic first deployed by the man Biden defeated in 2020: Call him senile and suggest he's a puppet. 
One such Republican, Texas Senator John Cornyn, took to Twitter recently to suggest that Biden's tendency to limit his remarks to those prepared beforehand and eschew unscripted moments raised questions as to whether he is truly in charge of the executive branch. 
When asked about Cornyn's tweet on Monday, White House Press Secretary Jen Psaki said she could "confirm that the president of the United States does not spend his time tweeting conspiracy theories" because he "spends his time working on behalf of the American people".
Bardella explained that despite Biden's limited exposure since becoming president, he has been "a very effective communicator in terms of the level of trust and authenticity that he exudes" when he does speak. He added that Cornyn's claim that Biden is not really in charge because he isn't omnipresent in the media like his predecessor shows that Republicans "are desperate to do insane anything they can to not have to actually talk about the substance of the Biden agenda, which is overwhelmingly popular, even with Republican voters".
"The Biden White House is not going to play into the hands of Republicans, nor should they," he added. "And the more that they whine about it, the more it just cements the certainty that the strategy that they've pursued is the right one." 
Join our commenting forum
Join thought-provoking conversations, follow other Independent readers and see their replies