The representation of bisexuality on TV is improving but show producers still seem scared of the word
Rosa Diaz's coming out on Brooklyn Nine-Nine earlier this month could be a watershed moment for the way LGBTQ people are portrayed on mainstream television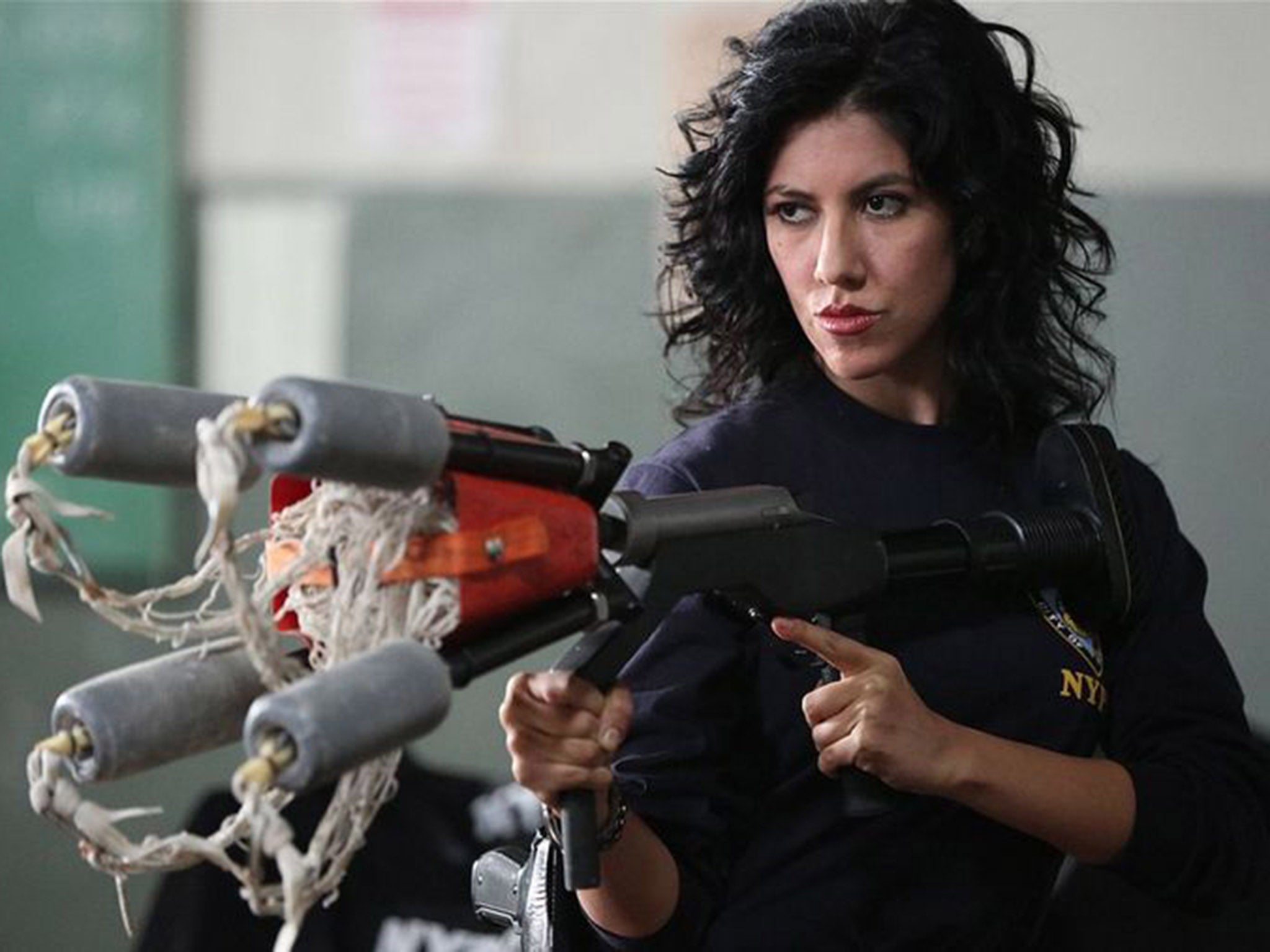 "I'm dating a woman. I'm bi."
These six words, spoken by Rosa Diaz (Stephanie Beatriz) on the US TV hit Brooklyn Nine-Nine earlier this month, mark the first time I, a bisexual woman, have seen explicit representation in any form of media.
The fact that they were spoken by a series regular on a primetime big network show is nothing short of a momentous moment in LGBTQ representation, not least due to the 'safe' nature of the show – it's a television sitcom consisting of roughly 20-minute long episodes.
Unless the show makes a dramatic tonal shift, there will be no 'bury your gays' here. For once, a bisexual character is positively represented and here to stay.
Rosa's coming out concludes a year of steadily increasing LGBTQ representation on the small screen. A report from GLAAD has found a record-high percentage of LGBTQ series regulars on primetime scripted broadcast television, and predicts that these record numbers will continue and increase into the 2017-2018 television season. Of the 329 LGBTQ characters in this report, 28% are counted as bisexual, which is a significant figure.
Of course, 'counted as' is a pretty key term here, as even in shows with strong positive LGBTQ representation, there remains a real stigma around using the word 'bisexual', even when freely using 'gay' and 'lesbian' to identify LGBTQ characters. It's not unusual – as in shows such as Orange is the New Black – for characters to be shown in relationships with men and women, and yet for the word bisexual never to be spoken.
It's this stigma around the term that makes Brooklyn Nine-Nine so important. By allowing Rosa explicitly to identify as bisexual, the show is taking steps towards legitimising both bisexuality and the word bisexual itself.
Bisexual representation is a traditionally shaky area. Aside from the aforementioned reluctance even to use the term, bisexual characters are often portrayed as promiscuous, using their sexuality in a manipulative manner to further their agenda; as untrustworthy; or even just confused. What's more, bisexual characters are rarely given any kind of sustained exposure.
For example, in a recent episode of Jane the Virgin, a romantic-comedy telenovela aired on The CW Network, Jane (Gina Rodriguez) discovered that her love interest Adam (Tyler Posey) was bisexual. The discovery was dealt with in an exemplary manner – in allowing Jane to work through her inadvertent internalised biphobia (one episode was even titled 'Jane the Heteronormative'), the show was able to debunk several commonly held beliefs about bisexuality. Adam's character also provided some much-needed representation of bisexual men – the GLAAD report found that of 93 bisexual characters, only 18 were male.
However, Adam was only in a total of six episodes, and only two as an explicitly bisexual character, before departing the show. This is a common theme with bisexual characters – their bisexuality is often used as a plot device, and they are rarely series regulars with their own arcs and character development.
Kellyanne Conway reacts to anti-Trump rhetoric at the Emmys: "It's really unfortunate actually"
Bisexual characters are also often a gimmicky attempt to gain credit for LGBTQ representation without any explicit acknowledgement of bisexuality. Riverdale was recently acclaimed for its representation of a bisexual character, Toni Topaz (Vanessa Morgan), and in an interview actress Madelaine Petsch confirmed that her character, Cheryl Blossom, was bisexual after her attraction to women had been indicated no screen.
Yet there has been no explicit use of the word bisexual in relation to either character on the show itself. Giving shows credit for representation when a lot of the representation occurs outwith what we actually see on the screen is problematic. Hopefully, with Brooklyn Nine-Nine's inclusion of an explicitly bisexual series regular, this may now change.
Rosa Diaz is portrayed by Stephanie Beatriz, who is herself a Latina bisexual woman. This allowed Beatriz to bring her own experiences to bear on Rosa's coming out, as well as in building Rosa's character, something she has openly discussed in interviews.
The importance to Beatriz of positive and explicit bisexual representation is acknowledged, as it is something she herself has never really experienced as a bisexual woman. Allowing LGBTQ people to represent themselves and tell their own stories is key to inclusive LGBTQ representation, and can only improve the depth and sincerity of these characters.
Rosa's coming out – both to her colleagues and her family – resonated with bisexual people around the world, in no small part due to the emotional nuance brought to the performance by Beatriz' own experiences – not necessarily the same as Rosa's, but still experiences of coming out as bisexual.
It can only be hoped that the GLAAD report's projections are correct, and LGBTQ representation continues to see an increase in 2018. Hopefully, the inclusion of an explicitly bisexual character on a primetime broadcast television sitcom – and the relative lack of backlash faced by the show – marks a shift in the portrayal of bisexual characters, whose stories deserve to be told.
Join our commenting forum
Join thought-provoking conversations, follow other Independent readers and see their replies