Disability should be part of Black history conversations – I've gone my whole life seeing people like me erased
It was difficult growing up feeling like my identity was a massive taboo, even among people of the same ethnicity. Battling two barriers makes it double the challenge, writes Nana Marfo
Wednesday 28 October 2020 17:03 Comments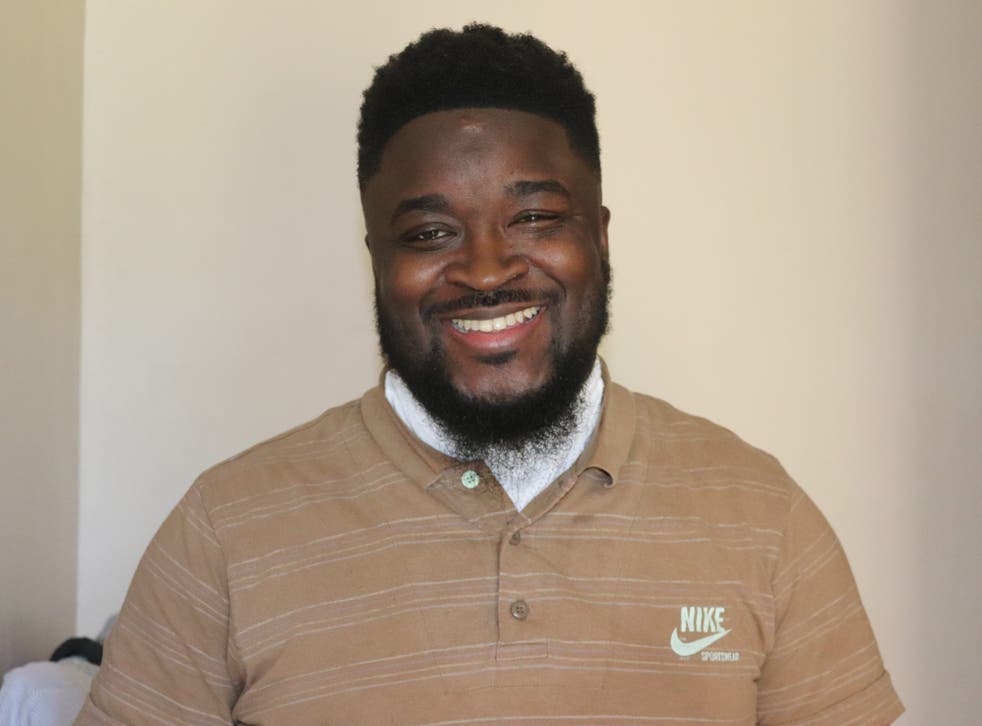 Growing up black in Great Britain was very challenging for me in the 1990s, when representation felt perhaps as limited as it is today. Being a disabled boy too, I had double the challenge of being and felt my voice wasn't important enough – which, looking back, made me too hard to be recognised.
Living with a tracheostomy meant that my voice was very shallow and speaking for me was often difficult, making my presence vocally limited. Eager for acceptance, I'd often walk around with my tracheostomy tube visible to the naked eye; which often made people inquisitive and intrigued to know what it was.
It usually led to the sort of conversations that gave me a platform to express myself, talking about how I was born premature and what it meant to have a narrow airway. I've come far since then. In adulthood, I've gained the moniker "Mr Unique Voice", a man with a trachea tube which enables me to breathe and speak my truth of equality.
Growing up, it felt odd not being able to see many people who were black and disabled. I remember thinking society was ashamed of people who looked and sounded different. People like me. Was I being punished due to my narrow airway? Was I not good enough? And what were other black disabled people going through if I as a child at the time believed I wasn't worthy?
I never really saw people like myself on TV and frequently asked my mother why black people weren't equally represented as white people; from a young age of six, I felt we all needed to be given the same opportunities.
Talkative and full of questions, I wanted to know why I hardly saw people like me; or whether black people had been "naughty", seeing as we weren't, as I interpreted it, "allowed" to be on small or large screens across the nation. It was that curiosity that spurred my father on to educate me about my cultural heritage at the tender age of seven.
After having a harsh eye-opening lecture from him about our culture and what being black in Great Britain truly meant, my hunger to understand why and how black people came to this journey intensified. Though prominent figures such as BBC presenter Andi Peters and ITN's Trevor McDonald gave me a small glimpse of hope, by the time I became a teenager, I realised I felt miles apart from my peers and the wider black community due to being disabled.
Black disabled representation in the UK is still shockingly rare. But there are plenty of figures I wish we did a better job of celebrating. One of which is television presenter and wheelchair basketball player, Ade Adepitan. Coming from Nigeria, where disability as a whole can in some arenas be seen as witchcraft, or evidence of the past sins of parents being punished by God, I've always seen Adepitan as uniquely inspirational.  
He contracted polio as a baby, which caused complications to his mobility, losing sensation and movement in his left leg, making it difficult to walk. After moving to the United Kingdom, Adepitan did not allow his disability or his skin colour deem what he could and couldn't do. He would have been, as so many black disabled people are, fully aware that he had two separate barriers to contend with, but went on to accomplish great recognition in the 2004 summer Paralympics as well as the 2005 Paralympic world cup. Through the contributions of people like him, it was again proven to me that being black and disabled shouldn't be seen as the barrier it is often treated as.
Marsha de Cordova, shadow secretary of state for women and equalities, is another source of inspiration. Elected as the first black MP with a disability within the house of parliament in 2014 (Cordova was born with nystagmus and is registered blind), she works to fight for inclusion while working tirelessly to represent people within Battersea, her constituency. Watching this lady's achievements taught me an insightful lesson that no matter her impairment and struggles as a black woman, she didn't allow her impaired vision to hold her back. 
I like to think I have the same approach to my life. It was difficult growing up feeling like the duality of my identity was a massive taboo (even among people of the same ethnicity) due to society's lack of understanding about disability and the far-reaching impacts of ableism. But it opened my eyes to the importance of doing what I do today. Not only is there a fight to be noticed as a black person but battling two barriers makes it double the challenge.
Marsha de Cordova challenges Theresa May over Esther McVey Universal credit accusations
I see this while doing my advocacy work in the UK too. I am invited to speak on issues affecting black disabled communities on a regular basis, and through it, I've learned that there is an incredible lack of understanding from workplace policy, law enforcement, local authorities and more – all of which still have yet to figure out how to fairly work with and represent black disabled people.
Take the case of Osime Brown, a severely autistic 21-year-old man who is currently facing deportation to Jamaica, a country he hasn't been back to since he was 4 years-old, for example. Despite desperate pleas for compassion over his case, at each opportunity where he could have been supported, he seems, as far as I can see, to have been let down by the local authorities, the police and the educational system alike.
These failings may well have led him into being convicted for a crime he maintains he is innocent of. It's not a stretch in my view, given quotes from his mother, that he may not have even been fully aware of what was happening at the time because of his disability. Even his behaviour since being incarcerated points to his vulnerability. He has been said to ring his mother to ask her if he needs to wash his hair, among other devastating examples. Still, this young man is facing deportation, with no demonstrable concern from the state and about his wellbeing.
Institutionally, the justice system has never been fair to black people. To be a disabled person in addition is a double punishment.
It's why I'm so thankful for voices like Olajumoke Abdullahi and Kym Oliver, campaigners who go by the name "The Triple Cripples", and seek to expose the fact that: "Disabled people are practically non-existent in mainstream media."
As they observe, if disabled people are largely absent from mainstraim spaces like these, "imagine how underrepresented Black and non-Black, women, femmes or non-binary people with disabilities are."
To have three reasons why you feel your voice and existence is not worthy and having to fight for equal and fair share of society's opportunities in 2020 shows you racism, sexism and ableism have long legacies that need to be rewritten.
There has been a massive awakening about the importance of giving marginalised groups a seat at the table this year but there's more work to be done. For disabled black brits in particular, that workload is mountainous. If Black Lives Matter, disabled black lives should too. The sooner society wakes up to that, the more freedom we'll all be able to enjoy.
Register for free to continue reading
Registration is a free and easy way to support our truly independent journalism
By registering, you will also enjoy limited access to Premium articles, exclusive newsletters, commenting, and virtual events with our leading journalists
Already have an account? sign in
Join our new commenting forum
Join thought-provoking conversations, follow other Independent readers and see their replies