Bonus Top 10: Moose Allain Jokes
'Thinking of taking the kids to Poundland during the holidays, the lovely theme park based on the works of the modernist poet.' And 10 more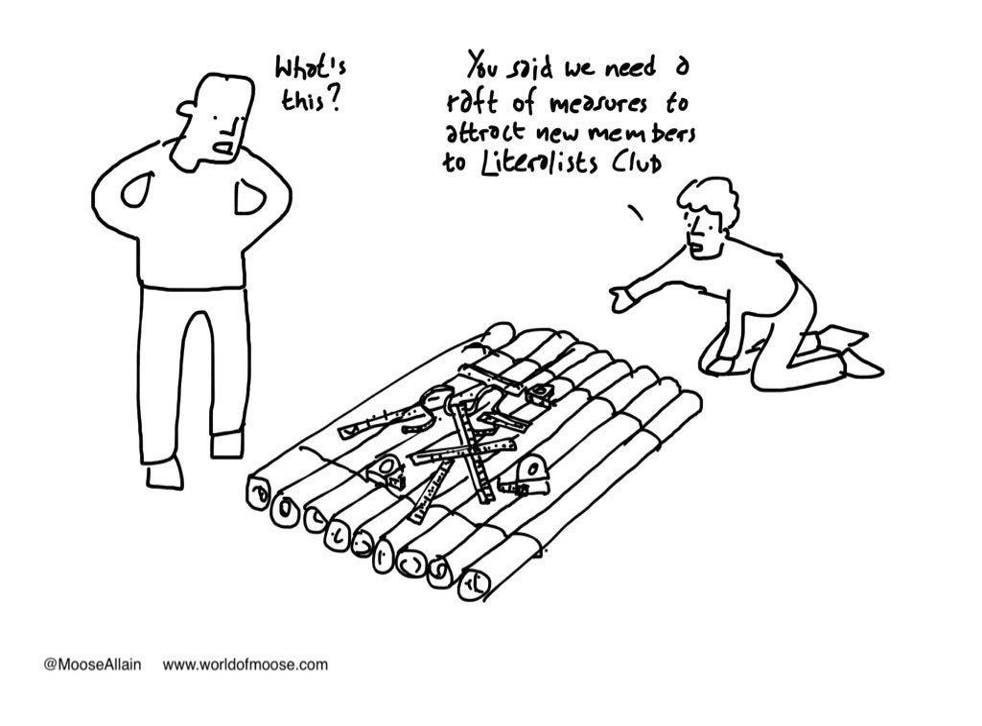 I am away this week, so here is a selection of Moose Allain's recent jokes on Twitter. If you haven't come across his brilliant wit and wonderful cartoons (such as the one above), find him here. Happy silly season.
1. "Help! I can't get my jogging trousers off!"
"We'll have to perform an emergency trackybottomy."
2. More furious discussion at my anti-natal class this week about the spelling and whether I should even be there, given my views.
3. "This soup tastes funny."
"I used laughing stock."
4. "Can you think of a synonym for 'feelers'?"
"They're antennae."
"Come on, there must be one!"
5. "How are you getting on with pronouncing Rimsky-Korsakov's Op. 35?"
"Scheherazade."
"I know but you've got to try."
6. People who eat charlesasners are known as charlesasnavores.
7. My wife says I always talk in a monotone. Of course I flatly denied it.
8. "Ok don't move! Now open the till! Put the money in the bag. Who's got the bag? Did you bring the bag? Is this the bank?"
Disorganised crime.
9. London place names you can use as verbs and adjectives will soon be Maida Valeable.
10. In the US he's called Johnny Mathi.
Next week: Politicians in songs, such as "Gill Shephard's got an appalling unemployment record" in S*M*A*S*H*, "(I Want To) Kill Somebody".
Coming soon: Fiction that changed real-life behaviour, such as The Godfather; Tinker, Tailor, Soldier, Spy; and Saturday Night Fever
Listellany: A Miscellany of Very British Top Tens, From Politics to Pop, is available as an e-book for £3.79. Your suggestions, and ideas for future Top 10s, in the comments please, or to me on Twitter, or by email to top10@independent.co.uk.
Join our new commenting forum
Join thought-provoking conversations, follow other Independent readers and see their replies