The Independent's journalism is supported by our readers. When you purchase through links on our site, we may earn commission.
Could the bookmakers predict who will win the EU referendum?
There can be wisdom in crowds – but there can also be ignorance and emotion masquerading as wisdom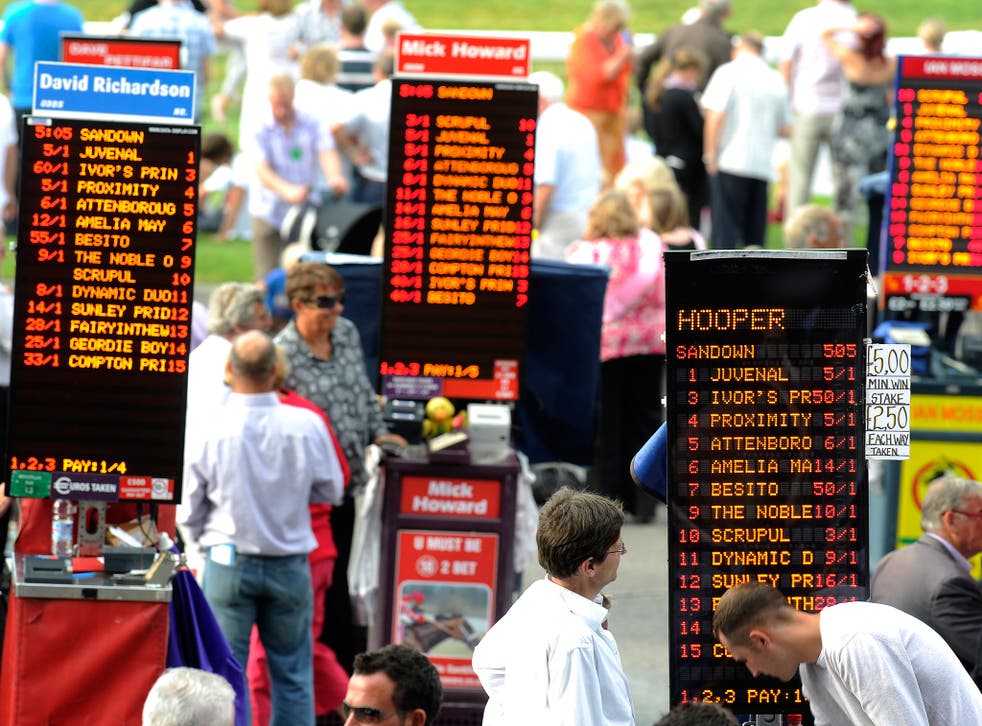 As a species we're uncomfortable with uncertainty, and so we search for answers.
Which side is going to prevail in the European Union referendum? We want to know what the latest evidence suggests. But that's where it gets tricky.
The betting markets have diverged sharply from opinion polls in recent days. Many high street bookmakers are now offering odds of 1/4 (80 per cent) on "Remain" winning, and only 7/2 (22 per cent) on "Leave".
Yet the opinion polls are much closer. According to these surveys (an average of phone and internet polls) about 56 per cent are inclined to Remain versus 44 per cent who say they will vote to Leave. If the betting odds reflected that split they would be a lot closer.
So what does this mean? Have the bookies "called it", as some have suggested?
EU referendum - key dates
The head of political betting at Ladbrokes, Matthew Shaddick, this week recommended we "look beyond the polling" to the "spin-free forecasts provided by the betting markets" for answers. Take this kind of self-aggrandising bluster with a pinch of salt.
There is some confusion about the way bookies generate their odds. It's not the case – despite what some think – that the odds tend to represent the bookmakers' expert judgment on the likely outcome of a contest.
On rare occasions bookies may try to make a bet of their own through the odds they offer, and there is some specialist judgement required when they initially offer up odds to punters. Leicester City's 5,000-1 odds to win the Premier League, sold by some bookies last August, now look like a miscalculation.
But generally bookies don't like to gamble. Instead, they seek to make a profit regardless of outcomes.
When one sees a shift in the odds offered, as there has been in the Brexit referendum in recent months, it implies bookies are seeking to "balance their books" by adjusting their odds.
21 maps and charts which will challenge perceptions of Europe

Show all 21
Contrary to popular belief bookies don't "always win". They may make net losses on particular events. But competent bookies always minimise their potential losses and, over the medium term, they win across the many markets they make.
This is not because they bet on the winning outcomes, but because they seek to protect themselves from all eventualities through the "margins" they build into the odds they offer, by "laying off" any serious exposure with other bookmakers, or gradually adjusting the odds as the punters' bets come in. The odds offered generally end up reflecting the balance of opinion among punters themselves.
What about the punters? If the odds are changing does that not signal gamblers are increasingly sure what the outcome of the referendum will be? And does that not tell us something significant is going on in the national mood that punters are picking up on?
Shaddick reports that 90 per cent of all the money staked with Ladbrokes over the last month has been for Remain camp – and the bookies are stressing this could be the biggest political betting event ever.
Yet the answer is still no. Movements in betting markets tell us something is going on among people who bet on referendums, not among the general public. Gamblers are not a representative sample of the population. Even if this does turn out to be the biggest political betting event in history the sample will be less representative than a single opinion poll.
One reason one might be tempted to pay close attention to movements in betting odds is if their track record for predicting political results was impressive. But that's not an easy argument to make.
The "bookies" did get it broadly right on the Scottish referendum result in 2014. When the polls were suggesting a tight result the odds suggested a big defeat for independence. But the betting markets were wrong on the 2015 general election, when there were long odds available on an outright Conservative victory.
What about other financial markets? The value of sterling bounces a lot depending on the news. A Remain boost seems to push up sterling versus the dollar, while a Leave boost depresses it. The pound had a very bad day when Boris Johnson announced he was backing Brexit.
But be wary of drawing much wisdom from such movements. The people who trade currencies are even less representative of the UK public than domestic gamblers.
And recall that John Maynard Keynes said financial markets were like a twisted beauty contest. The participants do not bet on who they personally think is the most beautiful contestant but who they think others, or average opinion, will think is the most beautiful. There's a lot of scope for error there.
In betting markets, there are actually even more degrees of distortion than in professional financial markets. Punters may be betting on who they genuinely think will win. But punters may also be betting on the outcome they want – in the way that England fans tend to bet on England, regardless of form and experience, in World Cups.
Despite the shortening odds on Remain, William Hill has said the majority of individual bets it has taken recently have actually been on Leave even if more money in total is flowing to Remain.
There can be wisdom in crowds. But there can also be ignorance and emotion masquerading as wisdom.
Treat them all – the bookies' odds, movements in financial markets and even opinion polls – with the scepticism they deserve. And learn to live with the uncertainty.
Register for free to continue reading
Registration is a free and easy way to support our truly independent journalism
By registering, you will also enjoy limited access to Premium articles, exclusive newsletters, commenting, and virtual events with our leading journalists
Already have an account? sign in
Join our new commenting forum
Join thought-provoking conversations, follow other Independent readers and see their replies