Boris Johnson's campaign for the Conservative leadership is back on
Theresa May brought him into the Cabinet as Foreign Secretary and he is repaying her by manoeuvring to succeed her should she fail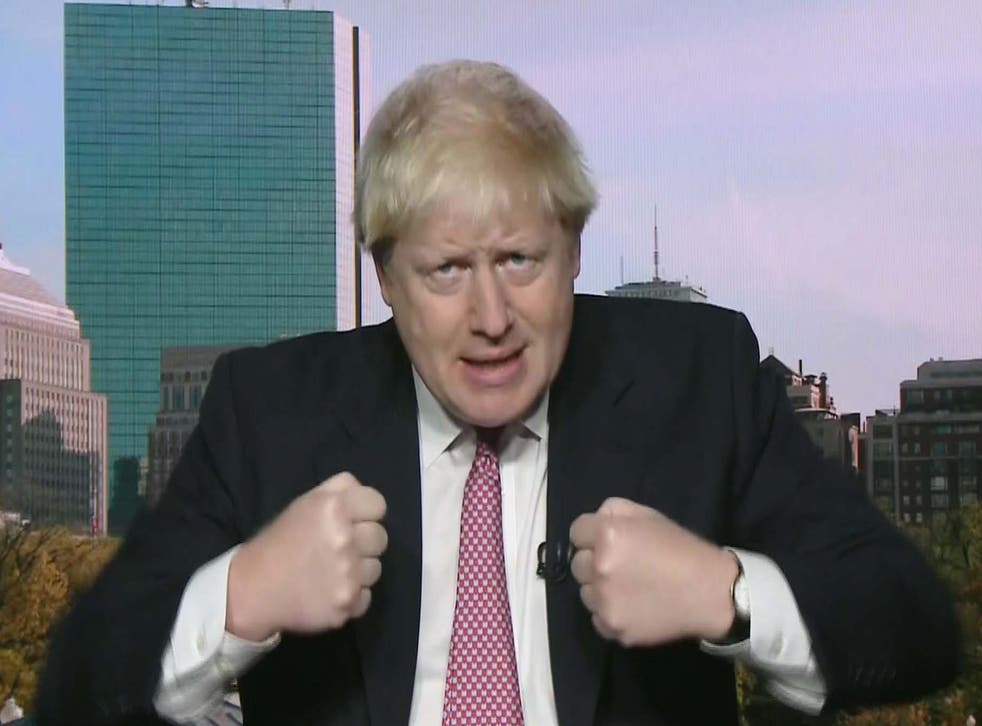 You don't often get moments like it in politics. When Boris Johnson got to the word "punchline" there were shouts of disbelief in the office where I was watching on TV. "He's pulling out!" He had set out his programme for the next prime minister. "But I have to tell you my friends, you who have waited faithfully for the punchline of this speech, that having consulted colleagues and in view of the circumstances in Parliament I have concluded that person cannot be me."
Three months later, though, Johnson has concluded that person could be him after all. His leadership campaign is back on. In an interview with The Sun on Saturday he refused three times to say whether he wanted to be prime minister.
Since Theresa May hauled him from the wreckage of Michael Gove's palace coup and put him in the Cabinet, Johnson has repaid her by manoeuvring to succeed her should she fail. There is no gratitude in politics. Not that there is much generosity either. May did not make him Foreign Secretary out of the goodness of her heart as a consolation for Gove being horrid about him. She is good at politics, as we know, and wisely co-opted him, now only the second most popular politician in the country after her, as part of the team.
But that does mean she has to put up with his playing political games. He backed the launch of the successor body to Vote Leave, Britain Alone, or whatever it is called. I have looked it up now. It is called Change Britain, and sees its role as being to press for hard Brexit and against allowing some free movement of EU workers in return for better access to the single market. Johnson recorded a video for it on 10 September. It is unusual for a cabinet minister to be a member of a pressure group trying to influence a central question of government policy, and I am told that May was irritated.
Boris Johnson goes 'off script' about when Brexit should happen
Johnson, however, was unabashed. Last Sunday he went on The Andrew Marr Show to engage in a bit more Eurosceptic virtue-signalling. Despite his bumbling persona, he is careful about what he says. He took advantage of May's ambiguity about when she will trigger Article 50, the formal two-year process for leaving the EU. She has said she won't do it this year, and everyone knows that she has set January/February as the target zone on her 2017 year planner. She has indicated to Angela Merkel and Francois Hollande that she wants to do it early in the year, and that she doesn't regard March as "early".
But she hasn't said so in public yet, and Johnson was definitely doing it on purpose when he said we don't want to send another bunch of MEPs to the European Parliament, the elections to which are due in May or June 2019. Simple subtraction gives May 2017 as Johnson's deadline for triggering Article 50. The Prime Minister didn't like that either. I don't think she intends to delay it that long, but she is good at politics, remember, and she doesn't like having her options narrowed.
I wouldn't be surprised if she makes a surprise announcement on 1 January that she has sent the Article 50 letter to Donald Tusk. Having bought valuable time with her "not this year" device, I think there's no advantage to be gained by putting it off further. Britain is not going to get a better deal by delaying the start of negotiations.
Besides, there is the election to think of. No, I don't think she is going to announce one at the Conservative conference in Birmingham, either in her "Brexit" speech on Sunday or in her closing speech on Wednesday. The lack of a personal mandate is no more of a problem for her than it was for Gordon Brown. No matter how many clever people call her the "unelected prime minister" on social media, she has the votes she needs in the Commons, and the only mandate that matters on policy is the referendum vote on Brexit.
She is probably thinking about the 2020 election. If she triggers Article 50 in January, it won't be until January 2019 that Britain actually leaves the EU. That allows a year and a half before the election. If the actual disengagement is traumatic, with headlines dominated by horror stories of more expensive imports and exports, companies relocating and the administrative burden of separation, there is a case for leaving as long as possible between Brexit and the election.
Even so, she wants to keep her options open. It is unlikely that the court case challenging her right to trigger Article 50 is going to push her off her timetable. The case is being heard in the High Court on 13 and 17 October, and will presumably go to the Supreme Court soon afterwards. Even if the judges find against the Government – which would involve some ingenious reasoning, as the making and unmaking international treaties has always been a matter for the Government, not Parliament – the Commons would vote for Article 50 and I simply cannot see how the Lords could seek even to delay the decision of the British people in the referendum.
All the same, the last thing she needs is Johnson jockeying for position with an interest in her failing. Brexit is a hazardous mission, and Johnson is back where he was before he was brought down by Michael Gove's ballistic missile of mutually assured destruction (MAD). Johnson is the darling of the Tory members who choose the next leader and therefore the favourite to succeed May if she stumbles.
It is not much comfort for her that he was the favourite before and that, in Tory leadership elections, the early favourite never wins.
Join our new commenting forum
Join thought-provoking conversations, follow other Independent readers and see their replies