Theresa May didn't intentionally set up Boris Johnson to fail, but he will make a mess of Brexit anyway
Boris's comments in a Czech newspaper yesterday, saying it was a 'myth' that free movement of people was a founding principle of the EU, provoked withering responses from Italian and Dutch ministers. And indeed from anyone who Googled the 1957 Treaty of Rome: Title III, which is called 'The Free Movement of Persons, Services and Capital'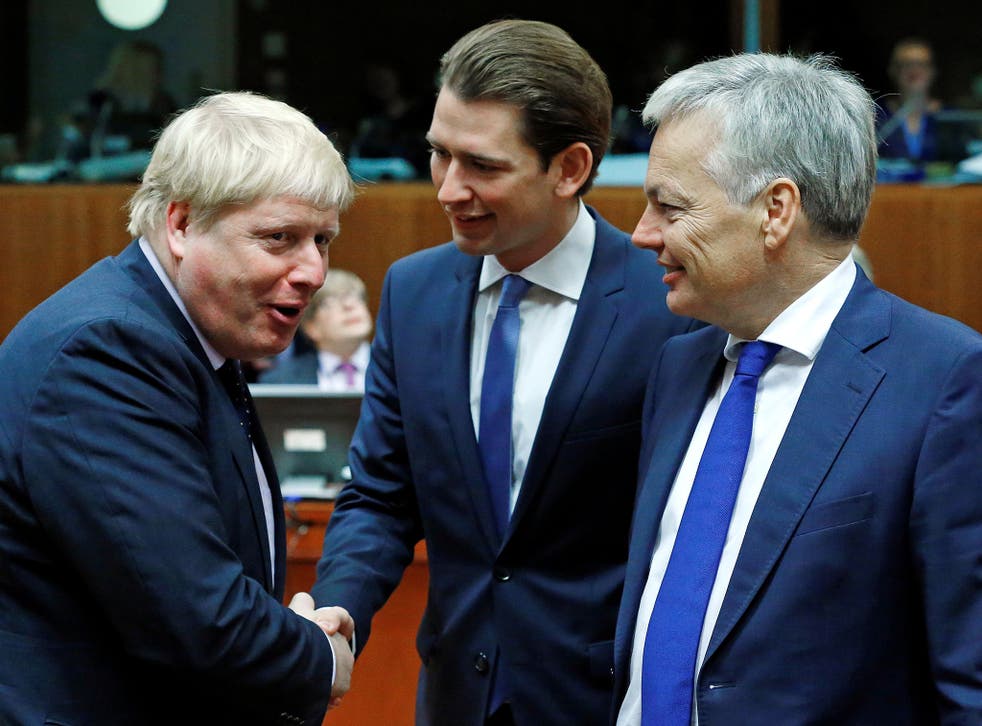 When Boris Johnson pulled out of the Conservative leadership contest, I assumed that he wanted to avoid a humiliating result to preserve his chances with a future bid. His tactic seemed vindicated when Theresa May promoted him straight from the back benches to Foreign Secretary.
As often happens with such a striking rise, anyone who had watched House of Cards wondered what our new Prime Minister could possibly mean by it. Did she put three of the four leading Brexiteers (excluding Michael Gove) in such high offices so that they could take the blame when leaving the European Union went wrong? Was she setting up Johnson in particular to fail?
I don't think so. It is not that May is above cynical calculation, but that it would not be in her interest for Johnson, David Davis and Liam Fox to make a mess of her Government's central mission. She wants Brexit to succeed, and to do that she needs its best advocates (excluding Michael Gove) to help make it work.
Her interests and Boris's coincided happily, and the new Foreign Secretary made a promising start. By which I mean he exceeded the low expectations of him by not falling flat on his face and causing a serious diplomatic incident within days of his appointment.
Boris Johnson: Trump election 'a moment of opportunity' for Britain
Although some of the stuffier mandarinate thought it was embarrassing for Britain to be represented on the world stage by someone they regard as a clown, many Foreign Office officials have been impressed by his erudition and underlying seriousness.
As ever, however, one of Johnson's biggest problems is that he has written and said so many colourful things in the past. He has made fun of Recep Tayyip Erdogan, the Turkish president, and said Donald Trump was unfit for office. Now he says we should be nice about the Turkish government, including being understanding about it wanting to bring back the death penalty; and that we should end the "whinge-o-rama" about the election of Donald Trump, who is "in many aspects a liberal guy from New York".
But the one thing he cannot go back on is a lifetime's disparagement of the EU. His comments in a Czech newspaper yesterday, saying it was a "myth" that free movement of people was a founding principle of the EU, provoked withering responses from Italian and Dutch ministers. And indeed from anyone who Googled the 1957 Treaty of Rome: Title III, which is called "The Free Movement of Persons, Services and Capital".
Carlo Calenda, the Italian economic development minister, gave an account of a conversation with Johnson. "He basically said, 'I don't want free movement of people but I want the single market,'" said Calenda. "I said, 'No way.' He said, 'You'll sell less prosecco.' I said, 'OK, you'll sell less fish and chips, but I'll sell less prosecco to one country and you'll sell less to 27 countries.' Putting things on this level is a bit insulting."
What experts have said about Brexit

Show all 11
Jeroen Dijsselbloem, the Dutch finance minister, said on Newsnight last night that Boris is "offering to the British people options that are really not available".
Ultimately, however, I don't think it is Johnson's colourful language that is the problem. Although it is a problem. His joke about his policy on cake being pro eating it and pro having it has gone down badly with EU leaders, whose policy on Britain and cake is that we shall not have any. But it is Johnson's EU policy that is the fundamental problem. Negotiating the terms of Britain's exit from the EU is simply a lose-lose proposition.
If anyone thought the terms of Brexit would be cake-filled, they would have been brought up short by the front page of the Financial Times today: "Brussels seeks up to €60bn from Britain in hardline divorce settlement."
Theresa May did not make Johnson Foreign Secretary in the hope that he would fail, but it is hard to see how he – or indeed May herself, or Davis, or Fox – could emerge from Brexit having achieved a triumphant success.
Join our new commenting forum
Join thought-provoking conversations, follow other Independent readers and see their replies