Boris Johnson is no laughing matter – we can't leave it to the rest of the world to hold him to account
Rather than challenging some of the truly remarkable things he has said in public office, we have created our very own version of Donald Trump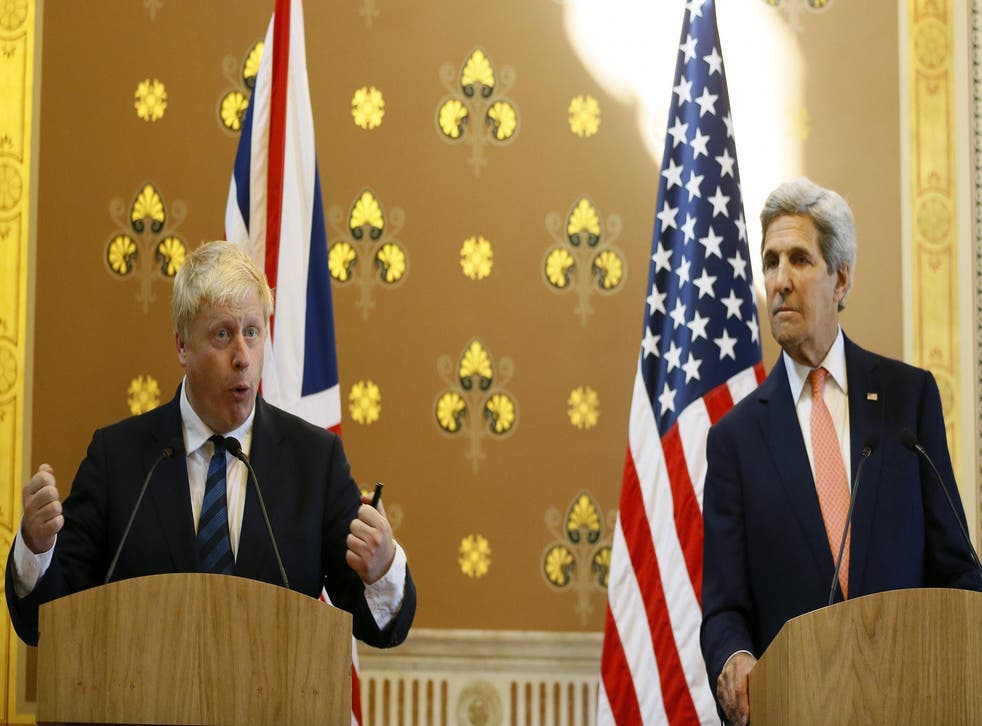 "You have an unusually long history of wild exaggerations and, frankly, outright lies, that I think few have prior to this job". As an opening question, it is one that a newly-appointed Foreign Secretary might hope to avoid at their first press conference. But given Boris Johnson's history of outrageous slurs, it was in fact a rather unsurprising line of inqury. For too long we, in Britain, have collectively neglected the job of taking Boris Johnson to task. On Monday, American reporters began to do the job for us.
In spending the last few years chuckling at Boris, rather than challenging some of the truly remarkable things he has said in public office, we have created our very own version of Donald Trump – an international laughing stock.
"You've accused the current US president, Barack Obama, of harbouring a part-Kenyan's 'ancestral dislike for the British empire'... You've described a possible future US president, Hillary Clinton, as someone with 'dyed-blonde hair and pouty lips, and steely blue stare, like a sadistic nurse in a mental hospital.' You've also likened her to Lady Macbeth," reeled a reporter from the New York Times.
'More Britain abroad' - Boris Johnson Holds First Joint Presser with John Kerry
At this point that John Kerry, the US Secretary of State, squirmed. His reaction was priceless and summed up the feelings of most of us here at home. The media loved it; social media users loved it. But, as everyone laughed at the Kerry's awkwardness and the dishevelled Johnson, I was reminded that the maintenance of an international relationship is no laughing matter.
Diplomacy isn't supposed to be a joke. It isn't meant to be funny. While we're all having a good laugh at Johnson's expense, he is nevertheless the single individual the world now looks to in terms of British foreign affairs. The former London mayor hopes that we will keep us laughing, but it's time to take his comments seriously.
It's not even as if the US example is an isolated one. As Johnson himself admitted on Monday, "there is a rich thesaurus" of this stuff.
After responding to the fluid events in Turkey over the last few days, our Foreign Secretary was forced to recall a poem he had written about the Turkish president, wherein he spoke of the Turkish leader sowing "his wild oats/ with the help of a goat". The poem won the title of being the 'most offensive and defamatory' of all those submitted about the Turkish premier to a competition held by The Spectator.
In well publicised comments about the African continent, Johnson once stated that "the problem is not that we were once in charge, but that we are not in charge anymore". In 2000, as editor of The Spectator, Johnson signed off on an article that explained "Orientals… have larger brains and higher IQ scores... Blacks are at the other pole".
It's important to note that when these charges have been put to Johnson he has apologised and sought to distance himself from the comments, often arguing that they were a very long time ago. But the remarks about Obama's Kenyan heritage or witticisms about the Turkish premier's relations with goats have been made in the last few months. He cannot hide from that.
Theresa May's Cabinet: Who's in – and who's out?

Show all 27
"I think we got through that one alright" said Johnson as the press conference came to an end. Given the extent of the uncertainty we face as a nation, we cannot afford to be just getting through alright.
Throughout the Brexit campaign he spearheaded, Johnson said he wanted Britain to be a global leader. If that's what he truly wants he should recognise that he's not the diplomat to lead that mission. Monday's press conference showed Johnson to be the out-of-depth chancer that he truly is.
If you or I made comments like these, we'd be sacked from our job immediately. Why is it any different for the rich, white, Eton and Oxford educated bloke who's stumbled into a job he simply isn't capable of doing?
We cannot rely on foreign leaders or on the international press to call Boris Johnson to account. He is no longer a bit of fun and its time we stopped treating him like one at home.
Register for free to continue reading
Registration is a free and easy way to support our truly independent journalism
By registering, you will also enjoy limited access to Premium articles, exclusive newsletters, commenting, and virtual events with our leading journalists
Already have an account? sign in
Register for free to continue reading
Registration is a free and easy way to support our truly independent journalism
By registering, you will also enjoy limited access to Premium articles, exclusive newsletters, commenting, and virtual events with our leading journalists
Already have an account? sign in
Join our new commenting forum
Join thought-provoking conversations, follow other Independent readers and see their replies