The rest of the world seems to have realised that Boris Johnson is a joke – isn't it about time we did too?
What does Boris actually believe in? Why, Boris, of course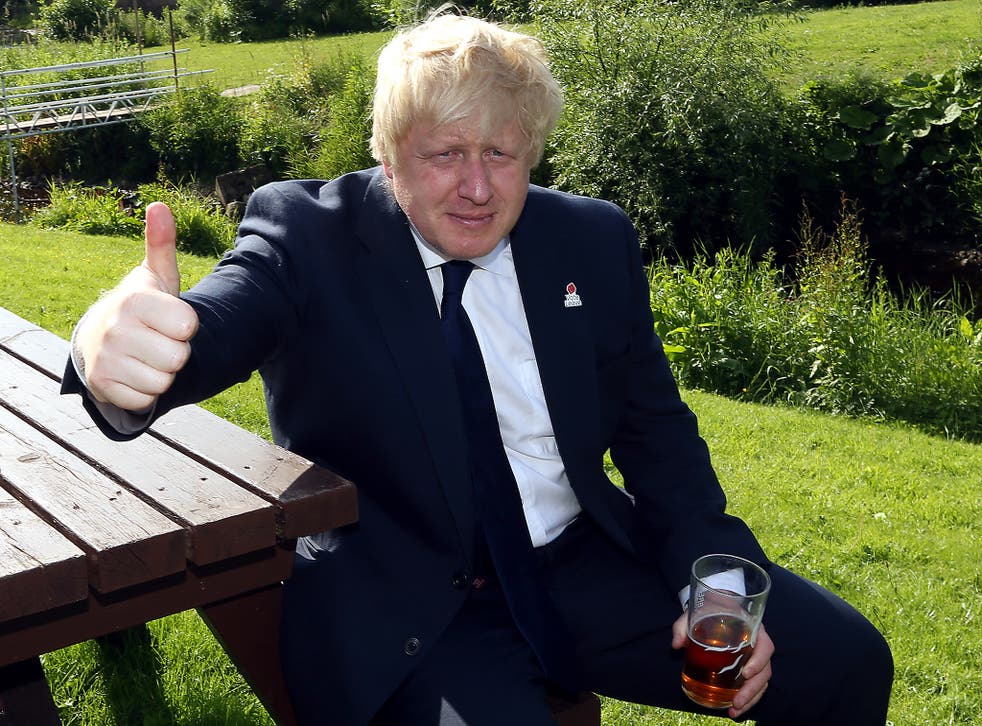 Is Boris Johnson an idiot? Mostly he is thought of as a highly intelligent man who masquerades as an idiot because, well, he enjoys it, and it goes down well with the voters because it is "authentic", and we know how valuable an asset that can be. (As Sir Bruce Forsyth almost said, if you can fake that, you can fake anything). Could it be though, that he is in fact an idiot masquerading as a highly intelligent man who happens to be masquerading as an idiot? Or are there yet more layers to this mille feuille of modern politics?
We don't, in fact, know that much about Johnson, despite the fact that there are more books by and about him than anyone else in British politics today (including a compendium of his motoring journalism, a favourite of mine).
What we do know is that the UK's friends, allies and, probably, enemies have all come to the conclusion that he is a "joke", and a more or less bad one. When he quipped in the House of Commons, in the vernacular, that the Europeans could "go whistle" for their "divorce bill" billions, it was thrown back at him with an icy Gallic disdain by Michel Barnier – "I'm not hearing any whistling, just the clock ticking". Quite crushing, that.
UK news in pictures

Show all 50
The Americans, even, think he's some kind of dumbass, and they should know. Much of this is down to Johnson's habit, shared with Prince Philip, of cracking gags that are supposed to be outrageous and possibly ironic ice-breakers but which usually go down badly with his touchy hosts and which fall flat when taken out of context and are repeated by humourless separatist keyboard warriors, of which there are too many. Johnson cannot be the first politician, as it seems to me, to be struck with the silliness of getting up in front of a vast crowd to rehearse "statesmanlike" platitudes, but he is certainly novel in betraying it through conscious self-parody, the truce of a smile playing around those loquacious lips of his…
However, that does make it harder for him to be taken seriously when he emerges from his expensive home at 7am to, genuinely, denounce some genocide or terror outrage or invasion somewhere in the world. As a British foreign secretary you haven't got many weapons apart from platitudes, and I'm afraid Boris has devalued the only currency he's got to do his job.
When he was caught on that zip string with a harness around his crotch waving a couple of union jacks (not his crotch doing the waving, that time anyway), it was taken to be a silly jape, but I wonder if it was not a deeply subversive satire on the media's demands for photo-opportunities – cynically knowing, too, that it was such a an absurd image (even if he hadn't become stranded) it would guarantee to make him the most famous man in Britain.
What happens, though, when Johnson does have to appear at some photo op in New Zealand with a tuatara (type of lizard), why you're reported as if you think we're going to be ruled by respites; "There's a chap in Britain called David [Icke] who thinks that the world is in fact ruled by people like this". Likewise in Libya, where an important mission was overshadowed by a wisecrack about Theresa May's botched election.
Is he competent, though, behind all that authenticity?
No, at least not as a departmental minister. He is one of those people who has to be in charge of something – London or The Spectator or the nation, because he can't take orders and prefers to "lead" than "do". Gordon Brown was the last one we had like that, not content to be second or third in command (and not a happy precedent).
The most damaging verdict on Boris was the one delivered by his ex-friend and ex- Leave campaign colleague Michael Gove, who said that Boris wasn't up to the "team captaincy". Gove it was, therefore, who scuppered Boris' leadership bid last year – and let us not forget Boris was favourite at the time to get the big job.
There is, by the way, an entertaining alternative history of Prime Minister Johnson not calling an early election and governing with a majority right now, and going all moderate on Brexit, but I'll come back to that. Basically Gove felt, or so it seemed from the stuff swirling round the media, that Boris was a great communicator but wouldn't knuckle down to do his homework, such as the speech to launch his leadership bid, preferring instead to arse around playing cricket, drinking and eating burgers instead, and busk it the next morning. Hence also all the criticism that is seeping out of the Foreign Office about his inability to apply himself and pay attention to detail.
All, no doubt true. And yet there are some important qualities of Johnson that are being neglected. First, he is clever, probably the cleverest person around the Cabinet table with the possible exception of Gove. More than ever we need someone with a pretty formidable intellect to get us through Brexit, but Boris has not been left in charge of that.
Second – and this is, as with most things Johnsonian, paradoxical – his greatest strength is his disproportionate faith in the thing that matters most to him – himself. As an admirer and biographer of Churchill, this is one thing they have in common. Churchill regarded political parties as mere vehicles for his own political ambition. Over the course of his long, long career he also adopted and dropped causes as freely as other men picked up and dropped mistresses (Churchill was a famously faithful husband). It's all dusty now, but these were momentous, divisive things in their day – India, Edward VIII, the unions, the Labour Party's fitness to govern, the welfare state, the Soviet Union – and all issues on which Churchill practised U-turn after U-turn, and usually right to do so. Only on the threat from the Nazis was he admirably consistent through his entire life.
What does Boris believe in? Why Boris, of course. Which brings one to Brexit.
Brexit and the Leave campaign, like political parties, is just another vehicle for Boris' blind blond ambition. In 2015-16 he calculated that Brexit was the best way to get himself into Cameron's cabinet and cement his status as the leader-in-waiting – because he didn't expect to win the referendum. You recall, after all, that he wrote those two newspaper articles on diametrically opposed views to help him make his mind up. Ridiculous when you think about it. He then went and wrote an article for the Telegraph which said that a Leave vote was just a bargaining chip to force a better deal inside the EU, a glimpse into what Johnson was contemplating.
Gove hinted at Boris' ideological flexibility when he knifed him in the front last summer, and he was justified: Gove is a very long standing and almost religiously committed anti-European who stuck to his principles. Johnson was much more of a user than a true believer. To this day I doubt that Boris Johnson really knows what he thinks about Brexit. His problem is that, unlike most political ephemera, Brexit could wreck his party or the country or, more crucially, his career.
What, then, I wonder would happen if Boris somehow calculated that his best interests, and possibly those of his party and country, was to fudge Brexit? Or even call the whole thing off? What if he did indeed become PM on a more pragmatic approach to Europe? It does sound outlandish. It probably is. Yet if it really does become clear that leaving would be such a disaster, then the country and the Tory Party has a choice; put itself in the best position it can in that circumstance, or give up and, in due course, let Jeremy Corbyn in.
There are few politicians one can imagine having led the Leave campaign and now switching to Remain: few one can imagine getting up and announcing that they have attempted to implement the will of the people, but found that the consequences were too horrendous, and they could no longer in conscience recommend we leave, and so on. Brexit as an honest mistake leading to a gigantic national climb down is a hard act for anyone to sell, and would count as Boris' biggest jape so far. Yet there is only one man in Britain with the chutzpah to pull it off.
It may be phantasmagorical, but then there's a lot about Boris that's phantasmagorical. If Boris thought he could get to be prime minister for just one week on the back of it, he'd go for it. That much we do know about Bozza.
Register for free to continue reading
Registration is a free and easy way to support our truly independent journalism
By registering, you will also enjoy limited access to Premium articles, exclusive newsletters, commenting, and virtual events with our leading journalists
Already have an account? sign in
Join our new commenting forum
Join thought-provoking conversations, follow other Independent readers and see their replies